This is a Sponsored post written by me on behalf of Slim-Fast for SocialSpark. All opinions are 100% mine.
I have always been a fan of Slim-Fast, even in the few years of my life that I wasn't dieting. The shakes have been around for a long time, and when I was in high-school and college, I used to drink them for breakfast. I've never been a big eater in the morning, so the shakes let me get some nutrition without having to sit down to a big breakfast. When I am dieting, they do a great job filling me up for the morning and afternoon.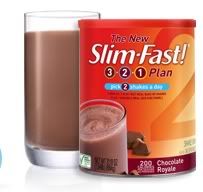 Well, as I have mentioned before (a million times), I am in fact dieting again, or at least I will be come the new year. I've started already, but I'm going to get really serious about it after the holidays. Drinking thick, creamy, chocolaty shakes from Slim-Fast will definitely help! I received a coupon to try out one of their shakes, and I went with the traditional yet delicious Chocolate Royale.
It's so easy to just toss a scoop of the mix in with 8-oz of milk, stir, and drink. Since I'm working outside the home for the holiday season, it's really important that I get some protein in the morning because I tend to get low blood sugar, which makes me dizzy. I almost passed out while driving once, so I don't mess around with that anymore! Drinking a Slim-Fast shake before I go into work keeps me from snacking on all the random food that surrounds me (I'm set up right near the food court, the worst place to be when it's a slow day!). It also keeps me from over-indulging on holiday cookies because it satisfies my chocolate cravings.
The 3-2-1 plan is really easy to follow. Just eat three healthy snacks, two Slim-Fast shakes or meal bars, and one balanced 500-calorie meal each day. Slim-Fast is really easy to find because it's available in the pharmacy sections of grocers and retailers nationwide, including Wal-Mart, Target, Safeway and Kroger and online at Amazon.com and the Slim-Fast 3-2-1 Store on Facebook. I suggest liking Slim-Fast on Facebook to keep up with their new product offerings and coupons.