I've been with a few web hosting services over the years, and I can honestly say that KnownHost is the best of the bunch! Read on to find out why we switched to them and why you'll want to as well! Plus, snag coupon codes for up to 50% off your plan!
*This post contains affiliate links. However, I joined the KnownHost affiliate program months AFTER we switched to their hosting, so that in no way impacts my recommendation.
If you want to run a successful blog, you need good web hosting. No, scratch that. You need GREAT web hosting. The problem? With so many companies out there (and so many people singing the virtues of each one), it's almost impossible to figure out which one you should go with.
One host that I don't see a lot of bloggers talking about is KnownHost. It seems like this stellar hosting company isn't getting the attention it deserves, and that's kind of sad because they really are fabulous! Maybe they just spend more time and money on creating a great product than they do on marketing.
I made this handy little infographic highlighting what I love about them. Read on to find out why we switched in the first place, then check out each of my top 5 favorite features in more detail.
Why We Switched to KnownHost
I was with the same hosting company for years before KnownHost. Pretty much since the moment I launched Pretty Opinionated. My mom, who designs websites for a living, did a lot of research and chose the best one at the time. Three years ago, I would have sang this company's praises from the roof tops, I loved them so much.
Then, they sold out. It happens a lot in hosting land. One bigger company buys a bunch of smaller hosting companies with a great reputation…then runs them into the ground. They went from having incredible customer service through chat to a horrible "ticket" system that took days (and in one case, weeks) to get a response through. My site went from virtually 0% downtime to me cringing every time I loaded up my page because I was so scared to find it down.
My mom, aka my tech person, did a ton of research on the best hosting companies. She found that quite a few of the top recommendations were actually all owned by the same parent company as Site5 (the one we left). We didn't want to end up with the same issues, so she dug a lot deeper and finally settled on KnownHost. They offered a fantastic introductory package. Plus, the plan that we have gave us more than we got with Site5 for about $40 less per month!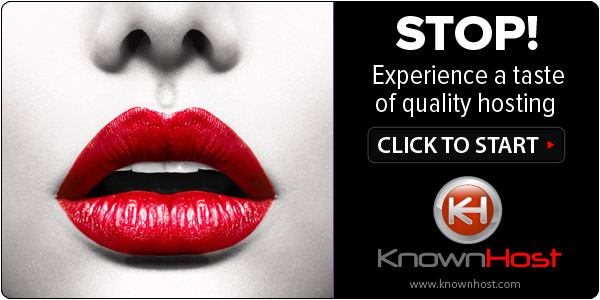 We've been with them for a little over a year now, and I've only had one day of downtime. That day wasn't even their fault. Turns out our GoDaddy account got hacked and some despicable creature (that is literally the nicest thing I can think of to call them) changed all the Nameservers on our sites. It happened on Christmas Eve, and KnownHost spent the afternoon trying to help us get it resolved.
What makes Knownhost so fantastic?
1. Under $5 for brand new sites
If you're just starting out and don't really get a ton of traffic yet, or if you just use your blog as a personal site (but want something more reliable than Google's Blogger platform), shared hosting costs as little as $3.47 a month with the coupon code listed right on the order form (so you don't have to go searching for one) for their Shared-1 plan. Honestly, though, I'd go with the Shared-2 for the extra $3 a month because you get unlimited cloud storage.
With KnownHost shared hosting, your site isn't competing for bandwidth with every other site on the server. Each fully managed site gets its own separate IPv6 addresses and dedicated resources. Mind you, it is still a shared plan, so I wouldn't use it for sites that get a fair amount of traffic. Still, for brand new or "just for me" blogs, it's a good and cheap option.
Sign up for shared hosting here
2.Plenty of options for larger sites
For those of us with larger sites, Knownhost has a plethora of options ranging from as low as $28 a month all the way up to $150+ a month and includes premium fully-managed VPS servers, managed & unmanaged cloud servers, managed dedicated servers and reseller accounts. There's literally an ideal option whether your site gets a thousand hits or a million hits a month. If you're not sure which plan is right for you, talk to one of their sales people. Unlike some hosting services, they won't try to convince you to plop down a big chunk of change on something you don't really need.
3. 24/7 support every single day of the year
As we found out last Christmas Eve, when they say 24/7/165, they mean it. Even on a holiday, they got back to immediately and spent half day helping us resolve the issue. With our former host, we'd submit a ticket and wait hours, days, sometimes even weeks for a response. With Knownhost, I don't think we've ever waited more than a few minutes.
https://www.facebook.com/KnownHost/photos/rpp.230523033674808/2516674361726319/?type=3&theater
4. Support actually means support and not "blame it on a plugin"
One of the things that ticks me off SO much about other hosting services that we've used: they ALWAYS blame a plugin or user error for issues. It's never their fault. With Knownhost, they look into things on their end first. If it does turn out to be a plugin issue, they help us figure out what we can do on the hosting side of things to resolve it. I recently had an issue with one of my plugins that I really need (and paid for). They upgraded my PHP and made other tweaks to help make things run smoother with it.
5. "Best uptime on the planet"
In their own words, they have the "best uptime on the planet," and in my experience that's definitely been true! They boast a 99.99% uptime. In the few years we've been with them, my site has never gone down because of a problem on their end. Never. Not for a single second. It's gone down because of other issues, but like I said, Knownhost helped me resolve those issues and get it back up as fast as possible.
6. Privately held hosting company
Did you know that most of the popular hosting sites are all owned by a very small handful of parent companies? If you're leaving one because of crap customer service, then the last thing you want to do is sign up with another company that uses the exact same customer service model, right? Knownhost is privately owned and based in the US. They have customers from all over the world and a team managed  professionals with over 20 years of experience in the industry (each, not collectively).
7. Over a decade of reliability
It's easy to boast a 99.9% uptime when you're a brand new company that's only been around for a few months. Knownhost isn't a fly-by-night pop-up hosting company, though. They've been around since 2006.
These features are primarily why we switched to Knownhost. They have a lot of other features, including:
Free DDoS protection
Softaculous 1-click installers
Free data backups
100% SSD on new hosting accounts as of 2017
4 datacenters around the world
Instant FREE setup
Free migration assistance for most sites (super custom configurations may require paid assistance, but my monster of a site was free to migrate)
30-day money-back guarantee for new customers
Knownhost Coupons
All of that and world-class 5-star customer service! What more could you possibly want in a website host? How about a lifetime discount? Would that tip the scales for you? Well, here you go! Pick the one that works best for your needs!
Remember, just about all plans have a 30-Day money back guarantee, so you have nothing to lose by giving them a try. With competitive rates (we get far more for a lot less than we paid with our other host), 99.99% uptime, and exceptional customer service, I think it's safe to say you won't be needing to use that money back guarantee!