Continuing on in our "celebration of self" (aka "Singlehood is fantastic" aka "I'm my own Valentine and I'm fine with that") week, I'm sharing some of my favorite pampering gifts to buy yourself right now. Take a look!
Gifts to Buy Yourself Right Now
From thoughtful to self-discovery to wonderfully pampering ideas, these are all fantastic gifts to buy yourself right now!
One quick note: This post does use affiliate links.  If you buy through the links, I earn a small commission at no extra charge to you.
I also received a few of these products in the past for different posts and gift guides. However, I'm including them here because I love them that much and not because they asked (which they didn't).  I'll note those so it's obvious.
Got it? Good. Let's move on.
1. A journal that won't stress you out
I know journaling is all the rage right now, but I really don't have the patience for it. No, that's not true. I don't have the hands for it anymore. Between carpal tunnel and some super weird thing going on with my thumb (it no longer bends on its own), writing my countless random thoughts down by hand is torturous.
Even I can commit to writing down one thought a day, though! I saw some really cute hardcover ones, but ultimately deciding on this one because it's a bit more compact.
Amazon
2. A planner as unique as you
I have this exact planner (Disclosure-Workman sent it to me along with a ton of other freaking awesome 2020 calendars) and I absolutely adore it. This isn't really a "stick it in your purse" planner, which is great for people like me who forget they have one unless it's right in there face. I keep it on top of my PC tower (because I'm old-school and still use a desktop).
With monthly overviews, weekly planning pages, to-do lists and tons of cute stickers, you'll actually enjoy planning your life. Now if only I had a life to plan…Kidding! Sort of.
Amazon
3. Gourmet Biscotti
I was going to say go get yourself some amazingly high-end chocolate, but then I saw these babies pop up on Amazon. I haven't had biscotti in a while, let alone the gourmet stuff! This is so going on my things to by myself asap list. It is kind of pricey for 18 pieces, but I'm worth it…and so are you!
Amazon
4. A new Kindle to keep you entertained anywhere
Every year during tax return season, I allow myself one big splurge (to me, a splurge is anything over $50). This year, I'm replacing my old Kindle Fire 10 HD with an updated model, since my old one keeps glitching out on me. Sure, you could get the cheaper standard Kindle 7, but I use my 10 HD for everything entertainment-related, not just reading books.
While it's not exactly a robust productivity tool, if you want it purely for entertainment, it's a great buy. The only thing it doesn't play well is the TIVO app (I use my older iPad for that). Disney+ also has some volume issues on the older model, but I hear (ha!) that it's not such an issue in the newer model. I got a headphone amp for Christmas that solved the issues, though.
Amazon
5. A better pillow
My neck has been killing me lately, so I think it's time for a pillow swap.  I think my next purchase will be the Coop. It has crazy high ratings from 14,000+ people. I love that it's totally adjustable. Even better, it's made with CertiPUR-US foam (which means it's toxin-free and more hypoallergenic).
They offer a 100-night trial and they'll work with you to customize your "loft" to the perfect fit. Pretty nifty! Plus, what better gift can you give yourself than a good night sleep?
Amazon
6. Crazy Cozy Slippers
Keep those toes warm (but not sweaty) with this super comfy Waffle Terry Slippers from Plush Necessities. They sent me a pair for my holiday gift guide this past November. I loved them right up until my son stole them (along with the other pair they sent me).
Someday, he'll outgrow them and I'll get them back. Given the rate he's growing, that should be about next week. They're really soft and comfy without making your feet feel all hot and gross.
Buy It on Plush Necessities
7. Cute socks (because, why not?)
I have a weird addiction to socks. Mostly knee socks, because I can only sleep if I'm wearing a pair (unless I'm wearing footie jammies). I'm weird, I know. Anyway, sock addiction- even though these don't go "up to your neck" as my family jokes about my knee socks, they're still pretty darn cute!
The only down side, they suggest washing them by hand. Who hand washes socks? According to the Q&A, you can machine-wash them, but they lose some of their unique softness factor. One response said they feel like regular socks after. That's not too terrible, though. I mean, all socks lose that brand-new softness after washing them, right?
Amazon
8. Essential oils diffuser necklace
My mom got me an awesome essential oils necklace years ago. I can't find that one on Amazon now, but this one has fantastic reviews and I love the style. It comes with two necklaces and 12 refill pads in different colors.
I like that it's smaller and lighter than other aromatherapy necklaces. Plus, with two, you can load one up with an energizing daytime EO and the other with a more relaxing scent.Check out the benefits of the most popular essential oils for some ideas on which scents to put inside.
Amazon
9. A big box of bath bombs
At some point in the near future, I'm going to make my own bath bombs. I have all the stuff for them, I just haven't had time yet. For now, though, I'll treat myself to a 12-pack of these from LifeAround2Angels. They aren't just one of the most highly rated bath bomb sellers on Amazon,  they also have over 7,000 positive ratings on Etsy.
They're a bit cheaper over on Etsy, but they don't ship free there. When you factor that into the cost, Amazon is your best bet. I mention the Etsy link for those who avoid shopping on Amazon.
Amazon
10. A mermaid tail (blanket, that is)
While your dreams of becoming a mermaid probably aren't going to come true anytime soon, you can always pretend! Just treat yourself to this beautiful crocheted mermaid tail blanket by LAGHCAT on Amazon. It comes in two sizes and 9 different colors.
Sure, you have to stay on land with it, but you'll feel oh-so-cozy lounging on your couch reading your favorite mermaid tale (pun intended). The set even comes with a carrying bag and a super cute necklace.
Amazon
11. A fun Pinterest-inspired craft kit
Treat yourself to a subscription that delivers everything you need to create Pinterest-worthy crafts in one handy box. Home Made Luxe is a woman-owned small business started by Keitha of The Bajan Texas. 
I can't think of a better give to give yourself than one that lets you make beautiful things for your home AND helps support other women. They offer one-off boxes, too, if you don't want (or can't afford) to spring for the subscription.
Buy it on Home Made Luxe
12. A personalized sleep mask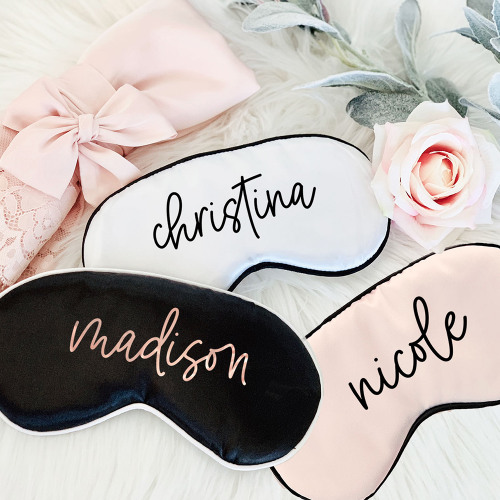 I need absolute darkness to get a good night sleep. You'd think I'd have it, living in a rural area surrounded by trees. I would, too, if not for the neighbor behind me. I bet you could see their outside light from space. They leave the freaking thing on ALL NIGHT, too, and it shines right into my window and right through my "blackout" curtains.
One of these days, I'm going to buy my own massive fog light and shine it directly into their windows while they're sleeping. Until then, though, I'll grab myself a plush personalized sleep mask like this one from Beau-coup so I can finally get the darkness that I so desperately need in my life.
Buy it on Beau Coup
13. A baking mat that gives back
Mom's Favorite Baking Mat totally lives up to its name. Alison, the creator, sent me one to try out and it's definitely everything you could want in a baking mat and so much more. It's huge, with guides for everything from 8-15″ crusts. I use mine to roll out pizza dough for calzones. It also has a handy dry weight measurement conversion chart in the corner.
That's not the best part, though. Along with being incredibly functional, it's also a gift that gives back. Alison donated 100% of the profit (not a typo) from the sale of the mat to numerous different charities, including those that support other women, veterans, and animals.   she only supports charities that A full list of the charities she supports along with my full story can be found on her website: www.LetHopeGrow.org. The "Hope" comes not just from what the charities offer, but her middle name as well.
Amazon
14. A whole box of goodies with a conscience
While it's a bit of a splurge at just over $50 a month (less if you pay for a year upfront), the goodies that you get in each Causebox are worth almost 5 times the price. Every box is loaded with genuinely useful yet beautiful products from conscientious brands.
Each item has a two-fold purpose- deliver safe, earth-friendly goodies to you AND support artisans & communities around the globe.
Subscribe to Causebox
15. A big box of Japanese snacks
After leaving Japan back in 2001 (I lived in Misawa for two years), I thought I'd never again have the chance to enjoy my favorite Japanese candy and snacks. Sure, a lot of stores sell Pocky now, but it tastes nothing like the light and airy snack you get from a Japanese shop.
I was so pleased to discover that it ships directly from Japan and everything tastes just like it did when I lived there, mostly because it's not going from shelf to a freezing shipping container to warehouse to freezer to shelf. It's definitely one of my favorite subscription boxes that I've ever reviewed.
Get it on Crate Joy
Remember, you don't need to wait around for someone else to pamper you. Whether you treat yourself to one of these fantabulous goodies or pick something else entirely, give yourself a gift that makes you feel as wonderful as you are!
Last update on 2023-12-06 / Affiliate links / Images from Amazon Product Advertising API