Worried that you waited to long and now you won't have anything for mom on her special day? Read on for some Mother's Day gift card ideas that aren't just the same old, same old. Many of them even help smaller businesses that are struggling right now.
Mother's Day is just under two weeks away. In normal years, that would be more than enough time to order something for her and have it arrive on time. We're not living in a normal year, unfortunately. Packages that would typically take days to arrive now take weeks, even when you pre-pay for 2-day shipping with a membership fee.
Forget ordering gardening supplies for mom. We waited nearly a month for an order from Burpee's to arrive, and weeks for Miracle-Gro to deliver dirt. Heck, you can't even order her a fun gift for her dog! My latest Chewy order took over 10 days to arrive.
Needless to say, your usual "wait until the week before and grab something from Amazon" strategy isn't going to work. Neither will your "wait until the day before and order flowers from a local florist." So, what can you get mom that will actually arrive on time? Why, gift cards, of course!
The problem with some gift cards…
Here's the thing, while you could grab her gift card from one of the biggest retailers (we all know who they are) and call it a day, she'll run into the same problem you are. The things she wants most are either out of stock or taking forever and a day to arrive. Besides, those retailers aren't exactly hurting right now the way others are.
Visa gift cards aren't the best option, either. Sure, in theory, she can use them at any store that accepts Visa. However, in practice, that's just not true. A lot of stores won't take them. Besides, you can't just buy one for the cost of the gift card. Most charge exorbitant fees just to purchase them, then  "maintenance fees" that kick in after as little as one month of inactivity.
So, in my opinion, you're better off buying mom a gift card to a specific store that she likes. While many stores may still run into shipping delays, at least she has a better shot of getting what she wants in a reasonable amount of time. Plus, like I said, some of the ideas (not all) below will also help smaller stores that are struggling.
Mother's Day Gift Cards That She Can Actually Use
I broke this into categories as much as I could to make it easier to scan. Also, while some of these stores do send physical gift cards, save yourself some time by choosing gifts cards that arrive via email. Either have it sent to you so you can print them out and include in your card or to her if you want her to get it even faster.
FYI, this post contains affiliate links. If you make a purchase through these links, I earn a small commission at no extra charge to you.
My #1 Favorite Gift Card Idea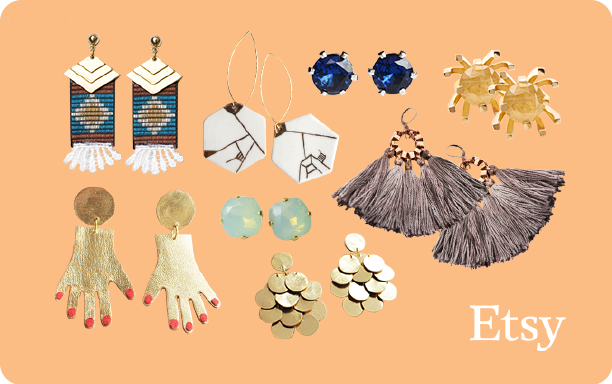 Let's start with my top pick, since it's to a store that defies categorization. You can never go wrong with an Etsy gift card! Mom can find everything from fashion & beauty to gourmet goodies to cute stuff for the home.  In fact, I just ordered a set of cute masks from my friend through Etsy.  Plus, this gift helps others feed their families during these financially terrifying times.
Fashion, Beauty, & Skin Care Gift Cards
I was going to call this the "as beautiful on the outside as on the inside" category, but that's kind of confusing. 😀 These gift cards are perfect for moms who love to look good.
Tasty Treats for Mom
Royal Rose Syrups-They sell a wide selection of gourmet flavor syrups for everything from coffees to cocktails. Plus, the prices are incredibly affordable.
Coffee Wholesale USA– Not only do they have great prices on all types of coffee, they currently have a Buy One, Give One program going on. For every bag of coffee she buys, they'll give one to medical personnel who are working their butts off trying to save all of us.
Darden Restaurant Gift Cards– Their restaurants include Olive Garden, Longhorn, Cheddars, Bahama Breeze, and more. Mom can order for pick up or delivery.
Ethel M. Chocolates– Talk about gourmet goodies! Mom can take a chance on a mixed box of chocolates or pick out specific flavors herself.
Farm Fresh to You– If mom prefers healthy treats, Farm Fresh to You delivers a box of organic fruits & veggies right to her door. Just make sure they deliver to her area first.
Food52 – A super fun shop filled with tasty treats and accessories to help you make even more yummy yummers. They're definitely gourmet goodies, though (with gourmet prices,so plan accordingly).
Ghirardelli Chocolate–  Let mom treat herself to a few of her favorite chocolate bars or a whole basket of goodies.
Godiva– Another one of the tastiest chocolate brands ever, mom can choose from limited edition sampler boxes to specific bars and wrapped chocolates.
Fun Stuff & Boredom Busters
Dover Books– While they're experiencing shipping delays, they do offer a huge chunk of their catalog in ebook format. Mom can also order adult coloring books to help her relax.
GameFly– Perfect for gamer moms who want to try out games before dropping $50+ on them. Along with games for all the major consoles, they also have movie rentals. Think old-school Netflix, but with games, too.
Barnes & Noble– Shipping on  some items is delayed, but she can use her gift card to get eBooks, too.
Fandango– Although it'll be a while before she can use it to buy theater tickets, she can always redeem it for streaming rentals on FandangoNow.
Gifts for mom's home (including decor, tech, and what not)
Best Buy–  Best Buy has been a real life-saver for me lately. When my son needed a new cord for his monitor and Amazon's earliest arrival date was over a month away, Best Buy got it to us in 2 days Same for the headphones he needed. I'm about to go order a new keyboard from them!
Burke Decor Gift Card– Burke sells a wide range of classy home goods, with everything from pretty decor to functional furniture. Gift cards start at $25.
Brentwood Home- They sell some really terrific eco-friendly mattresses, pillows, and more. I have the yoga pillow below and use it every day (although not for yoga, admittedly)