Along with actually just gifting subscription boxes as intended, I like to buy a few one-time boxes (as in, a one-month subscription) and "harvest" them stocking stuffers. It saves me a lot of money and makes it easy to find fun ideas for my "getting harder to shop for every year" teen son. It's also a great way to find unique white elephant gifts, hostess gifts, and more. Check out some of my favorites that are just ripe for the picking!
Best Cratejoy Subscription Boxes to Harvest for Stocking Stuffers, Hostess Gifts, & More
When you're shopping for subscription boxes to break apart into smaller gifts, you can't really use things like craft or cooking boxes, since everything in the box works together to create one item, more or less. The key is to look for boxes with items that function independently of each other, like these ideas below!
FYI, this post includes affiliate links, so if you buy through them I get a small commission at no extra cost to you. This first batch comes from Cratejoy. Check out the list of coupon codes at the bottom of this section.
1. TUBELESS Bath Bevy (Spa-themed stocking stuffers)

Bath Bevy
from:
Cratejoy
Bath Bevy is perfect for spa-like stocking stuffers. Each box comes with 5-7 handcrafted Made in the USA goodies. Items include bath bombs, bubble bath, bath salts, whipped soap scrubs, and more!
2. Matter (Unique stocking stuffers for science lovers)

MATTER
from:
Cratejoy
Matter is one of the most unique subscription boxes for science lovers. A great gift as-is, it's also perfect for harvesting for stocking stuffers! Each box comes with a variety of cool stuff like "prehistoric fossils, scientific tools, cutting-edge materials, historic artifacts, and other fascinating things."
3. Paradise Delivered Premium Box

Paradise Delivered
from:
Cratejoy
I love this one because while it does have a theme, it includes a little bit of everything. Each box includes "7-8 full-sized, hand-selected, vacation-inspired products," with a retail value of at least $200. You'll get bath and beauty products, fashion accessories, and even books.
4. Étoile Box (Gifts from Women-Owned Businesses)

Etoile Box
from:
Cratejoy
Étoile Box comes with 6-8 items all sourced from women-owned businesses, including body, beauty, style, home decor, sweet treats and more. Everything is organic and cruelty-free. Their upcoming holiday Merry & Bright box comes with a Gold Tile Mug, Mistletoe Candle, Hot Chocolate, Coastal Christmas Bath Bomb, Starry Eye Mask, and more.
5. greenUP box (Sustainable, Green, Eco-Friendly, Plastic-Free Stocking Stuffers)

greenUP Box
from:
Cratejoy
This one is cute if you're shopping for someone who is very eco-conscious. It comes with " 6-9 of the best plastic reducing swaps, " all of which are cruelty-free, ethically sourced, and made by small businesses in the US. Average value is $100+.
6. Hempa the Explorer (CBD stocking stuffers)


Hemp Crate Co
from:
Cratejoy
A great gift for CBD oil lovers, this one comes with 5-7 " 3rd party lab-tested CBD products" valued at $125 in the standard box (starter crate) or 6-9 items valued at about $175 in the Pro Crate.
7. He Time by My Me Time Box (Stocking Stuffers for Him)

He Time by My Me Time Box
from:
Cratejoy
If you're looking for stocking stuffers for dad, grandpa, uncles, or even your teen son, this one is pretty awesome. It comes with 8-10 items and may include "skincare, body, aromatherapy, accessories, and gourmet goodies."
8. Ultimate K-Beauty Box from Facetreasures

Facetreasure's
from:
Cratejoy
There are tons of different K-beauty subscription boxes out there right now (it's super trendy!), but I love this one for harvesting for stocking stuffers because it comes with a bunch of different products (a lot of them mostly come with just the sheet masks and one or two other things thrown in), all cruelty-free.
I don't know exactly how many items are in each box, but looking at past boxes they're definitely fully loaded. Plus they ship the first box right away.
9. Paws & Pour (For dog-loving adults)

Paws & Pour
from:
Cratejoy
This one is pretty fantastic if you're looking for stocking stuffers or white elephant gifts for dogs AND the humans who love them. It includes 4-6 items. Sometimes, it even comes with "wine" for your pet (it's not real wine, don't worry). They also have a box for cat-lovers.
10. Journal Junk Box Monthly Subscription


Journal Junk Box
from:
Cratejoy
Looking for journal-related stocking stuffers? This box is jam-packed with them! Each one comes with 8-10 items, which may include a variety of "pens and goodies such as washi tape, craft scissors, sticky notes, planner/paper clips and other fun accessories you'll adore."
Cratejoy Coupons & Holiday Sales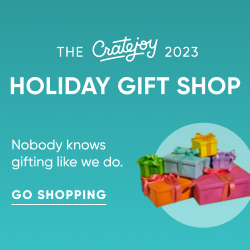 Best Subscription Boxes on Amazon to Use for Stocking Stuffers
Amazon has a lot of great subscription boxes as well, and they often have 1st box deals for Prime members. These 10 are perfect for breaking down into smaller gifts. Like Cratejoy, canceling is easy since all of your subscriptions are grouped into one central location.
One little note: the Amazon plugin that I use for the boxes shows the regular price. As I said, a lot of these have deals for first-timers, and that's not always reflected in the box.
11. Tribe Beauty Box
Tribe Beauty Box is perfect for makeup lovers. Each one comes loaded with female-owned and indie beauty brands, and offers a total retail value of $100+.
12. Funko Marvel Collector Corps Box
Got a Marvel and Funko fan? This box combines the best of both worlds with 4-5 unique collectibles for a fairly low (for Funko stuff, at least) price.
13. Toy Box Monthly (Stocking Stuffers for Kids ages 4-6)
Toy Box Monthly is pretty much a one-and-done subscription box for small toy stocking stuffers for your kids. They offer three different options, one for a "boy," one for a "girl" and one that's a mix. All of the items are actually licensed toys and not just random dollar-store junk.
14. Bokksu Authentic Japanese Snack & Candy Subscription
My son loves Japanese snacks, so I'm probably going to grab this one to use for his stocking. It comes with a whopping 20-25 authentic treats. You could probably fill an entire stocking with just this box alone.
15. KiwiGrub – New Zealand Snack Food Subscription Box
Another unique snack-centric stocking stuffer box, this one with treats from New Zealand isn't quite as fully loaded at Bokksu, but the 8-10 treats that it does come with are a bit larger overall.
16. Candy Club – Delicious Premium Candies Subscription Box
I don't know why Candy Club's ratings are only 3.5 stars on Amazon. I've gotten their box before and it was pretty awesome. Yeah, it does seem pricy for what you get, but if you think about it, it's basically around $6.70 per jar of candy. The gourmet candy shop down the street from me sells their jars for a lot more than that. The candy is REALLY GOOD and totally stocking-stuffer-worthy.
Last update on 2023-12-01 / Affiliate links / Images from Amazon Product Advertising API