Along with actually just gifting subscription boxes as intended, I like to buy a few one-time boxes (as in, a one-month subscription) and "harvest" them stocking stuffers. It saves me a lot of money and makes it easy to find fun ideas for my "getting harder to shop for every year" teen son. It's also a great way to find unique white elephant gifts, hostess gifts, and more. Check out 20 of my favorites that are just ripe for the picking!
Best Cratejoy Subscription Boxes to Harvest for Stocking Stuffers, Hostess Gifts, & More
When you're shopping for subscription boxes to break apart into smaller gifts, you can't really use things like craft or cooking boxes, since everything in the box works together to create one item, more or less. The key is to look for boxes with items that function independently of each other, like these ideas below!
FYI, this post includes affiliate links, so if you buy through them I get a small commission at no extra cost to you. This first batch comes from Cratejoy. Check out the list of coupon codes at the bottom of this section.
1. Bath Bevy (Spa-themed stocking stuffers)

Bath Bevy
from:
Cratejoy
Bath Bevy is perfect for spa-like stocking stuffers. Each box comes with 5-7 handcrafted Made in the USA goodies. Items include bath bombs, bubble bath, bath salts, whipped soap scrubs, and more!
2. Matter (Unique stocking stuffers for science lovers)

MATTER
from:
Cratejoy
Matter is one of the most unique subscription boxes for science lovers. A great gift as-is, it's also perfect for harvesting for stocking stuffers! Each box comes with a variety of cool stuff like "prehistoric fossils, scientific tools, cutting-edge materials, historic artifacts, and other fascinating things."
3. Paradise Delivered Premium Box

Paradise Delivered
from:
Cratejoy
I love this one because while it does have a theme, it includes a little bit of everything. Each box includes "7-8 full-sized, hand-selected, vacation-inspired products," with a retail value of at least $200. You'll get bath and beauty products, fashion accessories, and even books.
4. Étoile Box (Gifts from Women-Owned Businesses)

Etoile Box
from:
Cratejoy
Étoile Box comes with 6-8 items all sourced from women-owned businesses, including body, beauty, style, home decor, sweet treats and more. Everything is organic and cruelty-free. Their upcoming holiday Merry & Bright box comes with a Gold Tile Mug, Mistletoe Candle, Hot Chocolate, Coastal Christmas Bath Bomb, Starry Eye Mask, and more.
5. greenUP box (Sustainable, Green, Eco-Friendly, Plastic-Free Stocking Stuffers)

greenUP Box
from:
Cratejoy
This one is cute if you're shopping for someone who is very eco-conscious. It comes with " 6-9 of the best plastic reducing swaps, " all of which are cruelty-free, ethically sourced, and made by small businesses in the US. Average value is $100+.
6. Hempa the Explorer (CBD stocking stuffers)


Hemp Crate Co
from:
Cratejoy
A great gift for CBD oil lovers, this one comes with 5-7 " 3rd party lab-tested CBD products" valued at $125 in the standard box (starter crate) or 6-9 items valued at about $175 in the Pro Crate.
7. He Time by My Me Time Box (Stocking Stuffers for Him)

He Time by My Me Time Box
from:
Cratejoy
If you're looking for stocking stuffers for dad, grandpa, uncles, or even your teen son, this one is pretty awesome. It comes with 8-10 items and may include "skincare, body, aromatherapy, accessories, and gourmet goodies."
8. Ultimate K-Beauty Box from Facetreasures

Facetreasure's
from:
Cratejoy
There are tons of different K-beauty subscription boxes out there right now (it's super trendy!), but I love this one for harvesting for stocking stuffers because it comes with a bunch of different products (a lot of them mostly come with just the sheet masks and one or two other things thrown in), all cruelty-free.
I don't know exactly how many items are in each box, but looking at past boxes they're definitely fully loaded. Plus they ship the first box right away.
9. Paws & Pour (For dog-loving adults)

Paws & Pour
from:
Cratejoy
This one is pretty fantastic if you're looking for stocking stuffers or white elephant gifts for dogs AND the humans who love them. It includes 4-6 items. Sometimes, it even comes with "wine" for your pet (it's not real wine, don't worry). They also have a box for cat-lovers.
10. Journal Junk Box Monthly Subscription


Journal Junk Box
from:
Cratejoy
Looking for journal-related stocking stuffers? This box is jam-packed with them! Each one comes with 8-10 items, which may include a variety of "pens and goodies such as washi tape, craft scissors, sticky notes, planner/paper clips and other fun accessories you'll adore."
Cratejoy Coupons & Holiday Sales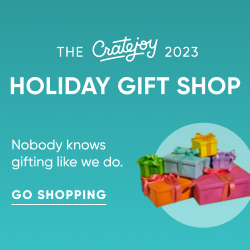 Best Subscription Boxes on Amazon to Use for Stocking Stuffers
Amazon has a lot of great subscription boxes as well, and they often have 1st box deals for Prime members. These 10 are perfect for breaking down into smaller gifts. Like Cratejoy, canceling is easy since all of your subscriptions are grouped into one central location.
One little note: the Amazon plugin that I use for the boxes shows the regular price. As I said, a lot of these have deals for first-timers, and that's not always reflected in the box.
11. Tribe Beauty Box
Tribe Beauty Box is perfect for makeup lovers. Each one comes loaded with female-owned and indie beauty brands, and offers a total retail value of $100+.
Tribe Beauty Box - Beauty Subscription Box: 5-8 Full Sized Makeup and Skincare Products
Tribe Beauty Box is a feel-good box that sends you female-owned and indie beauty brands in every bi-monthly shipment.
Our selection of cruelty-free products and brands is thoughtfully-curated, focusing on quality, seamless curation and cohesive products that work together, to give you a full beauty routine in a box.
Our goal is to help you discover "the next best thing," and it's nearly impossible not to with the high-quality mix inside each box.
You'll receive $100+ worth of products in each box, for only $39.98. What a steal!
IMPORTANT NOTE: Our boxes on Amazon are uniquely different from our boxes on our website. We offer a variety to help Tribe Beauty Box lovers discover even more amazing products.
12. Funko Marvel Collector Corps Box
Got a Marvel and Funko fan? This box combines the best of both worlds with 4-5 unique collectibles for a fairly low (for Funko stuff, at least) price.
Funko Marvel Collector Corps Box
The Marvel Collector Corps subscription box celebrates iconic Marvel moments and crossovers. This edition celebrates the cinematic return of Marvel hero, Ant-Man! Boost the lineup of your Marvel collection today!
Each blind box contains 4 to 5 exclusive collectibles; the Marvel Studios' Ant-Man and The Wasp: Quantumania edition includes two exclusive Pop! vinyls, a pin, a decal, and a Tee-shirt!
The best of the Marvel universe! Created and curated by Funko, delivered by Amazon, this subscription box is designed to delight Marvel fans, Funko Funatics, and everyone in between.
Every other month a new Marvel Collector Corps subscription box is released, and each box has a different theme and offers a hint to the theme of the next subscription box.
Celebrate your favorite Super Heroes, Antiheroes, Super Villains, and Marvel moments by subscribing today!
13. Toy Box Monthly (Stocking Stuffers for Kids ages 4-6)
Toy Box Monthly is pretty much a one-and-done subscription box for small toy stocking stuffers for your kids. They offer three different options, one for a "boy," one for a "girl" and one that's a mix. All of the items are actually licensed toys and not just random dollar-store junk.
Toy Box Monthly - Kids Toy Subscription Box. Receive 4-6 Small Licensed Toys for Boys Ages 4 to 8
NEW SURPRISE TOYS EACH MONTH: Surprise the child in your life with small licensed toys from Star Wars, Avengers, Batman, LEGO, Playmobil, and much more! You will never get the same box twice. Box size is 9 in. x 8 in. x 3 in.
PERFECT FOR KIDS 6 TO 8 YEARS OLD: Toy Box Monthly's surprise toy box is filled with small figurines, dolls, plush, and blind bags that kids ask for like Star Wars figurines, Imaginext Batman sets, Avengers plush, Transformers, and various blind bags!
EXCITEMENT IN EACH BOX: Kids love the rush of opening their monthly surprise toy box! The yellow box in the mail exudes excitement and provides hours of fun and surprises. Your kids will wait impatiently for their box full of toys to arrive.
PLAY WITH PURPOSE: Every month our in-house team curates a monthly greeting card that features our lovable character Boxy and includes positive and educational themes, as well as ideas on activities to do at home and around the neighborhood.
PERFECT GIFT FOR HARD TO SHOP FOR KIDS: This is ideal for kids who are difficult to shop for. We'll take the guesswork out of the buying process by curating a monthly subscription box that is filled with all of the toys that kids love.
14. Bokksu Authentic Japanese Snack & Candy Subscription
My son loves Japanese snacks, so I'm probably going to grab this one to use for his stocking. It comes with a whopping 20-25 authentic treats. You could probably fill an entire stocking with just this box alone.
Bokksu - Authentic Japanese Snack & Candy Subscription: Classic Box
DISCOVER JAPAN THROUGH SNACKS! Every month receive a curated box of high-quality authentic Japanese snacks. We curate each box around unique themes of Japanese culture, festivals, flavors, and cities to help Members discover Japan with each box.
WHAT'S INCLUDED? Every box includes 20-25 premium Japanese snacks, including snacks like Japanese candy, senbei rice crackers, mochi, cakes, chips, tea and more—all made in Japan! Each box is different with new snacks to discover every month.
PARTNERING DIRECTLY WITH MAKERS: Every box sold helps the family-run Japanese snack makers we work with thrive and grow! We partner with a variety of makers across Japan to bring you regional snacks and flavors, and create new Bokksu-exclusive snacks.
IN-BOX GUIDE: A Culture Guide is included in every box that details each product's origin story, flavor profile, common allergens, and if it's vegetarian-friendly. Plus special content every month on Japanese culture, travel, language, or our snack makers!
RELIABLE SHIPPING: Your box is shipped directly from Japan with free shipping and tracking included so you'll know where your Japanese snack box is on its journey to you!
15. KiwiGrub – New Zealand Snack Food Subscription Box
Another unique snack-centric stocking stuffer box, this one with treats from New Zealand isn't quite as fully loaded at Bokksu, but the 8-10 treats that it does come with are a bit larger overall.
KiwiGrub - New Zealand Snack Food Subscription Box (Classic)
We are New Zealand's first international snack box subscription shipping worldwide.
8-10 x New Zealand Snacks Including - 5 x Popular NZ Snacks, 1 x Share Packs, 1 x New Zealand Candy Bar with FREE Shipping Worldwide.
Each month we carefully curate a new snack box packed with delicious New Zealand snacks from all around NZ to make sure that those who receive our KiwiGrub snack box feel happier and excited getting a variety of products to share with their loved ones!
We are obsessed with helping you discover New Zealand snacks and candy through our snack boxes! We want every bite and box to express the quality and love that Kiwi's put into their products.
BOX SHIPS FROM NEW ZEALAND, IT TAKES UP TO 4-8 WORKING DAYS TO REACH BASED ON THE DELIVERY LOCATION.
16. Candy Club – Delicious Premium Candies Subscription Box
I don't know why Candy Club's ratings are only 3.5 stars on Amazon. I've gotten their box before and it was pretty awesome. Yeah, it does seem pricy for what you get, but if you think about it, it's basically around $6.70 per jar of candy. The gourmet candy shop down the street from me sells their jars for a lot more than that. The candy is REALLY GOOD and totally stocking-stuffer-worthy.
Candy Club - Delicious Premium Candies Subscription Box: Mostly Sweets - Party Pack
Indulge in a delectable monthly candy subscription from Candy Club — whether as a fun treat for kids, a self-care gift, or 'just because' a little sweetness makes everyday better.
SELECTION: A thoughtfully curated collection of 6 candies that are mostly sweet, rich, and chocolatey in a variety of fun textures, shapes, and flavors. Candies included may vary.
SIZING: Our Party Box contains 6 specially-chosen candies in 13 ounce cups (by volume). Cup weight varies by candy.
PERFECT FOR: Families of 4+, celebrations, offices, or candy adventurers. Discover your old favorites and new obsessions.
'LOVE YOUR CANDY' GUARANTEE: We hope to delight you with flavors you love and surprise you with an exciting candy adventure. But, if you're unhappy with your candy box, contact us and we'll make it right.
Last update on 2023-02-01 / Affiliate links / Images from Amazon Product Advertising API