Making your New Year's resolutions? Whether you're planning to get in shape (physically or mentally), eat better, read more or just spend more time relaxing, there's a subscription box to help you keep your goal. I shared my favorites below!
Two very quick notes before we dive in. First, I used affiliate links below, which means if you buy through them, I make a small commission at no extra cost to you.
Second, all of these boxes come from either Cratejoy or Amazon. On Cratejoy, make sure you check for coupon codes before buying. They change constantly, but they're always right above the "subscribe" box.
Some boxes on Amazon offer a first-month discount for Prime members. As awesome as that is (who doesn't love saving money, right?), if you're not paying attention to the full price, too, you could be in for a shock the second month. Speaking of cost, all prices mentioned below are accurate as of today and based on the discounted cost that you'd pay by subscribing for a full year.
That's it. Now, let's check out my favorite subscription boxes that will help you keep all of your New Year's resolutions, shall we?
Fitness Subscription Boxes to Help You Get in Shape
"Lose weight" and "exercise more" are the most common New Year's resolutions of all, so let's start there!
Quarterly Gainz Box
The Gainz Box delivers different fitness gear to your door every three months customized for your needs based on your "athlete profile." It's a bit pricey, but the products you'll receive are worth almost triple the cost of the box.
What you get in each box: Clothing and other workout gear, healthy snacks, nutrition supplements, and more, with a total value of at least $280.
Frequency: Quarterly (4 times a year)
Cost: $99
Options (Sizes): Customize your top, bottom, and sport's bra size.
The Fit Boxx
The Fit Boxx delivers premium gear that promises to "help you crush your workouts," all tested by real athletes.
What you get in each box:  Mostly fitness apparel and gear, but you may also get different supplements, nutritious snacks, and other accessories. Regardless of what comes in each box, it's always worth at least double the cost of the box itself.
Frequency: Monthly
Cost: $62.00
Options: Clothing sizes range from S to XXL, and you can choose your specific size for everything from shirts to bottoms to underwear.
Book Boxes for Your "Read More This Year" Goal
One of the few resolutions I make each year is to read more. Last year, I came up with a "book a week" reading challenge list for all of you, but never actually got around to trying it myself. Hopefully, 2022 will be different!
And the Story Begins
And the Story Begins delivers two handpicked books in the genre of your choice (from a limited selection), all wrapped up in eco-friendly paper. Genres include Fantasy/Sci-Fi (currently sold out, though), YA, Teen Fiction (ages 9-14, so more like Middle Grade), Mystery/Thriller, and "Surprise Me."
What you get in each box: Two brand-new books based on the genre that you chose when you subscribe. Alas, the adorable dog is NOT included.
Frequency: Monthly
Cost: $15.95+
Options (Sizes): 5 different genre options
Well Read Books' Box of Books: Great Reads
Well Read has a few different book boxes. I like this one because it's fairly neutral as far as genres go, so it appeals to just about anyone. Think "book club selections."
What you get in each box: Two books tailored to your profile (which you fill out before subscribing), plus one or two extra little goodies.
Frequency: Monthly
Cost: $54.99
Options (Sizes): Customized based on answers you provide before purchasing.
Self-Care Subscriptions for Your "Take Better Care of My Mental Health" Resolution
TheraBox
TheraBox is one of the most popular self-care subscription boxes with a 4.5-star rating across over 2400 reviews on Cratejoy. It's also probably one of my most-often recommended gifts ever. Along with a fun little activity that helps you focus on finding your inner bliss, it's fully loaded with everything from aromatherapy to skincare to "just plain brings you joy" goodies.
What you get in each box: Each box comes with 1 "happiness activity" plus 6 – 8 goodies related to self-care. Total value is at least $120.
Frequency: Monthly
Cost: $30.99+
FYI, this one is also available on Amazon if you prefer to shop there.
180 Degree lifestyle box
The 180 Degree Lifestyle box is relatively new, at least to me, but so far it looks like a real winner! Unlike many "self care" boxes that are just filled with skincare goodies, this one has a fairly wide variety of intriguing treats.
What you get in each box: 6-9 different full-size lifestyle products designed to "induce selfcare, joy and discovery." Total value is at least $100 each month.
Frequency: Monthly
Cost: $44+
Foodie & Cooking Boxes for Your "Eat Less Takeout" Goal
FYI, I recently shared a list of my favorite kitchen subscription boxes, so check that out, too.

Culinarie Kit
A lot of cooking subscription boxes basically just come with enough supplies for one recipe. This one is different. It's essentially a "stock your pantry" box, loaded with unique ingredients that you won't find in your average supermarket.
What you get in each box: The number of products varies, but ALL of them are 100% plant based, shelf-stable and made in the USA. Based on past boxes, I'd say that you get roughly 8 items.
Frequency: Quarterly
Cost: $56.50
Spicery Recipe Kits
If you've resolved to try new foods from other cultures, this inexpensive recipe subscription box is a great way to do it. Each box comes with two recipes from around the world plus all of the dry spices that you'll need to recreate it.
If you reach out when you order, you can let them know about any food allergies and they'll actually help customize a shopping list for you for the ingredients that you'll need to buy on your own.
What you get in each box: Enough ingredients to make four servings of each of the two recipes, plus the recipe cards.
Frequency: Monthly
Cost: $13.50+
Healthy Snack Subscription Boxes
HealthyMe Living Snack Box
HealthyMe's subscription box promises to deliver all of your tasty snacking needs with none of the guilt. All items are curated by a Certified Health Coach.
What you get in each box: 8-10 healthy snacks, including chips, bars, and even some candy.
Frequency: Monthly
Cost: $26.99+
SnackNation
SnackNation was actually one of the very first snacking subscription boxes I ever tried, and I'm thrilled that they've found such success. Today, they offer options ranging from 8 on-the-go snacks to office boxes filled with 150 treats, all with a focus on healthy and wholesome ingredients.
What you get in each box: Between 8 and 150 (depending on which option you choose) snacks that are healthier than your average chips or candy bars.
Frequency: Monthly
Cost: for the 8-pack size.
Options (Sizes): 8, 15, 30, 50, or 150 snacks
Eco-Friendly Boxes That Help Lower Your Carbon Footprint
If you've resolved to stop polluting the planet so that our grandchildren can actually breathe in the future, these boxes will help you keep that goal!
KIWI ECO BOX – Zero Waste Subscription Box
The KIWI Eco Box is an affordable way to swap out everyday products for zero-waste items instead. Some of the items are single-use or short-term-use plastic-free things, like better cotton swabs, deodorant, toothbrushes, and so on. Others are things that you'll use every day, like brushes, coasters, and even cooking utensils.
What you get in each box: 5-7 eco-friendly items.
Frequency: Monthly
Cost: $30.00 for the basic
Options (Sizes): Basic, Basic+, and Pro. They all come with 5-7 items, but the "Basic+" comes with pet waste bags each month and the "Pro" comes with compostable trash bags.

greenUP box
The greenUp box is a bit pricier than the KIWI box, but it's worth it for what you get ($100 worth of stuff each month). Every full-sized item replaces something plastic-based in your home. Even better, they're all from Fair Trade brands that support ending global poverty, so it's a box with a cause.
What you get in each box: 6-9 items for your home, such as plastic-free cups, utensils, and even laundry products.
Frequency: Monthly
Cost: $49.95+
Options (Sizes): Beegan or Vegan. The Beegan box may contain items made with beeswax.
Subscription Boxes to Help You Get More Organized
Ah, my favorite New Year's resolution that I never, ever, ever keep. I'm hyper-organized when it comes to my digital life, but in the "real" world I still can't find that important document that I put "somewhere safe" five years ago! Maybe these boxes will help…
The Planning + Stationery Box by Cloth & Paper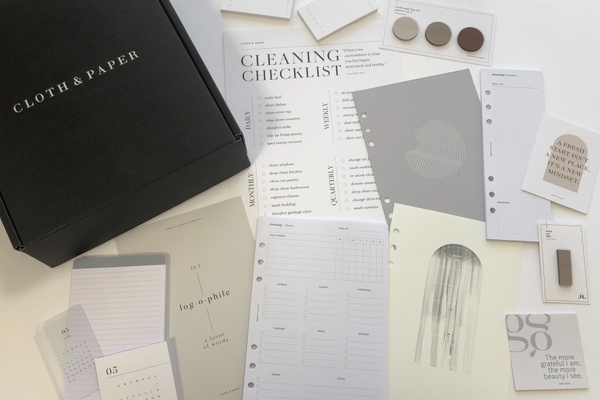 If you're looking for elegant and clean planning tools to help keep your life in check, Cloth & Paper may be perfect for you. The items are designed to match whatever planner you're currently using, thanks to their simpler design.
What you get in each box:  8-12 exclusive planning and stationery items
Frequency: Monthly
Cost: $37+
Options (Sizes): 14 options for different sized planners.
The Fabulous Planner
Want something with a bit more pizazz and color? Try The Fabulous Planner! It's stocked full of beautiful and unique stickers and what not to help keep you organized in style.
What you get in each box: They don't give a specific list of how many items you get, but based on past boxes it looks like you'll get at least 10 items ranging from stickers to scissors and more.
Frequency: Monthly
Cost: $24.17+
Options (Sizes): They offer options for most planner sizes, just let them know what you have when you sign up.
Subscriptions That Help You Start (or Improve) Your Own Business
This is one goal I'm definitely keeping this year. For the last decade, I've spent way too much of my time helping other people build empires at the cost of my own business (and my mental health). After a long-term business relationship suddenly ended this month, I decided to look at it as an opportunity to finally go after my own dreams. Here are two boxes I'm thinking of grabbing to help me with that!

Success Crate Box
The Success Crate calls itself "Ultimate Motivational kit for everyday people," and it's kind of like having a business coach in a box.
What you get in each box: Contents vary, but expect to receive NY Times Bestselling books written for entrepreneurs like you, worksheets to help you succeed, and more.
Frequency: Monthly
Cost: $35+
Sparkle Hustle Grow Entrepreneur Box
Spark Hustle Grow promises to help you grow your business in a fun way. Plus, the box itself is actually a tax write-off. It's pricey, but you're getting more than just the contents in the box. You're actually getting a membership to their exclusive club.
What you get in each box: 4-5 items such as office supplies, tech goodies, books and more, plus access to members-only events and Masterclasses.
Frequency: Monthly
Cost: $61.42+
Options (Sizes): 
Subscription Boxes for Your "Learn Something New" Goals
This is actually the one goal I keep every year because I love learning new things. You don't really need a fancy subscription box for this resolution, but these two below sure do make it fun!
Matter
I know, I recommend this box in pretty much every post where that it even remotely fits but it's really THAT cool. It's is a unique subscription box filled with, well, matter. From prehistoric artifacts to space-age goodies, each month delivers a fun opportunity to learn something new. Plus, everything is 100% carbon neutral and they plant a tree for every box ordered.
What you get in each box: Varies, but based on past boxes it looks like you get at least 5 unique items valued at $100+.
Frequency: Monthly
Cost: $36.66+
Virtual Travel Adventure
I love learning about new places and cultures, but I can't really afford to travel. So, Virtual Travel Adventure is the next best thing! It's a family-friendly box that whisks you away to a different location each month. You'll get everything from local snacks to arts & crafts and more.
What you get in each box: Varies, but it's absolutely PACKED full of stuff. Most are small items, but there's more than enough to help you really learn about a whole new culture.
Frequency: Every other month
Cost: $49.95
Boxes That Encourage You to Spend More Time With Loved Ones
The first box helps you spend more time with your kids, while the second is designed more for date night with your true love.
Together Unplugged Family Fun Box
As the name implies, Together Unplugged is all about screen-free family fun. It's perfect for families with kids between 5-12, but the activities are engaging enough that older teens may even want to get in on the fun.
What you get in each box: A family game from a top brand, a creative crafting activity, other activities designed to encourage teamwork, and fun little goodies like jokes, conversation starters and more. You'll also get a tasty treat inspired by the monthly theme.
Frequency: Monthly
Cost: $439..+
Crated with Love
Crated with Love is one of the few date night subscriptions I've seen that doesn't take itself too seriously. It's all about bonding through laughter with zany games and offbeat activities.
What you get in each box: 4-6 games/activities, along with everything you need to complete or play them.
Frequency: Monthly
Cost: $22.49
FYI, while the description itself doesn't mention this, based on the Q&A on Amazon, Crated with Love's games and activities are gender-neutral, making it a great date night box for same-sex couples as well.
Subscription boxes alone won't give you the willpower to keep YOUR goals, but I really think they can help inspire you by delivering fresh new tools and ideas each month. If nothing else, when they arrive they'll remind you of your goal and maybe give you the nudge you need to get back on track! Enjoy!
Last update on 2023-12-01 / Affiliate links / Images from Amazon Product Advertising API