This is a Sponsored post written by me on behalf of American Frozen Foods Institute and the Frozen Food Roundtable for SocialSpark. All opinions are 100% mine.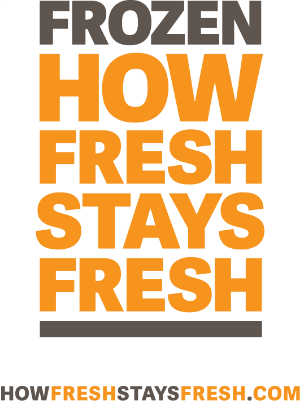 I'm not the world's best cook. You all know that, I've always been upfront about it. I grew up with a single mom who worked all day. I myself am a single mom who works all day. I am also an incredibly picky eater, something my son inherited from me (I looked it up, apparently it actually IS genetic!).
The funny thing is, we're picky in completely different ways! For example, he loves carrots but I won't touch them. I love raspberries but he doesn't. Dinner time can be a challenge. My mom lives with us and she eats like, well, a normal human being. So factor in three completely different tastes (two of which are dramatically picky, to the point that I actually used to HIDE food I didn't like as soon as my mom left the room when I was little), and imagine trying to come up with a meal plan. This is where the benefits of frozen foods come in.
Get Fresh with Frozen
Did you know that frozen is How Fresh Stays Fresh? Frozen foods start with fresh ingredients and inspired recipes. The freezing process takes all the delicious goodness of that recipe and locks it in until you're ready to use it at home. When it comes to fresh vs frozen in my house, frozen is just more convenient for me, especially because I'm often making separate dishes and can use just what I need.
Frozen Foods Make Meal Planning Easy
I use frozen foods to make meal planning easy in a variety of ways. Sometimes I'll just buy a delicious frozen pizza for a quick dinner. My son likes pepperoni on his while I'm a traditional cheese girl. I usually buy a cheese pizza, then top half of it the way he likes it.
Jacob loves fish sticks, but I don't eat anything from the ocean. I often buy the frozen fish sticks, sometimes in a big bag and sometimes as part of a packaged meal. I make him a single serving, then add carrots and black olives (both of us love those!) with maybe a side of cheese cubes.
I am a huge fan of hot wings, but I never really have a chance to go eat them. I also have absolutely NO IDEA how to make them myself. Isn't there something you're supposed to cut off? I saw that on a cooking show recently, I would never know to do that!
So I wing it (pun totally intended!) with frozen chicken nuggets. I mix hot sauce with barbecue sauce together in a bag, shake the nuggets around in it and microwave according to the directions. If I have time, I'll bake it. Voila! I have the general taste of wings without trying to figure out how they do it in restaurants. Of course, no meal is complete without dessert! One of my all-time favorites? Waffles and ice cream!
There are so many different varieties of frozen waffles. I made mine with the S'mores flavor. Frozen food is so varied that you can make pretty much anything with it. Use frozen vegetables in a stir fry, or fruits in a smoothie.They're made from real foods and real ingredients, just paused to lock in that freshness. 
How do you use frozen foods in your recipes?