With summer here and my television choices severely limited, I recently finished off a Buffy the Vampire Slayer marathon. I have every season on DVD and it's been a few years since I watched them all back-to-back! Took me about three weeks to run through them. Back before Jacob, it would have taken me less than a week! I used to stay up till 5am watching it, then crash until after noon.
Ah, those were the days! Since I'm still immersed in a full-on Buffy obsession period (that will last for about a month before the marathon runs its way out of my system), I thought it would be fun to round up some Buffy the Vampire Slayer Fan Girl Must-Haves! Check them out!
Must-Have Goodies for Buffy the Vampire Slayer Fans
Buffy Quotes T-Shirts & Hoodies
Also available as a poster, which is pretty awesome! Filled with some of the best Buffy the Vampire Slayer quotes throughout the series. Bonus points to you if you can picture every scene in your head as you read them!

Buffy and the Scoobies T-Shirts & Hoodies
Love this t-shirt featuring Buffy and her gang of "Scoobies" as a 70s Brady Bunch Style band! The question, of course, is: shouldn't Anya be in the band? She wasn't an original Scooby, but then neither was Spike. Still, if they're going with the "Chosen" episode for inspiration, Angel was barely a player and Anya ended up dead. I think that earns her a spot!

I Survived Sunnydale High T-Shirts & Hoodies
Show off your Sunnydale pride- along with the fact that you weren't killed by the giant snake mayor- with this cool t-shirt or hoodie!
Ah, Giles, you were always the master of dry British sarcasm! Now you can own his quips as a poster, t-shirt or hoodie!

Buffy the Making of a Slayer Deluxe HC—
There is just way too much awesomeness going on in this hardcover book. You'll find in-depth commentary on the episodes, character exploration, behind the scenes info and even an envelope with 13 replicas of the spells used throughout the series. It's definitely a Buffy the Vampire Slayer fan must-have!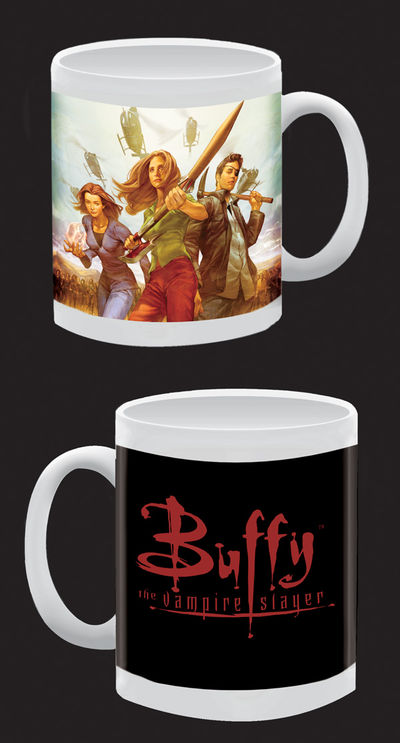 Buffy The Vampire Slayer: Buffy, Willow, Xander Mug
Enjoy your morning cup of coffee with a side of Buffy, Willow and Xander! Nothing perks you up in the morning like a good slaying!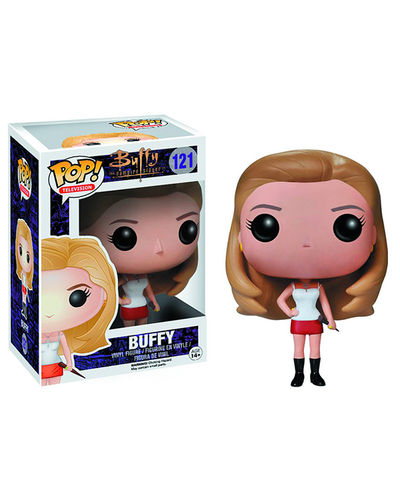 Pop Televison Buffy the Vampire Slayer – Buffy Vinyl Figure
Just about all the characters have been recreated as Pop! Television figures. Start your collection with Buffy and work your way up from there. They even have Oz!
With these Buffy the Vampire Slayer Must-Have items for fans, you'll be on your way to showing off your Slayer pride in no time. Which is your favorite?