This post brought to you by Triad Retail Media. The content and opinions expressed below are that of Pretty Opinionated.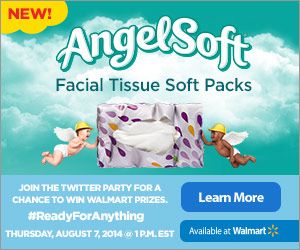 Did you know that Angel Soft® has these great new soft pack facial tissues that you can pretty much take anywhere? They're the same durable Angel Soft® tissue that you love, but in an incredibly convenient water-resistant pack that easily fits in your purse! Imagine the possibilities!
I know I would benefit from keeping a stash of Angel Soft® soft pack facial tissues in my car, my purse and next to me in my desk drawer! The biggest messes seem to happen when I have nothing on hand! About a month ago, a bottle of chocolate milk ended up in my trunk, where it EXPLODED! I kid you not, the entire inside of my trunk was covered in chocolate milk…on a hot day.
Then there are the fun messes, like baby carrots all over both my niece Abigail and my son Jacob after the first time he helped feed her during a visit:
#ReadyForAnything Twitter Party
Join the #ReadyForAnything Twitter Party! today at 1PM EST to talk about how the new soft packs help you be #ReadyForAnything! Be sure to follow the hosts @FamilyFocusBlog and @BrettBMartin. Of course, all great Twitter parties have great prizes, right? Well, this one has $1,000 in prizes! This includes: (4) $50 Walmart gift cards, (4) $75 Walmart gift cards, (2) $100 Walmart gift cards and (1 grand prize) $300 Walmart gift card.
You must attend party to win, winners announced throughout party. Follow Hashtag: #ReadyForAnything
New to Twitter parties? Check out these great tips for beginners!
I hope to see you there!
Tell me, what types of messes would you use Angel Soft® soft pack facial tissues to deal with?