This is a sponsored post written by me on behalf of Atlantic Luggage for IZEA. All opinions are 100% mine.
Atlantic Luggage knows that life is a trip. That's why they're giving you and your family a chance to win the trip of a lifetime! They've partnered with Delta Vacations to give one lucky family of four a vacation to New York or San Diego! I'll tell you more about how to enter that in a moment. First, though, I want to share some of my all-time favorite packing tips.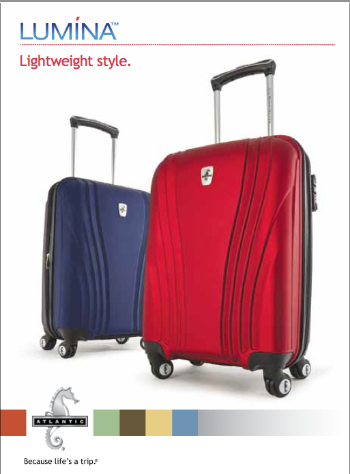 Packing Tips for Parents Flying Solo with Kids
I was going to call this "packing tips for single moms," but then I realized that sometimes married couples fly solo with kids too. Maybe your husband can't get away until the last minute and you're flying ahead to your holiday destination. Perhaps you decided to take your daughter on a fun spa trip alone. Whatever the case, as a single mom, I know that being the only responsible adult on a trip can be challenging! Take a look at how I handle it:
Start with a lightweight, easy-to-maneuver suitcase! I can't stress this tip enough. If you start with a light suitcase, like my favorite Atlantic® Ultra® LITE 2 piece, you can pack a lot more without weighing yourself down. This is the ideal suitcase if you can get away with taking just one. However, I recommend taking advantage of extra luggage space by using a suitcase for every paying passenger.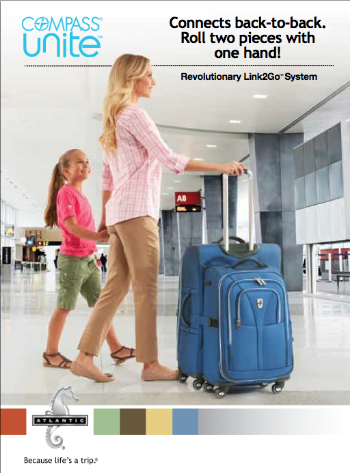 Use a suitcase system. Whoa, did you see the awesome Link2Go System from Atlantic Luggage (pictured above)? They link back to back, so you can carry them with one handle! Where have you been all my traveling life?
Redefine the word "essential." When you're traveling alone with kids, your idea of essential changes. Pre-Jacob, a good chunk of my suitcase was filled with makeup, lotions and other favorite beauty supplies. Post-Jacob, that space went to no less than five of his "favorite" stuffed animals and a plethora of toys or electronics, depending on his age. Think about it: would you rather have 50 shades of lipstick and a cranky kid, or a happy kid and fewer eyeshadow choices?
Stock up on entertainment. While you should use one carry-on for emergency clothes (in case the airline loses your luggage) and such, the other should be dedicated entirely to things that keep your kids busy. I'm talking going all out here. Tablets (both electronic and the paper variety), books, coloring books, travel toys, the work! Basically, everything short of your home television set! Kids have a different attention span on planes. Something that keeps them busy for five hours at home engages them for about five minutes in the air. Be prepared!
Enter for a chance to win a dream vacation with Atlantic Luggage
Enter to win a family trip for four to either San Diego or New York! Entering is as easy as filling out a quick form and hitting the "submit" button. Ready for some details? Here's the basics:
Sweepstakes runs October 15 through November 15
Winner will be chosen within 7-10 days following the close of the sweepstakes.
Grand Prize trip must be booked by 9/30/15 and travel must be completed by 10/31/15.
What's the Prize?
Grand Prize package trip certificate is valid for: (a) round-trip economy air transportation valued at up to $450 per ticket for the Grand Prize winner and three (3) guests from a major U.S. airport serviced by Delta Air Lines near to the Grand Prize winner's home (as determined by Sponsor), to a major U.S. airport serviced by Delta Air Lines near New York City or San Diego, CA (as chosen by winner and determined by Sponsor); (b) hotel accommodations at a participating Delta Vacations hotel in New York City or San Diego, C; (c) four (4) Atlantic® carry-on sized suitcases; and (d) $300 allowance to spend on their choice of Delta Vacations Tour or Activity packages.
Trip lasts three days and two nights.
Total value: $3,700!
So what are you waiting for? Enter to win a family trip now!
Where would you go on your dream vacation?