This is a sponsored post written by me on behalf of Chloraseptic®. All opinions are 100% mine.
As I write this, I'm battling one of my worst colds of the season. Alas, it's not my ONLY cold so far, but it's definitely the worst. Along with the usual suspects, this strain has brought its good friend sore throat to the mix. Fun, right? Not when you're a single mom and you have a million things left to do before the holidays!
I simply don't have time to be sick. Everyone keeps telling me to rest and I look at them like they grew a second head. Rest? How? There's too much to do! Even if you're not a single mom, I'm sure you don't have time to be sick either. We're all busy for one reason or another. It's the nature of our society. We're just busy little bees. We rest when we can, but when we can't, we need real relief and fast.
Get Real Relief Fast with Chloraseptic
When I have a sore throat, Chloraseptic® is the ONLY thing that works for me. I've been using it since I was a teenager, back when it came in like one spray flavor and maybe one lozenge flavor. They've come a long way since then! My absolute favorite is the Warming Honey Lemon because it's like a nice cup of hot tea, without all the work! Did I mention I'm busy?
My current nasty cold gave me a chance to try out some of the other Chloraseptic® products and step outside my Warming Honey Lemon comfort zone. While I think all of them are fantastic at giving you real relief from sore throats, two really stand out as new friends on the shelf next to my beloved Warming Honey Lemon: Chloraseptic® Max Sore Throat Lozenges and Chloraseptic® Max Sore Throat plus Coating Protection spray.
Chloraseptic® Max Sore Throat Lozenges have wonderfully soothing liquid centers that add an extra touch of fast relief. Plus, they also help cool nasal passages, which I definitely needed! Chloraseptic® Max Sore Throat plus Coating Protection spray is designed to reach the back of your throat. With its Wild Berries flavor, even your kids (over age 3) will use it without complaining.
Speaking of kids, that's another reason Chloraseptic® is tops in our house: my son will actually use it. It's safe for kids over age 3 (but talk to your doctor if your child has any preexisting medical conditions or if you have any concerns) and it comes in flavors that don't send my son running in the opposite direction, like a great grape flavored designed just for them! While he won't suck on a lozenge, he will use the sprays, so he gets fast, real relief from his occasional sore throats. I'm convinced my boy is a carrier for all these lovely colds I get, since he rarely gets sick himself!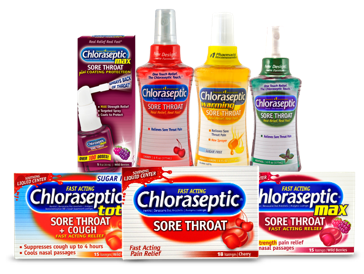 Chloraseptic® products work on contact, so you don't have to stand around waiting for something to take effect. Plus, the lozenges are perfect for stashing in your purse for the busy travel season! I trust Chloraseptic® not only because it works, but also because it's the number one pharmacist-recommended sore throat relief brand for the whole family. The Lozenges Tied for #1. Bottom line, when you're crazy busy and the fate of the world (or your part of it, at least) rests solely in your hands, you can't afford to be miserable with a sore throat. Get fast, real relief from Chloraseptic® and get back to being a mom.
Wondering what viruses are hitting your area? Check out the super handy Cold & Flu Tracker! Right now, about 8-14% of the people in my area are experiencing symptoms, including, alas, yours truly. Stock on on Chloraseptic® before your family gets hit with a virus. Grab a $1 Chloraseptic® Coupon and head to the store now. Be sure to like Chloraseptic® Facebook to keep up with news and other special offers. How do you soothe your sore throats and get back to being mom?