When it comes to home office storage solutions, the less boring the better. I spend a lot of time in my itty-bitty little home office (it's the corner of my dining room, so it's not even a whole office!). I'm already surrounded by very un-office-like things. Barking dogs, meowing cats, the kitchen counter. I need my little nook to reflect my personality so that I'm more likely to WANT to keep it organized. Make sense?
Over the next month (maybe two, depending on how long it takes!), I'm working on getting my home office in tip-top shape. That means everything from organizing the slew of random stuff sitting on top of my mismatched shelves to digging out my beloved Fellowes shredder and ditching the mountain of papers that I've stuffed everywhere. To get started, I'm sharing some of my favorite home office storage solutions that won't bore your pants off! I haven't decided which I'll be getting yet, so perhaps you can weigh in with advice!
7 Rockin' Home Office Storage Solutions
These are affiliate links. I get a commission if you shop through the links, and you get my gratitude.

What is it? Dewey Decimal Drawers 
Why it rocks: Because I really miss using an old-fashioned library card catalog.

What is it? Laptop Lunches Mix & Match Lunch Box Systems
Why it Rocks: Yes, I know it's a lunch box system, but look at those itty bitty containers fitting all nice and cozy in a bigger box? Perfect for office supplies, don't you think?

What is it? Scan and Store! Barcode Labels
Why it Rocks: Holy carp on a stick, I need these! You can create custom barcodes for all your storage containers, then find out what is in them instantly with the app. No more digging through 500 containers for the one random object that I need at any given moment!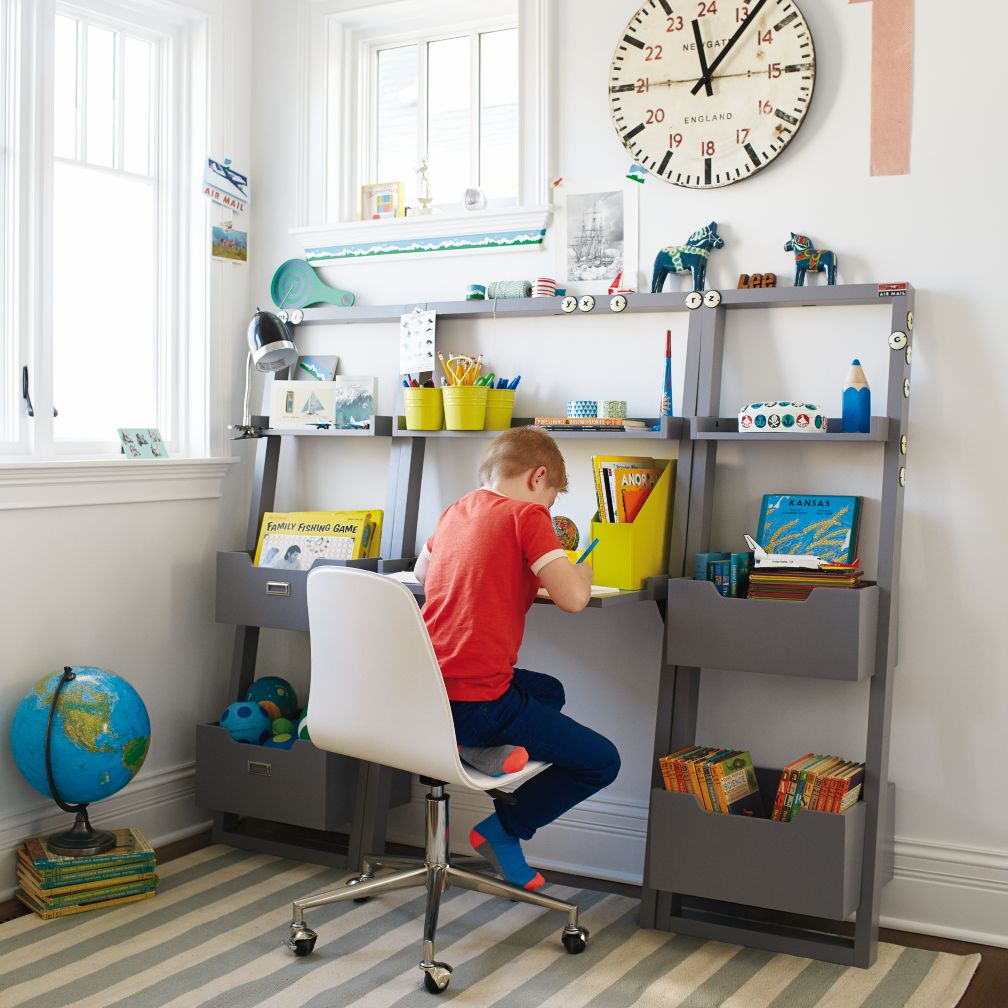 What is it?  Grey Little Sloane Leaning Bookcase/Bins
Why it Rocks: Ignore the kid for a minute and picture yourself in his place. The bookcase is small enough to lean against a wall, yet funky enough to not scream "boring home office storage solutions." Now imagine sprucing it up with some cool stencils or stick-on art decals. Even prettier, right?

What is It? Pen Zen Bamboo Desk Organizer
Why it Rocks: It has magic rubber fingers to keep your items in place and secret hidden magnets below the bamboo surface hold paper clips and whatnot. Plus it's totally zen.
What is it? The Space Bar Monitor Stand
Why it rocks: I have an All-in-One Computer, so this would help elevate it a bit off the table and keep it safer from my occasional spilling mishaps. I also love that it gives me more USB ports. I always need more of those!
I'm always on the lookout for more home office storage solutions that won't bore my pants off. Solutions that I'll actually want to use to get organized. If you have any great ideas, definitely let me know!
Do you have any of these home office storage solutions? Which is your favorite?