This is a sponsored post written by me on behalf of Hallmark Hall of Fame. All opinions are 100% mine.
Have I ever told you about my obsession with Hallmark channel? During the holidays, I watch every single movie they make. After the holidays, I still record at least one a week to watch on the weekends. What can I say, I love the sweet stories and happy endings! The Hallmark Hall of Fame knows their movies, they've been making them for more than 60 years!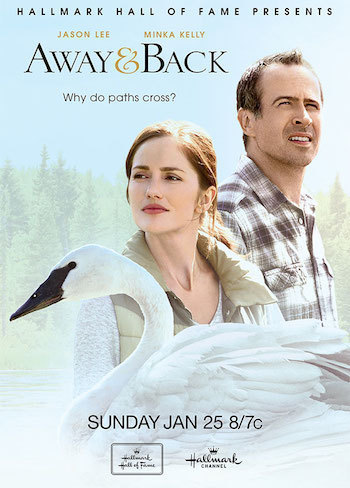 I'm really excited about AWAY & BACK, premiering on Sunday, January 25th at 8 EST/ 7 Central. Why? Because it stars one of my favorite actors: Jason Lee! I've adored him since his early career. It's been fun to watch his acting career evolve, yet to see that he's still pretty down to earth.
AWAY & BACK also stars the beautiful Minka Kelly and the adorable Maggie Elizabeth Jones. It's directed by Jeff Bleckner, who also directed Hallmark Hall of Fame fan favorites like Remember Sunday (2013) and Loving Leah (2009). With such a fabulous cast and director behind it, you know it's going to be a good one!
AWAY & BACK: A Heartwarming tale for the whole family
AWAY & BACK is a heartwarming, family-friendly movie filled with everything from adventure to humor, and of course, romance! When a family of swans takes up residence on the Peterson Farm, 10-year-old daughter Frankie (Maggie Elizabeth Jones) falls in love with them right away. Then no-nonsense ornithologist Ginny Newsom (Minka Kelly) rushes in, deciding she needs to "save" the birds.
Frankie's dad (Jason Lee) certainly does NOT feel love at first sight when he meets Ginny. In fact, it's quite the opposite! He doesn't even like the pushy know-it-all. Frankie, along with her brothers, are anything but neutral observers as they watch the initial hostility between their widowed father and the strong-willed Ginny transform into something else. Check out the trailer to learn more!
AWAY & BACK Sweepstakes
Do you want to get AWAY & BACK? I'm talking about a vacation, of course. Enter the AWAY & BACK Trailer – Share to Win Sweepstakes  for a chance to win a family vacation. Just watch the trailer, sign up and share the trailer to enter! It's easy!
Don't miss the premiere of AWAY & BACK on Sunday, January 25 at 8/7 Central on Hallmark Channel. I know I'll be watching it!  After the premiere, you can buy it on DVD from Hallmark Hall of Fame.
Are you looking forward to AWAY & BACK? What is your favorite Hallmark Hall of Fame movie?