Wow, can you believe it's already time to start your back to school shopping? It's crazy, how fast the summer flies by, isn't it? This year, my son starts cyber school, so my school supplies list is a little different than usual. Okay, a lot different. It has things like "an apple" and "a bag of coffee" on it. Hmmm, is the coffee for me, to help me adjust with my son being home 24/7? Honestly, I'm excited to have him home all day. I'm even more excited to have him in a safe learning environment completely devoid of bullies! He's had a rough time in his public school, so I feel really good about this decision.
Whether you home school, cyber school, or send your kids off on a bus each morning, you can't get around buying back to school supplies. While I buy plenty of "traditional" supplies from the store, I also like to support small businesses and crafters, so I head over to Etsy for some unique finds, too. Check out a few of my favorite handmade supplies that really brighten up a work space or help get kids excited about going back!
Insanely Adorable Back to School Supplies from Etsy
Affiliate links included below. If you make a purchase, I will receive a small commission. Thanks for your support!
1- A bright and colorful way to commemorate the first day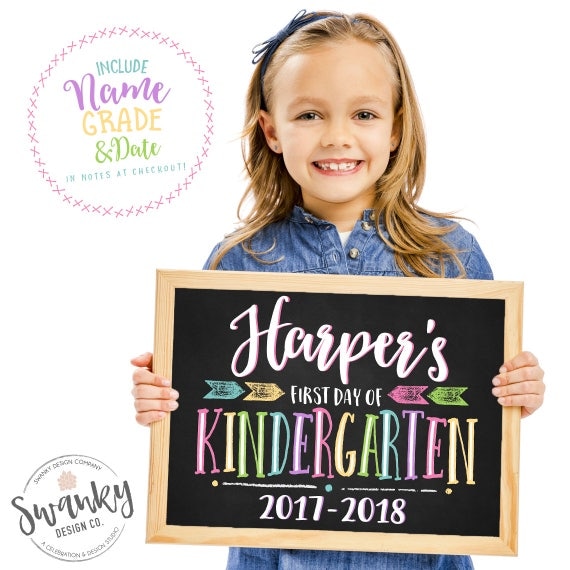 First Day of School Sign
I really wish I did clever and fun first day of school pictures like this as Jake was growing up. He's starting 7th grade this year, so I feel like I kind of missed the ball on that one. I suppose I could start now? This adorable "first day of school" sign can be customized with any name, grade, and year. I love the colors, don't you?
2- Reusable Snack Bags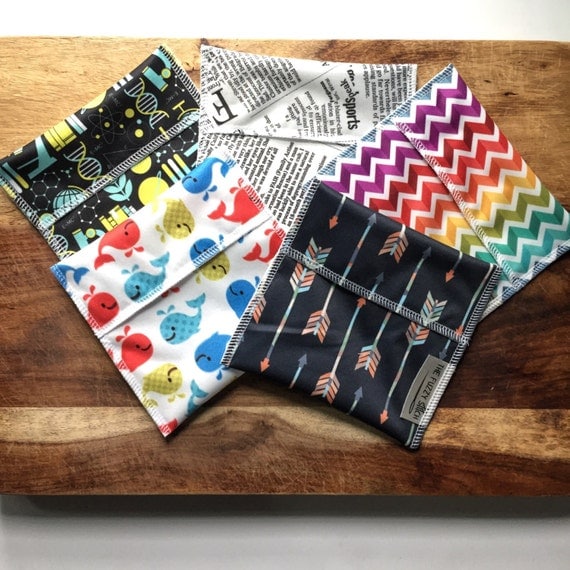 Zero Waste, Reusable Snack Bag
Even if your kids are home all day, these zero waste snack bags will come in handy! I really love that they come in designs for all ages. I've seen a lot of these floating around Etsy, but they often seem geared towards younger kids. Older kids need snacks, too!
3- Fun Planners to Keep You Organized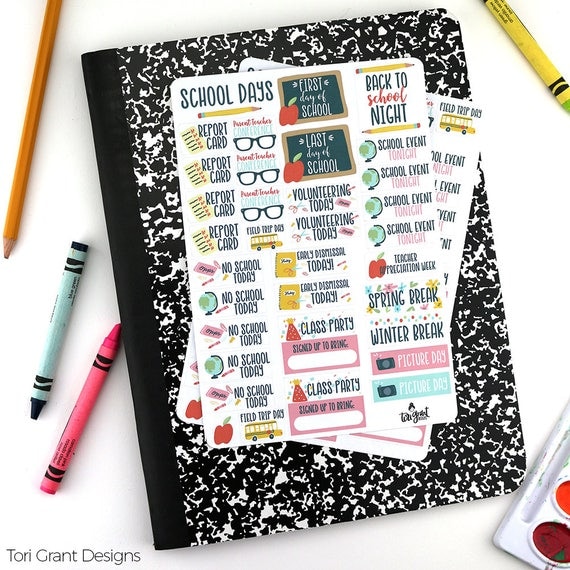 Back To School Planner Stickers
Keeping Jake organized is going to be more important than ever this year. I'll be honest, I'm a little overwhelmed by my role as his learning coach! I think both of us are more likely to stay on top of things if we have a bright, colorful, and fun planner like this one!
4- One of a Kind Book Bag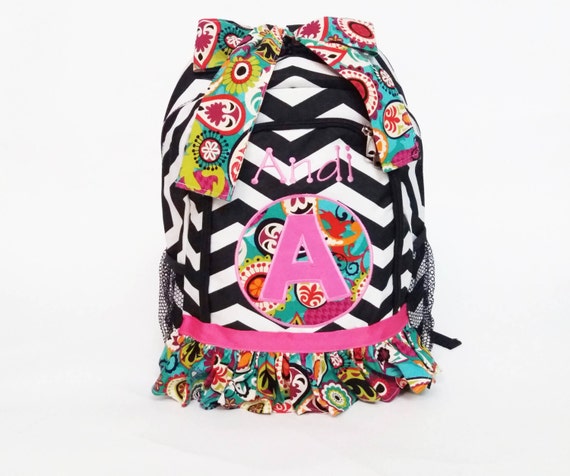 Personalized Book Bag
Okay, if you're homeschooling, you probably don't need a fancy book bag, right? For everyone else, though, a personalized book bag is totally the way to go! If your child's name (or just initials) is splashed across the front, it's a lot less likely to get lost or stolen. Unless of course your kid has a super common name. Then I suppose you still have a problem. FourLoves, the shop that makes the bag above, has a ton of other options (including not so ruffly bags for boys).
5- The perfect unicorn planner cover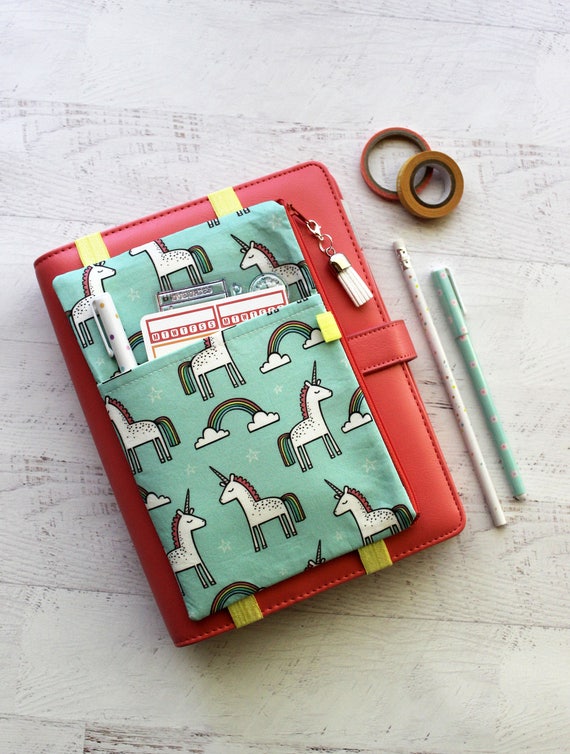 Unicorn planner cover
I'm actually eyeing this unicorn planner cover for myself, but it's also fabulous for tweens and teens! It has a roomy pouch to keep things like your phone, a small notepad for jotting down quick notes (or phone numbers), and more. Keep a pen handy at all times in the pencil holder slot. It's designed to work with the most popular planners. If unicorns don't make your heart skip a beat, she has plenty of other gorgeous designs to choose from.
6- A funky pencil pouch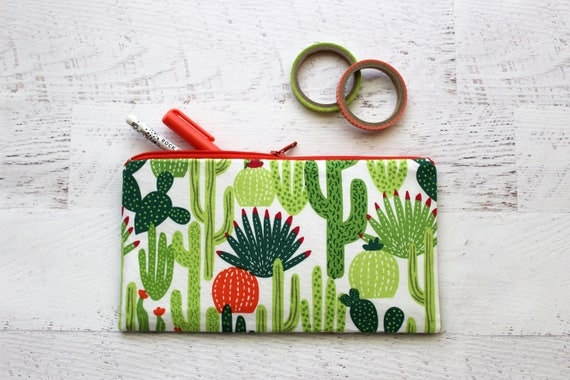 Cactus pencil pouch
This fun and funky cactus pencil pouch is made by the same shop as the unicorn planner. While I think it's super original and clever, if cacti isn't your thing, I'm sure one of her other 70 designs will make your pencils do the dance of joy. She's got everything from llamas to owls to polka dots.
7- A larger pouch for art supplies and makeup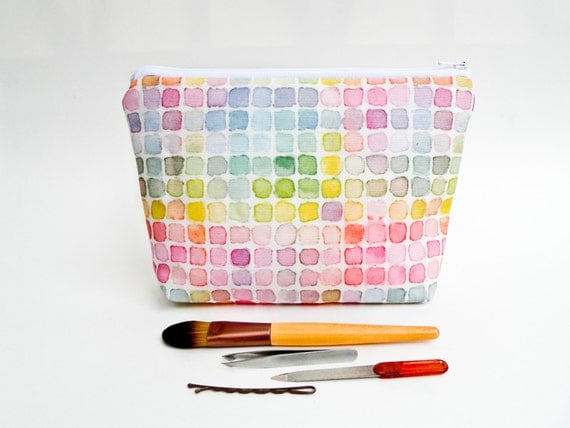 Rainbow Watercolor Large Pencil Case
While the cactus pouch is perfect for your child's basic pens and pencils, you'll need something a little bigger to corral all of the back to school art supplies (or all of your teen's makeup supplies!). That's where this pretty watercolor pouch comes in handy! It's big enough for all of the necessities yet small enough to toss in a back pack. The extra hidden fleece fabric layer helps it keep its shape over time.
8- The cutest pencil sharpeners I've ever seen!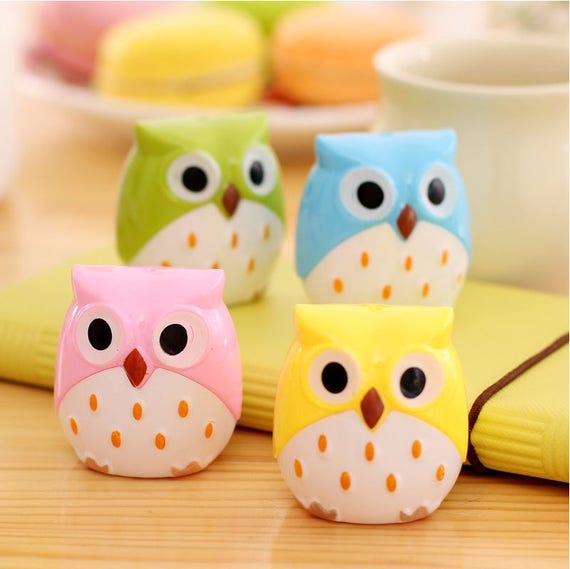 Owl Sharpeners
These owl pencil sharpeners make me want to finally sit down and sharpened the 500 random pencils my son has bought over the years at school store! I'm thinking they would also work perfect for my eye and lip liners! I have a boring old makeup sharpener right now and I always lose it at the bottom of my eyeliner drawer. These owls definitely stand out!
9- Staplers that make you want to find things to bind together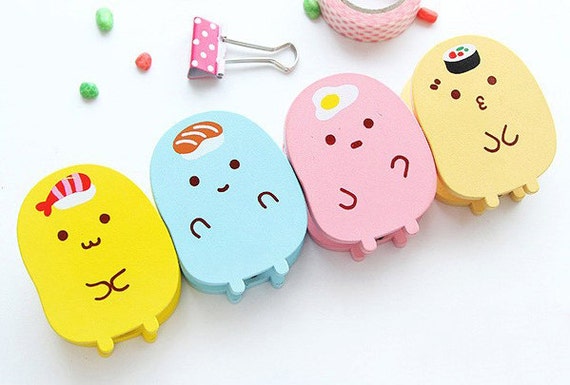 Cute Stapler
These darling staplers make me want to dig through my stacks of paper and find things to bind together! They're minis, so they'll fit perfect in that cactus pencil pouch! They ship from Hong Kong, so you'll want to order early to make sure they arrive in time for the start of school.
10- Pocky Pens!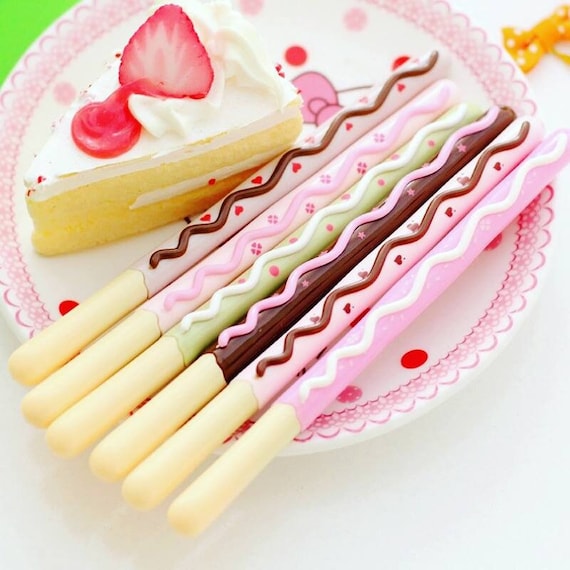 Chocolate Pocky Stick Pens
Pocky is suddenly all the rage in the states, which is funny because it was one of my favorite snacks when I lived in Japan. FYI, the stuff you pay $5 for here tastes NOTHING like the real thing you pay $1 for over there. The chocolate goes through some funky process on the way over when it freezes and unfreezes. Of course, unless you're planning a trip to Japan in the near future, you're stuck with it. If you want to show off your love of Pocky, these pens are the way to go!
Etsy has an insane amount of adorable handmade and otherwise unique back to school supplies. I could spend all day browsing! I always feel good about buying through them because I know I'm supporting other small business owners.
What are some of your favorite school supplies from Etsy? Share below!