Tawdra Kandle is back with another fabulous story, just in time for summer beach reading! If you can't get enough of the Meghan Markle/Prince Harry epic romance, you'll love The Anti-Cinderella! It's a tale as old as time: girl meets prince, girl kisses prince, girl forgets all about the prince until fate throws them back together. Okay, so maybe it's not the timeless tale you're used to, but Tawdra doesn't do ordinary!
About "The Anti-Cinderella" in Tawdra's Words
Affiliate links included below!
It's been such a wonderful week of release fun since The Anti-Cinderella debuted on May 15th. What better way to celebrate than with a real royal wedding! How nice of Harry and Meghan to schedule their big day when they did. I really appreciated the boost and the nod.
Did you get your copy yet of the book yet?
You can read teasers right here and here.
And you can check out the play list here!
What reviewers are saying . . .
"I enjoyed (it) that much that I read it in one sitting. Through the book I felt everything they were feeling, laughed with them and felt sad with them as well."
"This story made me have all the "feels"."
"The characters are strong and the story flows smoothly. This is the first book of the series and I will be watching for the next one."
"The book has real emotion, characters with depth, humour, sadness, romance, love, supportive friends and family. I couldn't put it down."
"With powerful, realistic emotions, sweet love, drama, humor and passion this is a pleasurable and entertaining read."
"The book has real emotion, characters with depth, humor, sadness, supportive friends and family, romance, humor and love. I was thoroughly invested in the characters and could not put the book down once I started it."
***
More news!
I'm thrilled to share that this book is only the beginning of the fun! There will be two more installments in the main Anti-Cinderella story: The Anti-Cinderella Takes London and The Anti-Cinderella Conquers the World.
You can preorder the London book exclusively on iBooks . The preorder will go live on Amazon, Nook, Kobo and Google in the fall. And if you want to see the amazing cover, it'll be revealed later this summer on my Temptress group.
The Anti-Cinderella Takes London
Falling in love with a prince wasn't something I planned . . .
When I reconnected with the first guy I ever kissed, I never dreamed I'd end up moving to England to be closer to him. But Nicky and I are in love, and living together was the next logical step.
If I thought dating royalty was a tough gig when I was living in the USA, I'm learning that it's even more challenging now that I'm in London. Every move I make, every word I say, is under the microscope. Becoming part of Nicky's family while staying true to who I am isn't easy.
Nicky makes everything worthwhile. The hours when we're alone together are paradise. And if the press and the pressure are the price I have to pay for him . . . I'll choose Nicky, every single time.
After all, London's just another town. Right?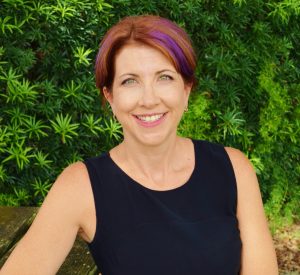 Tawdra Kandle writes romance, in just about all its forms. She loves unlikely pairings, strong women, sexy guys, hot love scenes and just enough conflict to make it interesting. Her books include young adult and new adult paranormal romance, new adult and adult contemporary romance and adult paramystery romance. She lives in central Florida with a husband, kids, sweet pup and too many cats.
And yeah, she rocks purple hair.
You can follow Tawdra on Amazon to receive updates on her releases. You can also visit her website for more information, and subscribe to her newsletter for sales announcement, special exclusive content and promotions!
If you enjoy Tawdra's books, join the Naughty Temptresses!
Facebook/Twitter/Instagram/Pinterest/Spotify/BookBub/Books2Read