Hashtags can make or break your Instagram post, more so than on any other social media network. Yet manually finding the perfect hashtags for your photo is kind of a major hassle. So much so that half the time I just skipped it entirely, then wondered why no one liked my brilliant (to me, anyway) post.
Tailwind's new & improved Hashtag Finder tool is a total game-changer. Read on to learn how it works, plus find out how you can get a free Tailwind trial!
Tailwind's Hashtag Finder Makes Instagram Scheduling a Breeze
*Heads up: I am a Tailwind affiliate and being compensated for this post. When you click on the links and make a purchase, I earn a commission at no extra charge to you. I was a Tailwind customer long before I became an affiliate though, and only recommend services that I actually use myself.
A little while back, I told you all about why Tailwind is totally worth the money, especially for those who use Pinterest. Back then, I wasn't using it much for Instagram because I had another tool that I had bought through AppSumo that let you schedule posts ahead of time. At the time, Tailwind would let you add your photos and get them ready to go, but you still had to manually post them when the time came.
A couple of months ago (maybe a bit longer), Tailwind announced automated posting capabilities for Instagram. Around the same time, my other tool started glitching out all the time, so I decided to delve deeper into Tailwind's option. I haven't gone back to the old tool since!
Like the Pinterest scheduler, Tailwind's Instagram scheduler lets you upload photos to draft, edit the description right on the platform and set up times for your auto-posts to go out (or you can manually schedule it for an exact time). However, it also has an added bonus that makes it absolutely worth every penny: the Hashtag Finder.
Features of the Hashtag Finder
 Get a fresh selection of hashtags for every post, every time.
 Hashtag suggestions now appear and refresh as you type, whether you include hashtags or not!
 Find even more hashtags by shuffling them or quickly dismissing the ones that aren't quite right.
 Hover over any hashtag to see how popular it is so you can quickly pick the best ones for you.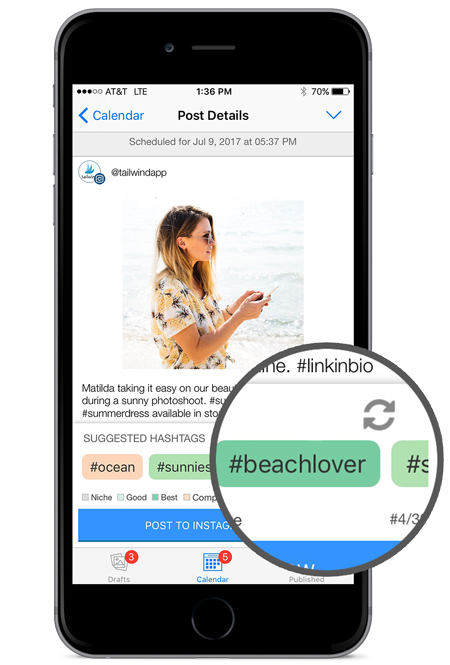 Sign up for a FREE TRIAL to Tailwind so you can check out all these awesome features yourself! I'll let you in on a secret: if you only post once per day to Instagram, you can probably get away with just using the free version, which lets you post 30 per month. If you post more often than that, or want to access more insights, you'll want to get the PLUS account. I have it for Pinterest, and it is SO worth it. In fact, if I had to pick just one tool to pay for each year, it would be Tailwind.
Still not convinced? Take a look at these typical Instagram results of Tailwind Members!

Start Your Free Trial!