Looking for fabulous Christmas gift baskets that are all ready for giving? Check out these fantastic baskets on Etsy! They're perfect for everyone from your in-laws to your boss to your best friend. They also make great last-minute Christmas gifts, as you can send them directly to your recipient.
Don't you just love Christmas gift baskets? When I can't think of a gift for someone that is notoriously hard to shop for, I turn to gift baskets! They really are an easy way to pull together a bunch of smaller gifts into one meaningful themed present. Check out a few of my favorites that are all ready for giving! Some of them are Christmas-themed, some are just awesome gift baskets that are perfect for anytime!
Christmas Gift Baskets on Etsy
Affiliate links included below. If you make a purchase through these links, I earn a small commission at no extra charge to you. Thanks!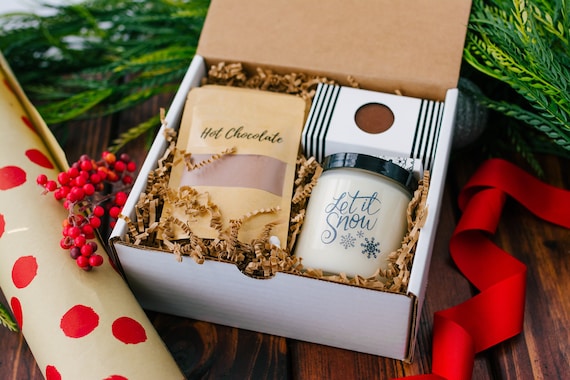 This simple Christmas gift basket stimulates just about every sense! Rich, hand-blended hot cocoa for the taste buds, a candle (in your choice of scents) for the olfactory sense, and handmade soap to soothe the skin! Choose between regular or vegan hot cocoa, and four different candle scents. Also includes a personalized card, so you can have it shipped right to your recipient.
Get it on Etsy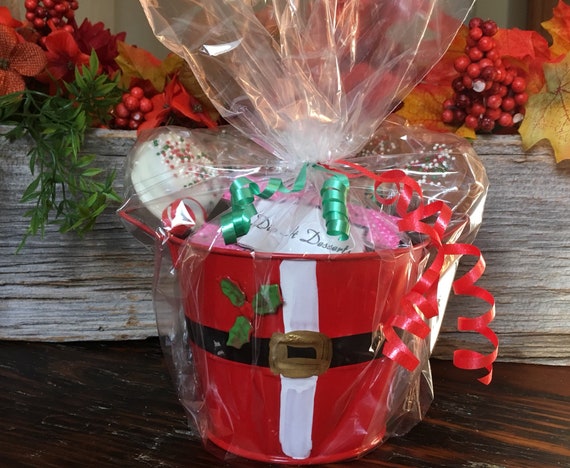 There is so much to love about this Santa Claus Chocolate Gift Basket! First, it's under $20, making it perfect if you need a cheap christmas gift that doesn't actually look or feel cheap!
Second, it's loaded with tasty chocolate treats from Dip It Desserts! Each basket is different, but baskets may include things like chocolate dipped pretzels, chocolate-covered Oreos, cake pops, and more! All of that in an adorable Santa pail that doubles as decor!
Buy it on Etsy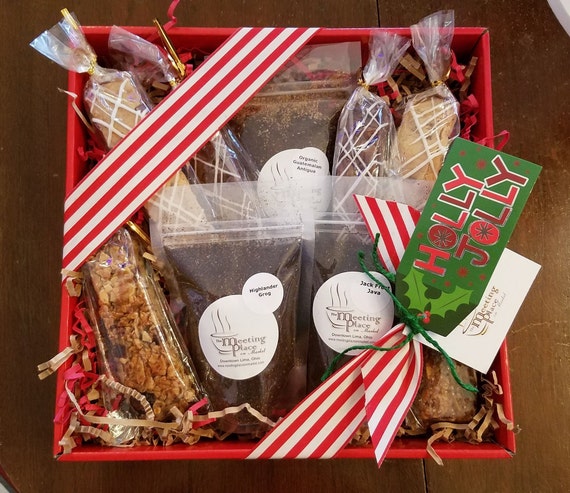 Ah, here's one for me! Your favorite coffee lover will adore this "coffee break" gift basket! It comes with a variety of biscotti and handmade granola bars from MeetingPlaceCoffee (a family-run bakery in Lima, Ohio). Plus, your favorite gift recipient will also get three coffee samplers, including two seasonal flavors and one rich "origin" coffee. If you don't love the red and green theme, they also offer two other styles.
Buy it on Etsy
4. Christmas Spa Box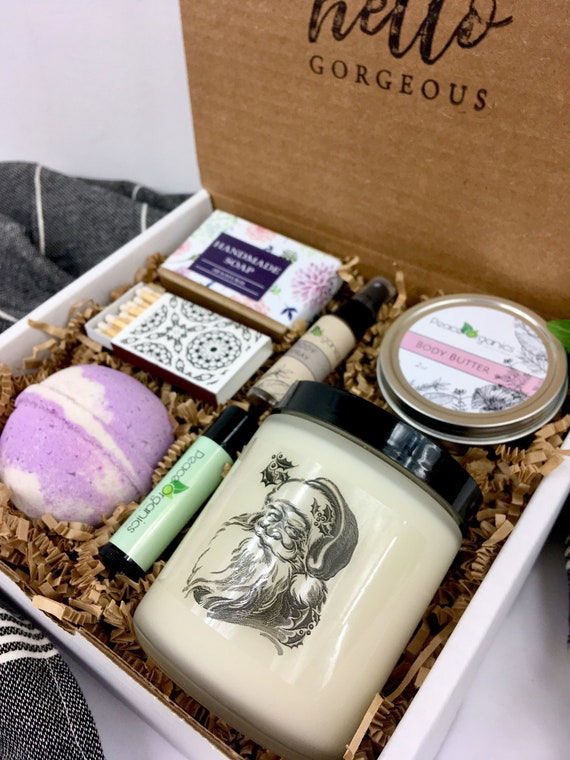 Oooh, wait until you see the different scents available for the candle in this spa gift basket! I'm talking tasty aromas like blueberry cheesecake, apples & maple, and more! You get to pick the scent.
Also included: a travel-size bar of natural soap, lip balm, body butter, essential oil spray, and more.
Buy it on Etsy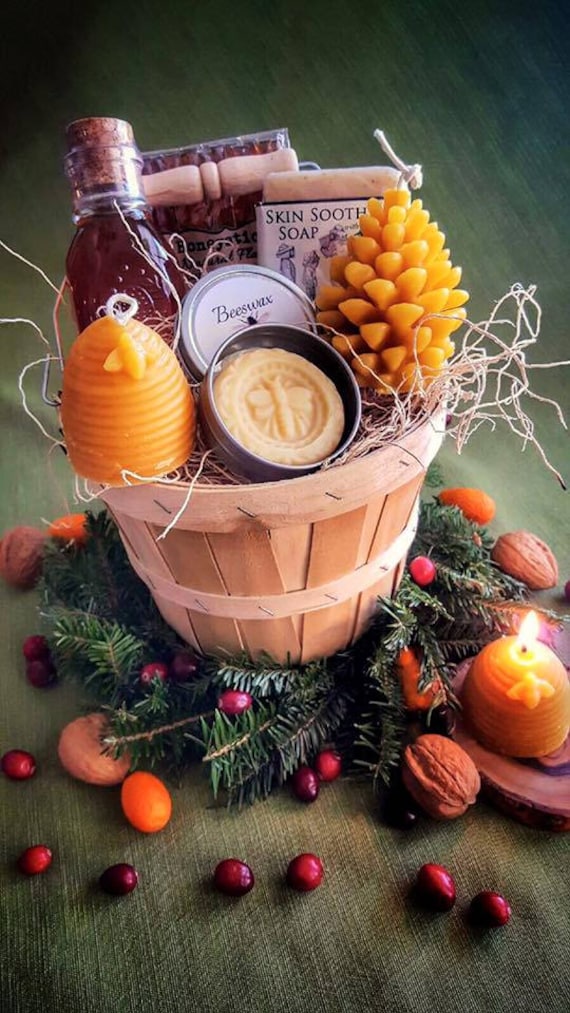 Isn't this one of the classiest Christmas gift baskets ideas? I love honey, especially when it's produced by smaller bee farms (versus the cheap mass-produced honey that you find in most grocery stores). Raw honey is especially delicious and a totally different experience than the cheap stuff.
This basket comes with an 8oz jar or Heritage Bee Farm raw honey, plus 12 delicious honeysticks, 2 natural beeswax candles, a beeswax lotion bar and a handmade soap. You can also include a custom card.
Buy it on Etsy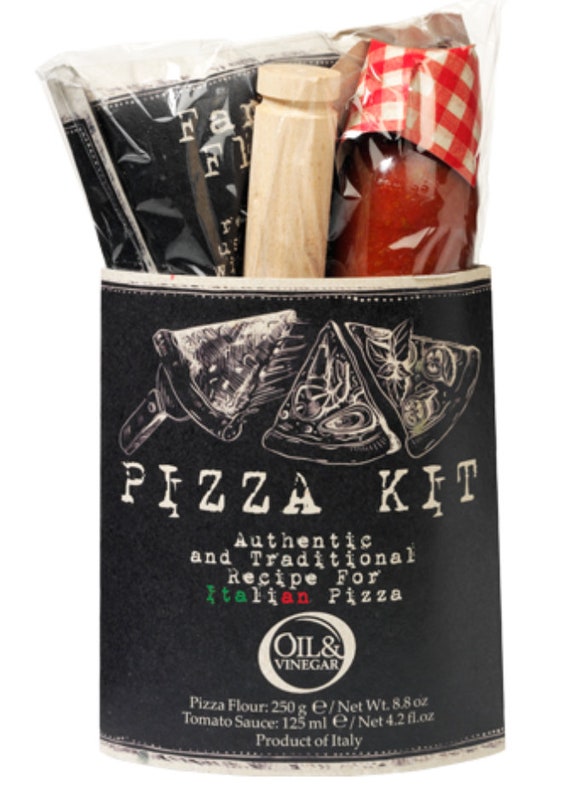 If you prefer to give food baskets for Christmas, check out this pizza kit gift basket! It has everything you need to make your own gourmet pizza, including: pizza cutter, towel, wheat, spices, recipe card, olive oil, pepperoni, tomato sauce, and more!
Buy it on Etsy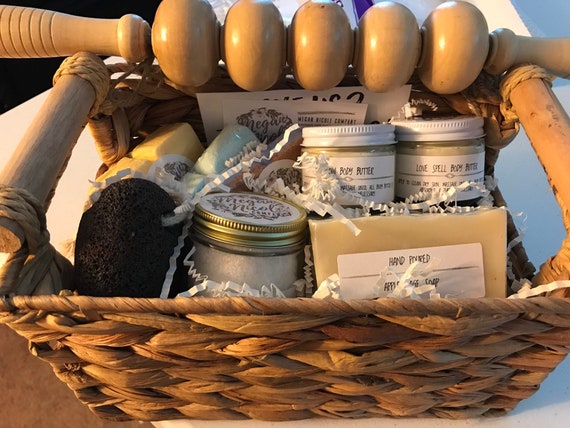 For those of us who usually end up buying ourselves most of our gifts (aside from my mom, I don't have anyone in my life who buys gifts for me, as Jake is still too young), this mystery gift basket still lets you get a few surprises under the tree. Just select a size, then wait for it to arrive. Stick it under your tree and wait until Christmas to open it. Gifts include a variety of bath and body products.
Buy it on Etsy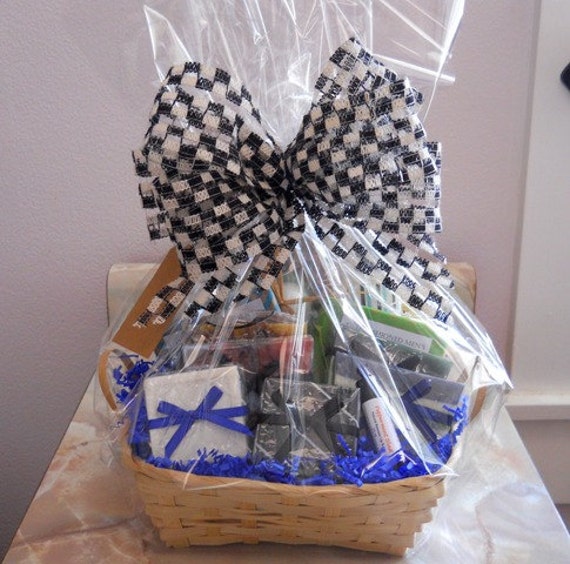 Looking for gift ideas for boyfriends or husbands? How about your brother? This great gift basket for men comes with six homemade soaps in scents that guys love. It also includes lip balm, lotion , and shaving soaps.
Buy it on Etsy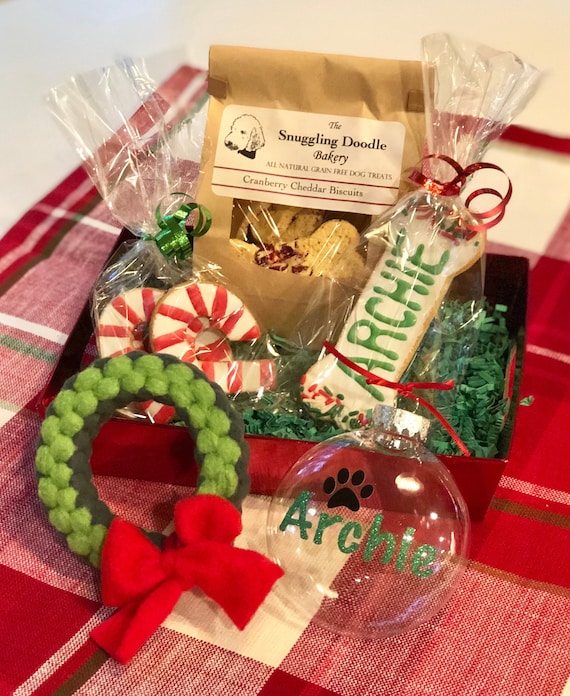 These last two are for our furry friends, starting with this awesome gift basket for dogs, featuring grain-free treats, like Cranberry Cheddar Biscuits and Iced Candy Cane Cookies! It also includes a cute personalized ornament!
Buy it on Etsy
10. Gift Basket for Cats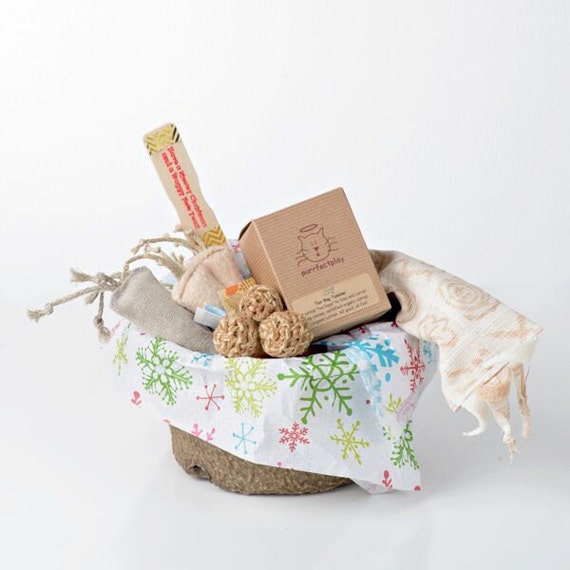 This adorable gift basket for cats is loaded with fun toys for your feline friend, including: hemp tea bag tumblers, crocheted cotton chase balls, organic catnip baby carrots, and more. All toys are natural and are handmade in their Indiana workshop.
Buy it on Etsy
I really love all of these, it's so hard to choose a favorite. Personally, I'd go for the coffee or honey gift basket. My dogs would love the dog basket, though, and my kitties would go nuts for the cat basket!
How about you? Which of these Christmas gift baskets is your favorite?