The big day is finally here! Incredibles 2 releases on Blu-ray 4K Ultra HD,™ Blu-ray™ DVD and On-Demand on Nov. 6! Jake and I were lucky enough to get an advance copy in exchange for a review. Find out what we thought, plus snag some free printables and check out some really cool bonus clips!
I'm going to be brutally honest here: I usually have very mixed feelings about Disney sequels. I am either crazy excited about them or totally ambivalent. I've loved all the Toy Story movies, for example, and I'm really looking forward to the 4th movie coming out next year. On the other hand, several sequels have left me feeling like I can take them or leave them. The Little Mermaid movie was one of my all-time favorite Disney films. The sequel…not so much.
Incredibles falls into the first category. I absolutely adored the first one, and thought that, like Toy Story, it was the type of movie that begged for a sequel. The problem with a sequel releasing 14 years after the original is that everyone has incredibly high expectations. Did the movie meet those expectations? Read on to find out!
Free Printable: Jack-Jack vs Raccoon Paper Foldables
Before we get into the review, here is that free printable I promised you! Click on the image above or grab it here!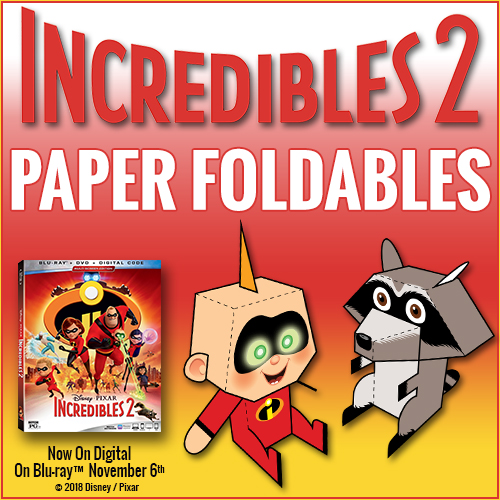 Here's what we thought of Incredibles 2
In my opinion, Incredibles 2 definitely met my high expectations! While some may disagree (based on reviews on IMDB, where it still pulled down an 8/10), it seems that the major movie critics agreed with me for the most part. The movie scored an incredible (pun intended) 94% on Rotten Tomatoes. If you regularly read movie reviews over there, you know that a score in the 90s is an incredibly accomplishment.
Jake, who wasn't even born when the first one came out, popped the Blu-ray into his XBOX One the moment it arrived on our doorstep.  Now that he's a teenager, I can count on one hand the number of "family movies" that actually get Jake excited enough to drop everything and watch it the first chance he gets.  I was still working, so I watched it later on that evening.
We both thought the movie was fantastic, but probably for different reasons. Jake loved the humor, the action & adventure, and the overall plot of the movie. While I loved all of those things, too, I especially liked the fact that Helen takes center stage this time, leaving Bob at home with the kids. Combined, the two movies show that both men and women can do anything, whether it's being a super hero out in the world or at home with the kids (because, as we all know, parents are super heroes, too!).
Overall, it was an incredibly fun movie that both Jake and I enjoyed, albeit separately. It's one of those Disney/Pixar movies that you can actually watch more than once without getting bored, so one night soon Jake and I will make a night of re-watching both movies  together.
Incredibles 2 Blu-ray Bonus Features
Bonus features are what takes a movie from "I'll just rent the digital version" to "I MUST have a physical copy," and Incredibles 2 is jam-packed full of fabulous bonuses, depending on which version you get. Here are some of my favorites from the Blu-ray & Digital version.Visit the website to check out all of the bonus features on each version.
 All-New "Auntie Edna" Mini-Movie – When Bob Parr visits super-suit designer Edna Mode looking for help with his high-energy toddler Jack-Jack, Edna pulls an all-nighter designing a suit to harness the baby's seemingly limitless powers.

10 Deleted Scenes With Introductions – Suburban Escape,  Kari Revisited, Return of the Supers, Chewed Out, Late Audition, Slow Day, Frozone and Honey, Restaurant Robbery, Fashion Show and Security Breakdown.

Heroes & Villains – A collection of mini-docs about the backstory and major design ideas behind the "Incredibles 2" characters — featuring voice actors, director Brad Bird, and Pixar artists talking about the many elements that make these characters feel real.

Paths to Pixar: Everyday Heroes – At its heart, "Incredibles 2" is about family dynamics and the challenges of being a working parent. Meet the parents of Pixar as they discuss their personal connections to the film and their experience with stretching to balance work and family.

Outtakes & Stories – Raccoon Fight Story, Evelyn Animation Outtakes, Puppet Animator Interview, Outtakes Goofy Arms Story and SuperBaby Music Video.

Character Theme Songs, Vintage Toy Commercial TV Spots , Toolkit Montage and Global "Incredibles 2" Trailers
Incredibles 2 Clips
Auntie Edna Clip: Show Me Your Powers
 Fashion Show Deleted Scene
Designing Fabulous
Have you seen Incredibles 2 yet? What did you think of it? Will you be buying it on Blu-ray?