Want to try out a new subscription box but don't really feel like dropping a heavy chunk of change on something that may be pure junk? Check out 11 that offer deep discounts on your first box so you can actually make sure you like it before committing to full price.
As you may know, I have a mad subscription box addiction. I love getting happy little surprises in the mail each month!
What I don't love? Paying $20+ (or even $50+) on a box that's full of $5 worth of stuff. Take Ipsy, for example. I know a lot of people love their subscription, but my first $10 box literally had just 2 tablespoons of samples, most of which I had already gotten for free just by walking past the Target beauty section on a Saturday. Major disappointment! Plus, I bought it with birthday money, so it was even more depressing.
So, now I only try subscriptions that offer very steep discounts (at least 25%, preferably 50%) on the first box. It's not just about saving money.  I figure anyone who offers a great trial price on their box has to have great confidence that I'll like it enough to continue. 🙂
Subscription Boxes with the Best "First Box" Discount
I tried to choose a good variety of discounted subscription boxes for you to check out, so there's a little something for everyone. Before we start, this post does use affiliate links. If you buy through them, I get a small commission at no extra cost to you. Blah blah blah, you know the drill. Let's get started!
Oh, for those found on Amazon, I'm noting that the special price is valid as of today. Amazon has weird rules for affiliates about what we can and can't say about prices, since they're constantly subject to change. For the regular prices, I actually have a plugin that pulls the current amount, so that *should* be up to date.
1.Love with Food Tasting Box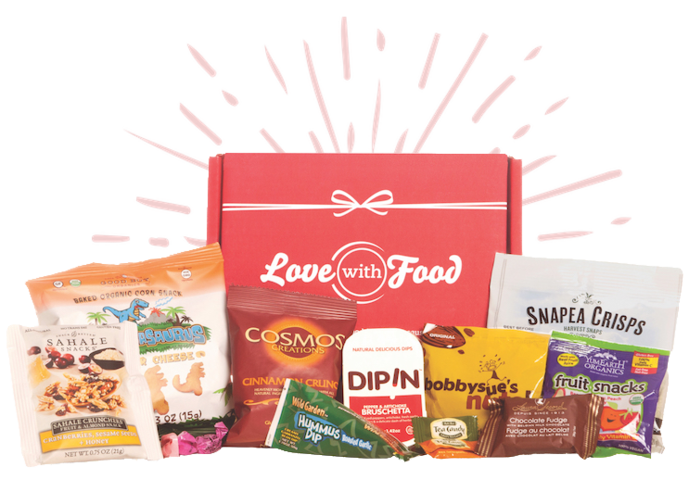 What is it?
A snack subscription filled with with "junk-free" treats. No chemicals, colorings, or artificial ingredients. Plus, the donate a meal to the hungry with each box sold. I reviewed them here a while back.
Regular price
Varies, depending on which size you get. Tasting Box is $9.99, Deluxe Box is $19.95, and the Gluten-Free box is $24.99
First box discount
Save 40% Off Tasting Box (get it for $5.99), the Deluxe Box ($11.95), or the Gluten-Free box ($14.99)
2. 
Raddish – Kids Cooking Subscription Box
What is it?
A cute themed cooking kit designed just for tiny chefs. Comes with cooking cards, real utensils, and a grocery list.
Regular price
$27.95 a month.
First box price:
$16.80 on Amazon (as of 3/1/20)
3. NomNomNow (pet food)
What is it? 
Fresh human-grade for for cats and dogs, developed by a veterinarian. They offer beef, chicken, pork, and turkey options.
Regular price
Varies depending on which food you choose.
First box price:
Take 30% off your first order. You'll have to fill out your dog's profile before you can actually get to the pricing page, which I don't love. Still, it's a great trial offer!
4. Hubble Box (for contact wearers)
What is it? 
A monthly contacts subscription. Yeah, I know, this one only really appeals to a super specific group of people, but it's a fairly large group! My mom uses Hubble for her contacts because they offer the best price overall.
Regular price
$36 + $3 shipping. Pause or cancel any time.
First box deal
Get your first box with a 30-day supply of contacts for just $1.
5. 
Simple Loose Leaf Tea
What is it?
A sampler box filled with "4 premium loose leaf teas." You get enough for 16-20 cups of high-end tea that's curated by the siblings who own the company. Each tea comes with a Tasting Card that tells you a bit about it.
Regular price
$24.90 a month.
First box price
$6.49 on Amazon, as of 3/1/20
6.
Crated with Love (a date night box for couples)
What is it?
A monthly box with games, activities and other supplies for a themed date night with your significant other. It's created by a real couple (one of which is a marriage counselor) and you can do the activities at home without needing to hire a sitter. 
Regular price
$29.99 a month.
First box price
$17 on Amazon (as of 3/1/20)
7.
Succulent Studios Subscription Box
What is it?
A tiny box of succulents. You get two baby plants in an eco-pot, plus instructions on how to care for them. Great for people who don't constantly kill their plants (so, not a good one for me).
Regular price
a month.
First box price
$9.00 on Amazon (as of 3/1/20)
8. FaceTory (Korean Face Masks)
What is it?
A monthly box filled with 7 high-quality K-beauty sheet masks (and other types of masks), valued at $35+. The FaceTory curation team tries them all first. Man, they must have some really great skin!
Regular price
$19.90 a month.
First box price
$9.56 on Amazon (as of 3/1/20)
9. BarkBox
What is it?
My favorite pet subscription box ever, BarkBox delivers two toys, two high-end treats, and one chew to your dog each month. Total value is at least $45, and they have some of the cutest & most unique toys.
Regular price
$39.00 a month.
First box price
$15.95 on Amazon for the box for small or medium dogs (yep, you guessed it, as a 3/1/20)
10. UPBOX
What is it?
Since it says it's a faith-based themed box, I was prepared to write it off. I'm not religious, sorry. However, the majority of the items aren't religious. Mostly, it's filled with cruelty-free beauty supplies and tasty treats. Plus, I don't want to leave something off that you may enjoy just because it's not entirely for me.
Regular price 
$35+ a month
First box price
Save 50% off 3, 6 & 12 month plans (coupon code is right above the price).
11. Little Passports USA Edition
What is it?
A monthly box for kids ages 7-12 that takes them on a journey around the US through fun activities. I've checked out quite a few of their boxes over the years and they never, ever disappoint.
Regular price
First box price
$13.27 on Amazon (as of 3/1/20), plus your first box comes with extras that you'll use with subsequent boxes.
Last update on 2023-09-24 / Affiliate links / Images from Amazon Product Advertising API