Want to bring a little more joy into your home each month? Grab one (or more) of these houseplant subscription services! From darling succulents to uncommon finds, they'll brighten up your home in a flash. Check them out!
Houseplant Subscription Boxes
FYI, the links below are affiliate links. If you buy through them, I get a small commission at no extra charge to you .
1.Air Plants Monthly
Air Plants Monthly starts at as low as $17.99 a month and delivers four new fresh air plants in each box. While every month is different, expect to receive a variety of blooming plants, larger plants, "clumps," and even some uncommon plants.
2.The Plant Club
The Plant Club sends you one unique plant each month, plus everything you need to display it in style with accessories curated from all over the world.  Starting at $23.33 a month, it makes a wonderfully affordable housewarming gift for a friend.
3. House Plant Box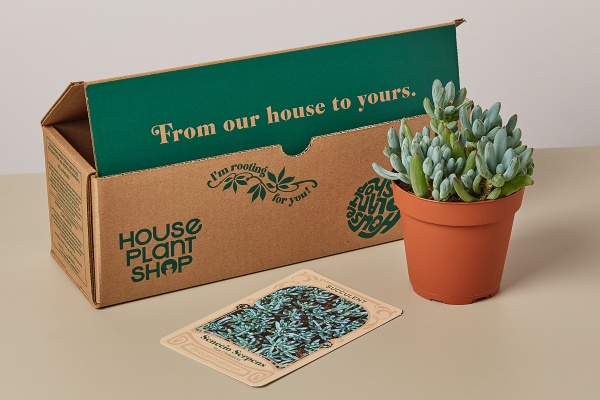 The House Plant Box  is among the most affordable options, starting at just over $11 a month (plus shipping) for a plant and plant-related products. All of their plants are grown in California and include easy care instructions. They offer a 100% satisfaction guarantee, too.
4. Succulents Box
The Succulents Box is definitely one of my favorites, and not just because succulents aren't as easy for a "thumb of death" type like me. It starts at just $4.75 a month, so it's within just about anyone's price range. Since that low price literally just includes the plant (no clay pot or anything), it's perfect for those of us who have a zillion cute little pots laying around but nothing to put in them. If you do want the pot- or more plants for that matter- they have a myriad of other options.
5. Adopt a Plant Box
Adopt a Plant sends you one new baby plant each month, along with handwritten care instructions (so charming!), a curated pot, soil, and other little accents. Plants vary by month, but expect to receive houseplants, succulents, or air plants.
6. The Succulent Source
At first glance, The Succulent Source seems a lot more expensive than some of the other succulent houseplant subscriptions so far. However, for that $27/month, you actually get five unique handpicked plants. No repeats!  They offer two clubs- one for succulents and one for cacti.
7. Enjoy Flowers
This one is over on Amazon, and it's for flowers rather than plants, but I thought it was neat enough to include. They offer 3,6, and 12-month subscriptions. The nice thing? You pay for what you want to get, and that's it. As far as I can tell, it's not an auto-renewing subscription. Each bouquet includes 25 seasonal flowers.
8. Seed Bank Box
The Seed Bank Box  isn't really a flower or houseplant subscription service, but it's too nifty to leave off. Every month, you get a brand-new selection of seeds for your garden. They're all organic and non-gmo. You'll even get some neat veggies that you won't find in the average supermarket. It's a great way to start your own emergency seed bank.
I'm sure there are plenty more flower and houseplant subscription boxes out there, but these are among the highest-rated on Cratejoy and Amazon, so they're a good place to start. Enjoy!
Last update on 2023-10-02 / Affiliate links / Images from Amazon Product Advertising API