Get into the spooky spirit without busting your budget with these "spooktacular" Halloween decorations that cost $13 or less! Check them out!
10 Cheap Yet Cute Halloween Decorations That Cost $13 or Less
Like the vast majority of America, I'm feeling the painful pinch from our totally crashed economy. Halloween decorations just aren't really high on my list of priorities this year. Every spare penny that I can find is going into my Christmas shopping fund for my son.
Still, Halloween is one of my favorite holidays, so I don't want to completely ignore it. Unfortunately, my fall decorations box is buried somewhere in my garage, so all of the cute stuff I bought for 90% off over the years is pretty much inaccessible. So, I gave myself a $13 budget (because it's fitting for the holiday) to grab something new. What can I get with that? Let's find out!
FYI, this post uses affiliate links, so if you buy through them I get a small kickback at no extra charge to you. It's a win/win!
1. Cute Pumpkin Fairy Lights
These adorable pumpkin fairy lights are a great place to start! You get 10 to a strand, and they're battery operated so you can put them anywhere. I love stuff like this for my mantle! The outlet is in an odd spot, so anything that isn't battery operated just looks cruddy.
Sale
2. Halloween Welcome Banners for Your Porch
How cute are these banners for your porch? You get two of them, and they're made from polyester (versus cheap plastic), so you can actually use them again next year. At 70″ tall, they'll look great next to your front door.
3. Cute Halloween Prints
Jane.com has these darling little Halloween prints for just over $5 each. I'd hurry though; you really never know how long deals will last there. If they're gone, take a peek around the site for other cute Halloween deals.
4. Halloween Window Clings
I have a ginormous window at the front of my house that's just perfect for window clings, so I'm definitely grabbing these. The set comes with 6 sheets and a total of 200 pieces. Now granted, they include every tiny bat and spider in that count. Last year, I bought a 300-piece Christmas set from another seller and literally 285 pieces were just tiny snowflakes. Still, you should have more than enough stuff to create a cute window display on a tight budget.
Sale
VEYLIN 8Sheets 150Pcs Halloween Window Clings, Double-Side Spooky Removable Window Sticker for Halloween Party Decoration
Package Contents: There are 6sheets Halloween window clings, many spooky pattern, such as spider, web, dead tree, castle, bat, a assortment of clings meet your needs to decorate your window.
Material: Removable window static stickers are made of high quality PVC material, durable and reusable, easy to stick, you just peel them from the sheet, and then stick on the clean and smooth window, it will works well for a long time.
Size: Each sheet is 30cm x 38cm/11.8 x 14.96inches, large size can accommodate most small accessories, and each accessories is 3cm - 36cm (1.81 - 14.17 inches), large and small size match with each other, meet your needs to DIY yourself beautiful pattern on the window.
How to USE: Easy to use, not need any glue. Before you stick the bat window clings on the window, you need sprinkle some water to the window and then wipe clean, If blisters appear, please use your hands or tools to drive the water out.
Beautiful Decoration: There are many spooky window stickers accessories, include dead tree, castle, bat, spider and web, perfect for Halloween party. In fact, they are not only windows decal, you also can put them on anything that of which surface is smooth, such as furniture, floor, tiles, mirrors, even tables. Enjoy the happiness on Halloween Day!
5. Halloween Mantle Decor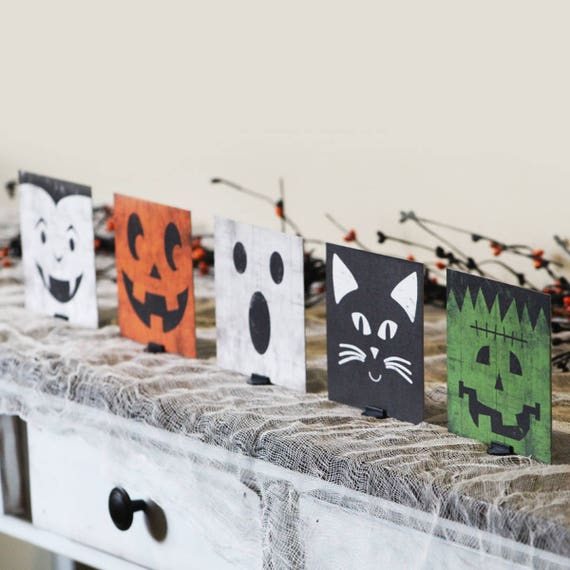 I saw these cuties on Etsy for just $3.99 each, or you can grab the entire set for about $19. The designs are printed right on the metal tiles. They're totally chip-proof, waterproof and fade-proof, so they'll last you a very long time. Plus they ship free in the US (and they're from a US seller).
6. Steampunk Halloween Candy Jars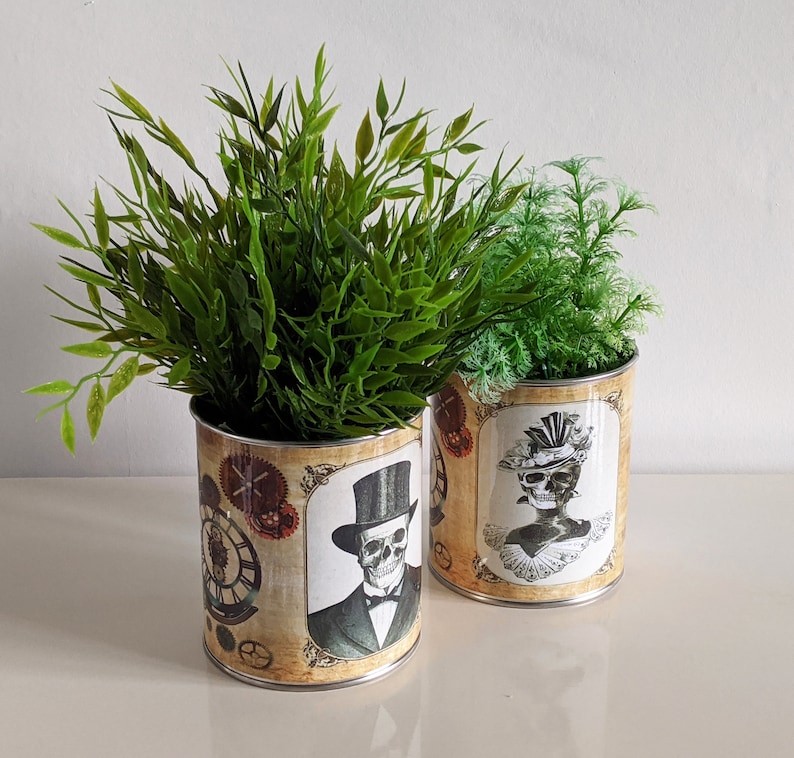 If you want something a little more unique than bats and pumpkins, check these out! The "normal size" options are just $6.62, while the larger options come in a couple of pennies over my $10 limit.
The only downside? They cost more than $10 when you factor in shipping, because they're coming from the UK. Still, they're definitely among the more unique Halloween decorations that you can buy on a tight budget.
7. Kid-friendly Halloween Decoration Printables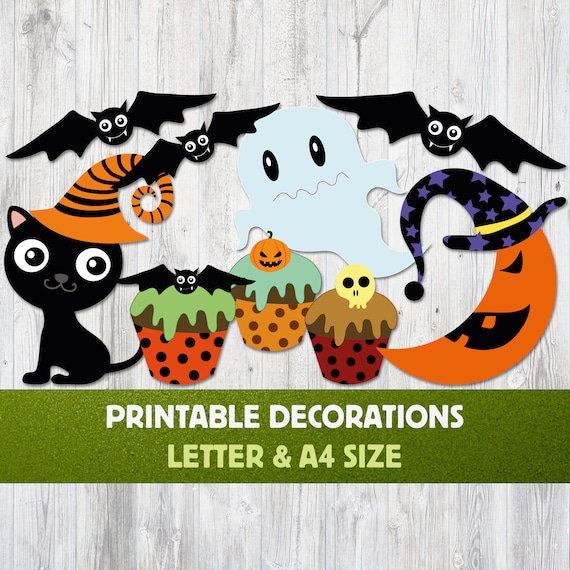 If you have a printer and ink, these DIY decorations are another cute option. You get instant access to the printable PDF, then you can make as many as you want. Etsy has a TON of printables, but I like these because they're kid-friendly (in other words, won't give your toddler nightmares).
8. Halloween Haunted House Trick or Treating Cut Out Yard Sign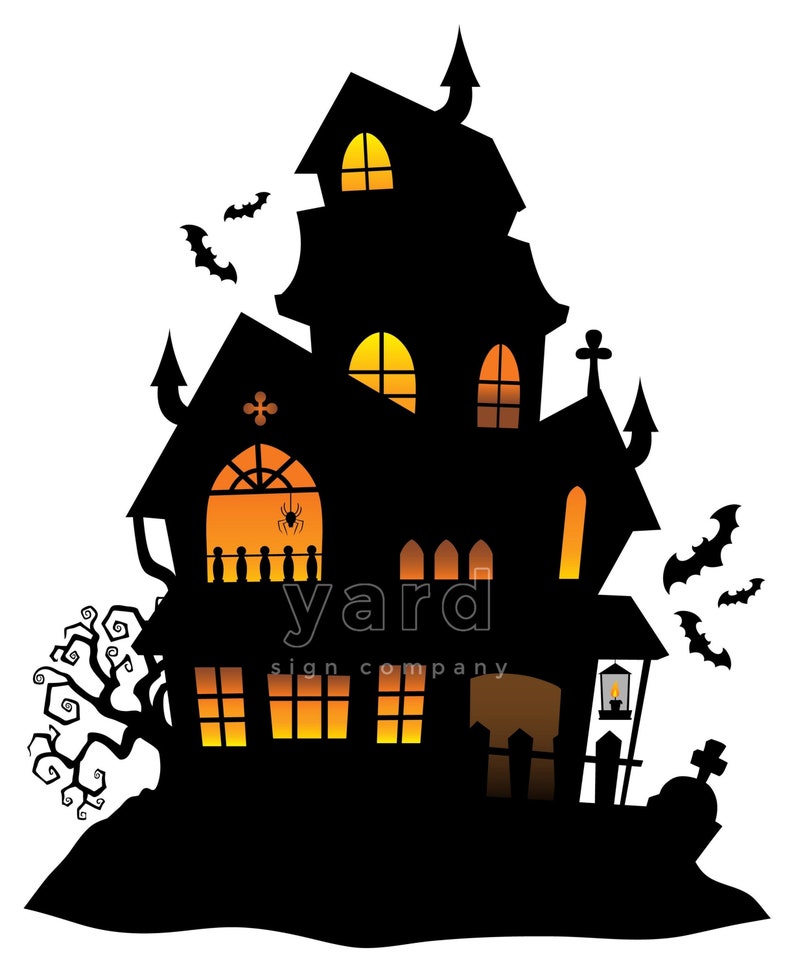 The 12″ version of this adorable yard sign costs $13, or you can go over budget by a few bucks for a larger one. It's made from plastic, but the reviews are stellar. It scores a 4.5 star rating across over 2,000 customers. If this one doesn't float your proverbial boat, they have other designs as well.
9. Double Double Toil and Trouble, Halloween Sign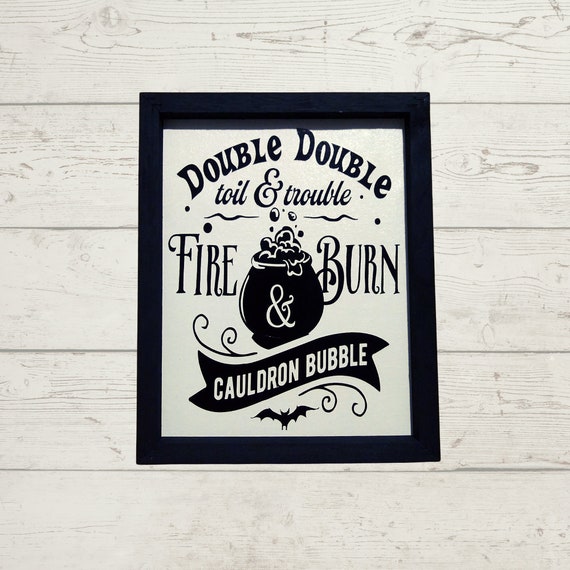 Another simple yet adorable little Halloween sign, this one features Shakespeare's famous quote from Macbeth, spoken by the three witches. 😀 It's made of canvas and vinyl, so it's fairly durable.
10. Wood Ghost Garland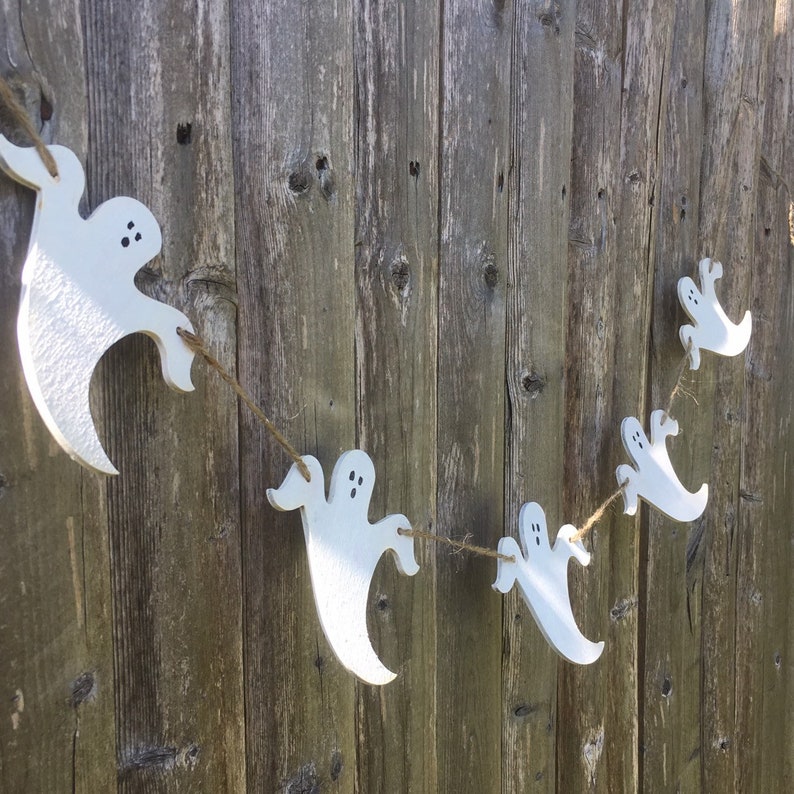 I was looking for some sort of cute garland to include on this list, but I didn't want to go with super cheapo paper that wouldn't make it beyond a week in my house. These adorable ghosts are made of wood! The 4-foot garland costs just under $13. Or, you can spend a bit more and get strands up to 10 feet long.

See, you can find cute stuff without busting your budget! If you need some other ideas, check out this DIY Halloween wreath that I made for just $4. Fair warning, though, the pictures aren't all that fantastic.
Last update on 2023-09-27 / Affiliate links / Images from Amazon Product Advertising API