Coming up with good end-of-year teacher gift ideas can be a bit overwhelming, especially when you put it off to the last possible moment. Fortunately, there are many options that are both unique AND affordable. Below are some suggestions for all of my fellow last-minute shoppers who are trying to stick to a tight budget. Enjoy!
10 Budget-Friendly Teacher Gift Ideas
If ever there was a year that educators deserved a little something extra special to thank them for all of their hard work, it's this one. Teachers deserve an all-expense paid trip to paradise, if you ask me. Alas, most of us can't afford to send them on one, right?
We CAN afford to think outside the typical mug box a bit, though, and give them something that shows we appreciate everything they do. Check out some of my favorite affordable ideas below!
Last note: This post uses affiliate links, which means if you make a purchase through them I get a small kick-back at no extra cost to you.
1. Scentered Aromatherapy Balms
My #1 favorite gift idea for teachers this year is definitely the aromatherapy balms by Scentered. They sent me two of their gift sets to try out and let me just say, they FAR exceeded my expectations. Everything from the packaging to the scents is positively gorgeous.
I use the Sleep Well balm every night before bed to help me relax. I usually don't like "relaxation" balms because the lavender is always so overpowering, but Scentered balances out the lavender with palmarosa and ylang-ylang.
For teachers, I'd recommend De-Stress (the other set they sent me). The combination of chamomile, neroli, and mandarin is positively delightful. I use it during the day when work has me ready to pull my hair out. Both sets come with a candle that you don't even have to light to enjoy. I just hold mine up to my nose and inhale. 😀
While the gift sets may be a bit pricey for a teacher gift (definitely keep them in mind for birthdays and Christmas gifts, though), Scentered sells the balms alone in several sizes, and the mini is only $7.
2. Nunbelievable Gourmet Cookies (a gift that gives back)
What could be better than delicious gourmet cookies? How about delicious gourmet cookies that actually help others? Nunbelievable not only bakes up some of the most delightfully tasty treats, but they donate a meal to the hungry for every single cookie sold. For example, if you buy a 12-pack, they'll donate 12 meals through their partner soup kitchens.
Their prices vary depending on the size of your order, but you can get an assortment of a dozen for $17. They come individually wrapped, so you can easily break the assortment up into multiple gifts. If your child has 6 teachers, for example, give each one two cookies plus a sweet handmade card.
3. "Thank You" Bookmarks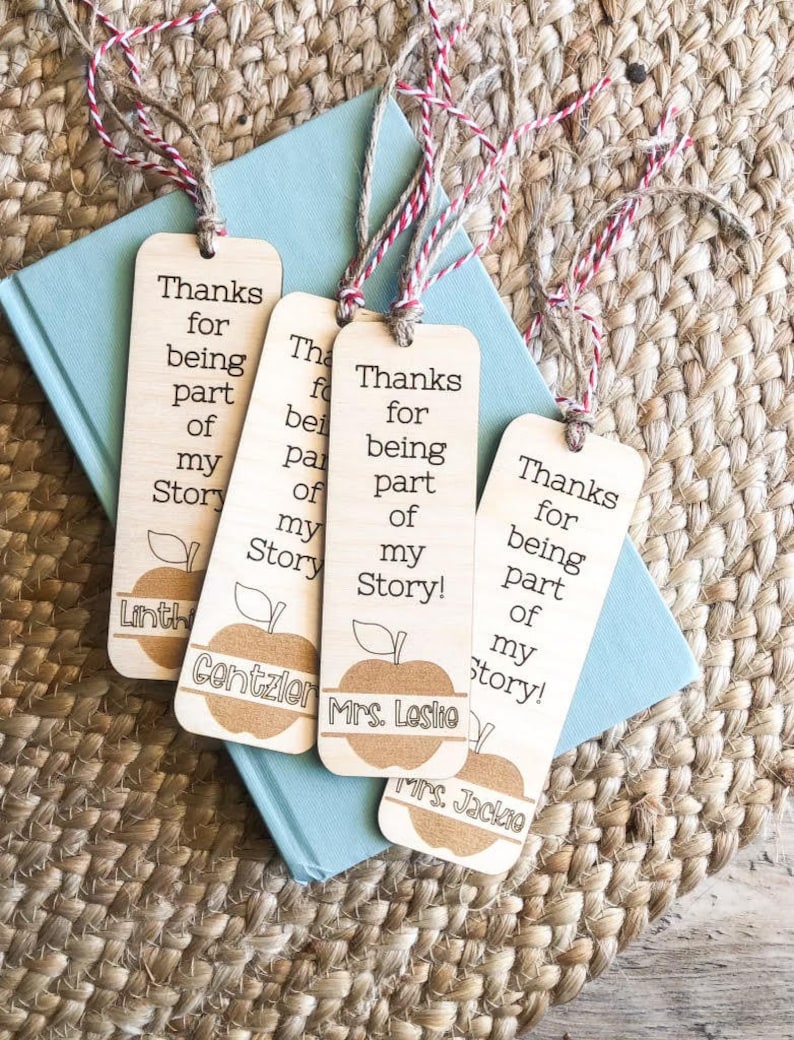 These cute bookmarks say "thank you for being part of my story," and you can personalize them with your child's teacher's name. I love that they're made of wood, so they won't get torn or lost as easily as paper bookmarks. Plus, they ship super fast, so even if you order at the last possible minute, you should still get them on time.
4. Cute Little Succulents
Succulents make great little teacher gifts because they don't require an awful amount of work to keep alive and they really go along with the whole "teachers help our kids grow" theme. Plus, you can usually find them just about anywhere for very little money.
If you don't have time to run around shopping, though, I recommend grabbing a Succulents Box. While it's a subscription box, you can order just one month's worth for as little as $10. It comes perfectly packaged, with soil and a little pot (plastic pot, but you can upgrade to a fancier one), so you can pop it in your child's backpack without worrying that it'll get squished.
5. BuzzPatch Natural Mosquito Repellent
I wouldn't normally recommend bug repellent as a teacher gift, but BuzzPatch is an exception. Their unique patches are absolutely adorable and perfect for both kids and adults. If your child's teacher loves gardening, hiking or other outdoor activities, then these will be a total lifesaver!
BuzzPatch sent me some to try out, which I planned to give to my friend for her daughter. However, they work so well for adults that I ended up keeping them. My mom is outside constantly all summer in her garden, and the work a lot better than those coiled bracelets.
They're all-natural (no DEET or other dubious chemicals) and come in super cute colors with adorable emoji faces. Definitely something an elementary school teacher would love!
Visit the BuzzPatch website to learn more and to order. You'll save money if you buy multiple packs.
6. "It Takes a Big Heart" Tumbler Mug
I try to avoid regular mugs for teacher gifts because I know most of my friends get a TON of them every year. Tumblers are a bit different, though. I can never have enough of these things! I love the message and colors of this one. If the pink doesn't do it for you, though, it also comes in a gorgeous blue.
AOZITA Teacher Appreciation Gifts - For Women Wine Glass Tumbler It Takes a Big Heart to Help Shape Little Minds Best from Student Pink, 12 oz
★UNIQUE GIFT TO TEACHER - When you are looking to buy something for your child's favorite teachers who has everything, this is the perfect gift that fits right in and makes a big hit. This will be the great personalized teacher thanks gifts on Thanksgiving Day, Christmas, Teachers' Day and other occasions such as teacher retirement, teachers' birthday, end of the year gift.
★ADVANCED PRINTING TECHNOLOGY - It Takes a Big Heart to Help Shape Little Minds is the perfect way to show your thanks. Aozita takes advanced imprint technology to ensure not falling off in daily use. Undoubtedly, we designs and offer a beautiful gift box for this wine cup.
★MULTI USE & AND ERGONOMIC DESIGN - The exquisite teardrop shape of the tumbler fits perfectly in hands. It's simple but elegant design is sure to please the water, wine, cocktail and icy-cold milk, juice, coffee or tea
★HIGH QUALITY TRAVEL TUMBLER - As a gifts, we choose the best wine tumbler as some top brands. 18/8 stainless steel tumbler, food-grade plastic lid and silicone straw. Keeps beverage cold for up to 6 hours or hot for up to 3 hours
★If you have any issue with our products, please contact us, we will do our best to find a satisfactory solution for you within 24 hours.
7. "…and That is Why We Teach" Book (autographed and inscribed)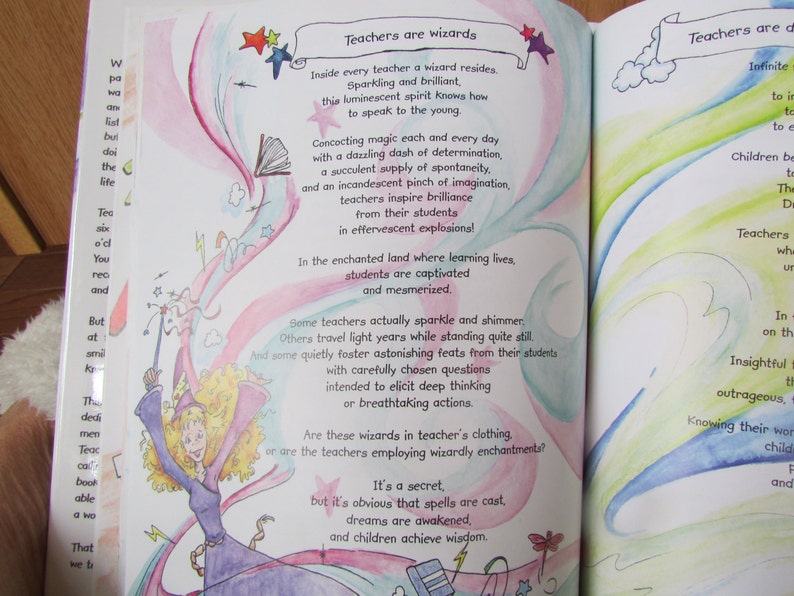 I just found this on Etsy and it's absolutely beautiful! It's a colorful book about all of the amazing things teachers do for children. While it's slightly pricier than other gifts so far at $17.95+ shipping, but it's just too unique and touching to not include. The price is absolutely fair, though, and you'll get a few extra bonus gifts (a bookmark and a card to include with it).
Patti Graham, the author, will autograph or inscribe it with your teacher's name and a personal message from you or your child.
8. Wish Bracelet for Teachers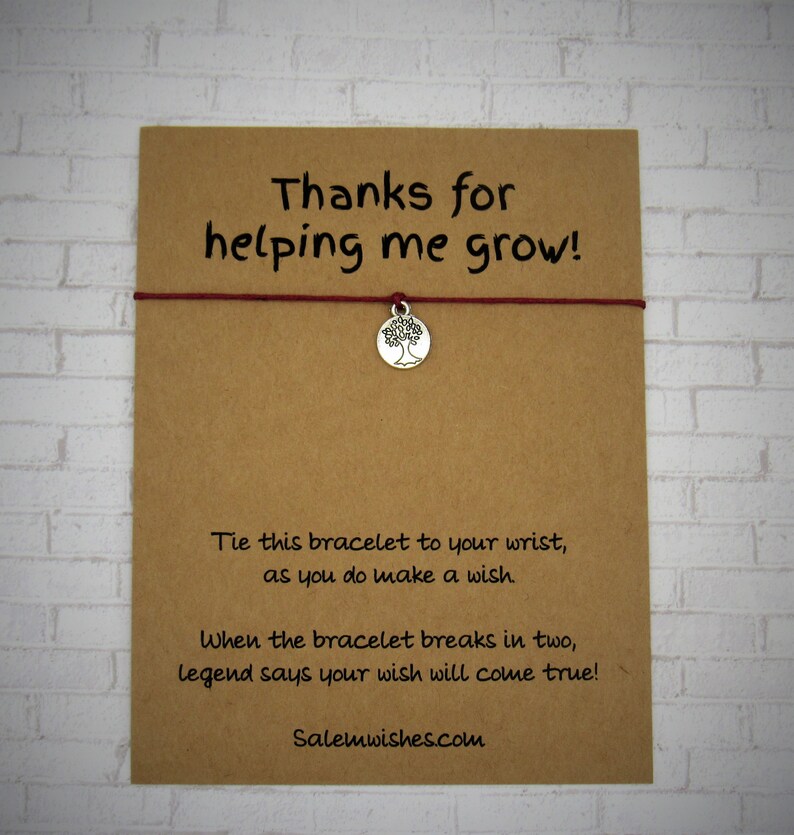 How cute is this little bracelet? It's only $5 and it's small enough that it won't get in the way while wearing it . I love the whole idea of the wish coming true when the ribbon breaks (although I'd be tempted to help it along so my wish would come true sooner).
9. "Teacher Hair, Don't Care" Hair Ties (under $5)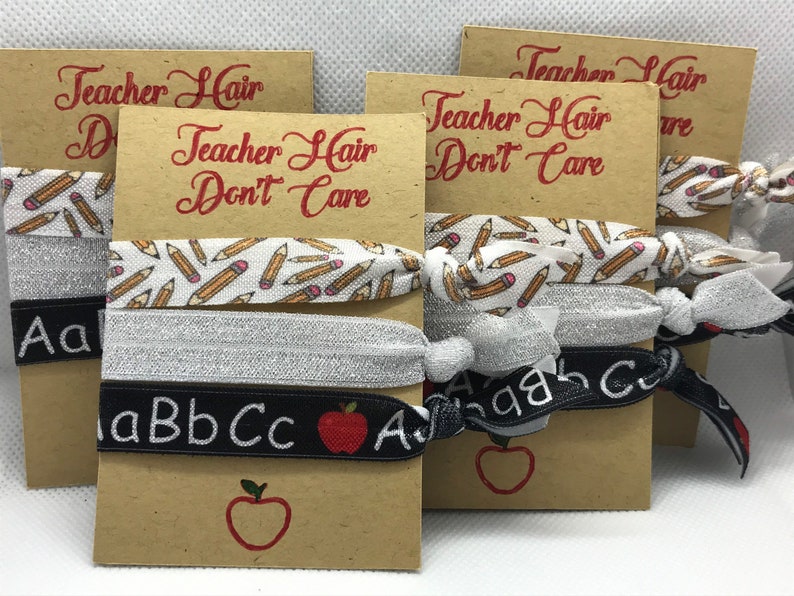 Another incredibly affordable gift ($2.20 for each set) that's super practical, these hair ties are my favorite type. They're the only ones that don't give me a headache or pull on my thick hair. You get three of them on a cute card. Patterns are random, but they're all adorable from what I see.
10. Dammit Doll (Unique Gift for High Schoolers to Give Teachers)
I debated adding this one, because most schools consider "dammit" a bad word (which I think is silly, but whatever), so it's not really something your kindergartner can give to their teacher. I do think it's perfect for high school teachers, though!
I actually bought my son one of these for Christmas and he loves it. They're bigger than they look and definitely help relieve stress. If you don't mind getting a random color, they're very affordable, too.
Sale
Dammit Doll - Classic Random Color, Stress Relief - Gag Gift - 1 Doll
RANDOM – Tired of searching for the perfect Dammit Doll? Well, stop stressing! Let us surprise you! One Random Dammit Doll is the perfect gag gift for a co-worker, family member, or friend
HANDMADE – Each Dammit Doll is constructed of handmade, high quality material and it's durable enough to take a mean squeeze. Bang it on your desk for an extra bit of stress relief.
RELAX – When the everyday stresses of work, life, traffic, etc.… won't let you breathe, just take a second and smash the Dammit Doll! Your frustration will flow out and you can reset your day with ease.
LAUGHTER – Who doesn't need more laughter and joy in their life? Your friends, family, and colleagues will get a total kick out of a Dammit Doll whether as a gift, or if they see you smacking the heck out of it
PRICING – The price listed is for one Random Dammit Doll. It's a surprise so live a little and enjoy these Limited Edition dolls.
That about covers it! If you can't afford to give your child's teachers a gift this year (it was a crappy year all-around for our bank accounts), check out these easy handmade teacher gift ideas instead. 🙂
Last update on 2023-12-10 / Affiliate links / Images from Amazon Product Advertising API