When it comes to cute and stylish dog collars, you really can't go wrong with Etsy. From personalized martingale collars for sighthounds to simple-yet-adorable everyday buckle collars, Etsy has pretty much every type imaginable in thousands of colors and patterns. Check out just a few of my favorites below!
*FYI, this post includes affiliate links. If you buy through them, I get a small commission at no extra cost to you. Thanks!
Cute & Stylish Dog Collars on Etsy
A few years ago, I bought the perfect sighthound collar on Etsy that beautifully fits my Pharaoh Hound's giraffe-like neck. That collar is still going strong four years later. A little faded, yes, but it's in 100% "working" condition.
While that shop went out of business, there are TONS of other amazing sellers with all types of collars (Martingale, traditional buckle collars, etc). Here are a few that I love, including both personalized and non-personalized options.
1. Abstract Art Whippet Martingale Collar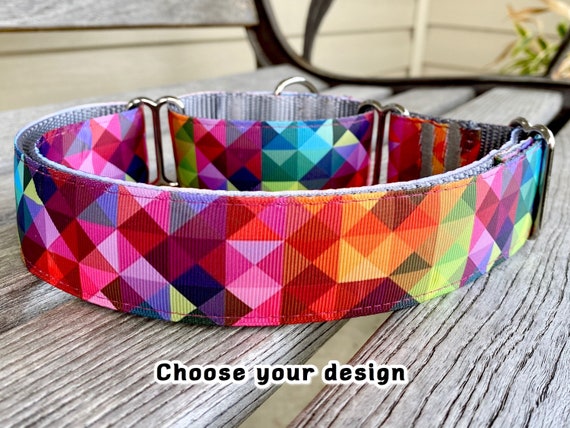 I absolutely love the bright and vibrant colors of this one (although it does come in other patterns if it's not really your style). The 1.5″ width is designed with Whippets in mind, but a scroll through the customer photos shows that it works well for pretty much any breed. It comes in 4 sizes, and AJoyfulBird sells matching leashes, too.
2. Stud Muffin Greyhound Martingale Collar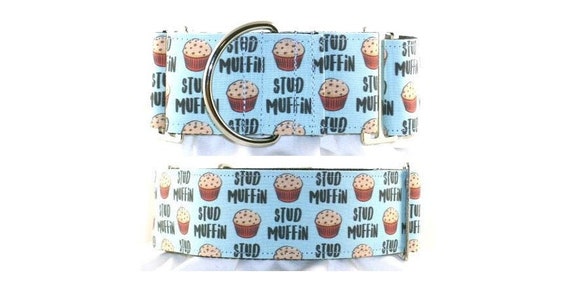 How cute is this 2″ "Stud Muffin" Martingale collar? If I still had a boy dog, I'd absolutely snatch it up! I love that it's lined with soft felt so that it the collar material doesn't rub against your pup's neck. It comes in 3 sizes, but if you're not sure which is right for your dog, you can add the measurements and Trendy Hounds will help you out.
3. Aztec Jacquard Martingale Dog Collars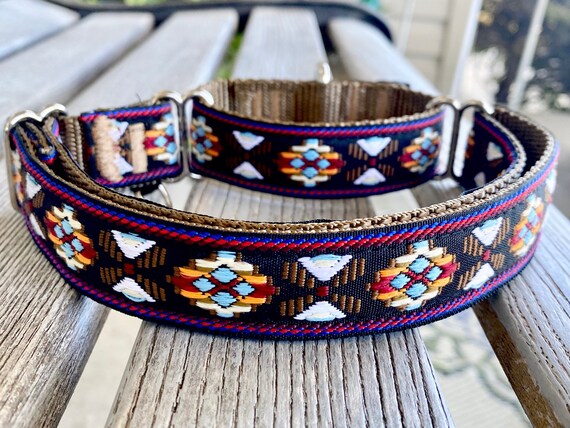 I wasn't planning on including more than one collar per shop, but AJoyfulBird has a whole line of these gorgeous embroidery-style collars that I just couldn't leave off my list. It's only a 1″ Martingale collar, so not ideal for sighthounds. This one will hold up against sharp dog nails a bit better than my top pick, thanks to the strong nylon.
4. "Nice Melons" Water Resistant Dog Collar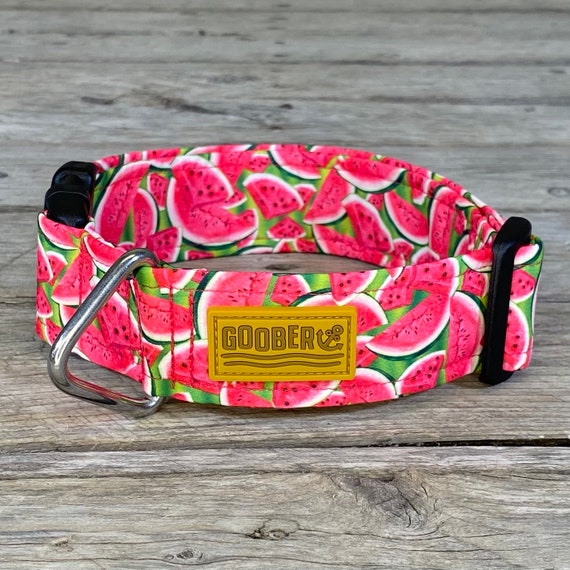 GooberDogCollars makes some adorable buckle collars, but I thought this one was perfect for summer (plus the name is hilarious). It comes in 5 sizes ranging from small to XXL, and it's made with water-resistant materials, so it's perfect for beach hounds! It's kind of a hybrid between a true martingale and a buckle collar.
5. Colorful Fun Donut Dog Collar (Traditional Buckle Collar)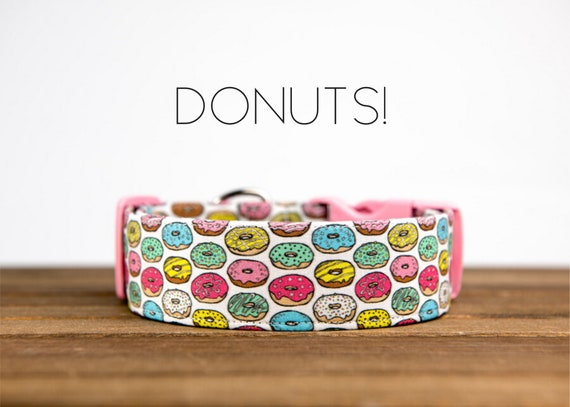 If you're looking for something more like a traditional buckle dog collar, PuddleJumperPups has a massive selection of super-stylish options. Their donut design is definitely my favorite! SOOO cute! Each one is handmade to order, and it comes in 5 sizes. For an extra $2, you can upgrade the buckle to a different color.
6. Personalized Dog Collar with Bow-Tie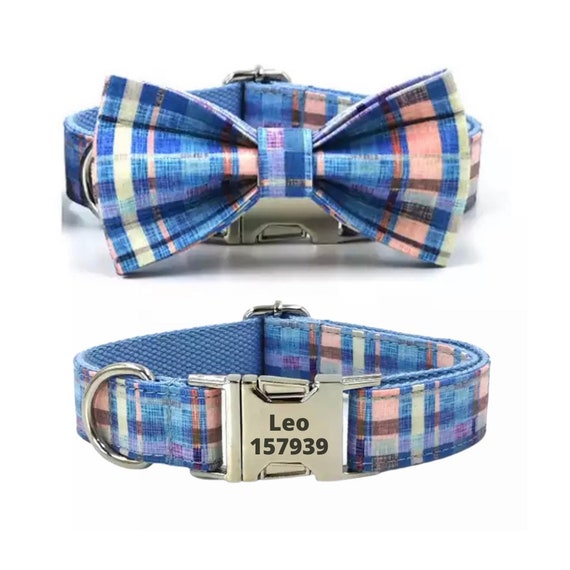 For super stylish pups, you really can't go wrong with these darling collar/bow-tie combos by GiftyDogStore. They have a ton of different patterns, including collars with flower-shaped bows. Choose from 5 sizes, add your personalization (dog name and phone number, then decide if you just want the collar or if you'd like a matching leash, too.
7. Embroidered Personalized Dog Collar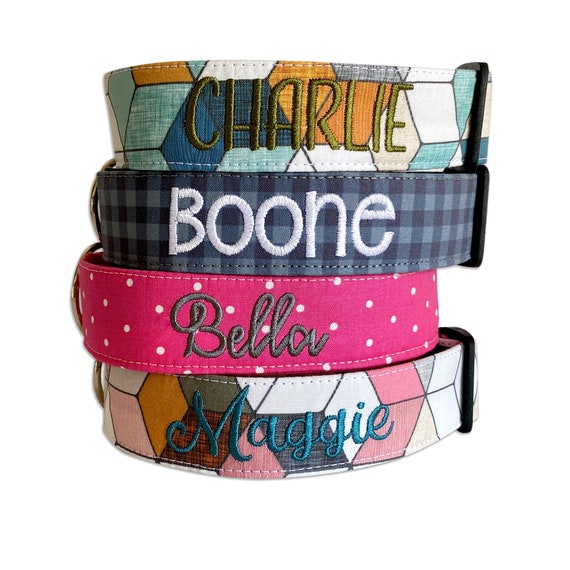 Duke & Fox dog collars are actually embroidered with your pup's name, so every single one is made to order. Choose your favorite pattern, then pick the font and size (XS through XXL). They're also available without personalization if you prefer. They're SUPER affordable, too. The most expensive option- the personalized XXL- is only $34. For a handmade personalized collar, that's pretty darn fair.
8. Personalized Dog Collar with Wildlife Patterns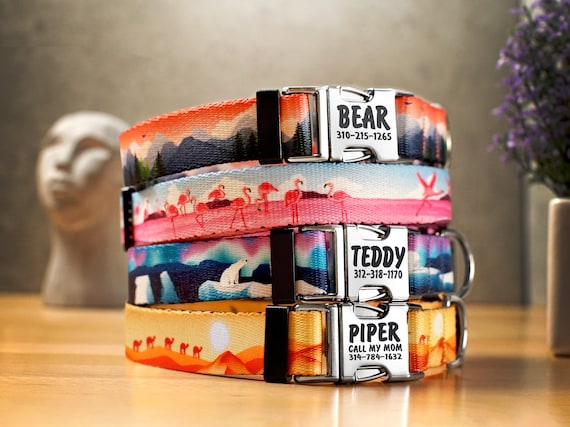 I was really drawn to the stunning vibrant colors on these wildlife-patterned personalized buckle collars from GloriousPet. Gorgeous, right? I really wish I could use a buckle collar on Freya, I'd definitely snatch up that Northern Lights one!
The collars come in 4 sizes, both with or without personalization. It doesn't look like they charge extra for personalization, so it makes sense to include it in my opinion. Add on a matching leash for less than $10 more. Like the collars above, these are VERY fairly priced, especially for the quality (customers rave about them in their reviews).
9. Dual-Color Biothane Sighthound Collar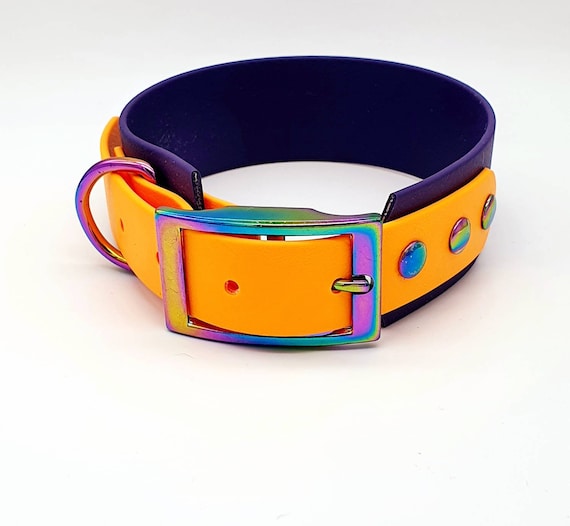 I've never heard of Biothane until I came across these collars from TrinketyPaws. I looked it up, and it's a trademarked brand that's basically "polyester webbing with a TPU or PVC coating that makes it more durable, waterproof, easy to clean and weldable." It's also "meets FDA skin sensitivity requirements," making it ideal for dogs with very short fur, since collars tend to rub against their skin.
It comes in sizes ranging from XS to XXL, and in two different widths (you can also request a custom width). You can also choose from 11 different "hardware" colors. I wish they offered it in a buckle-free design, but I imagine that's not really feasible with this type of material.
10. Grosgrain Ribbon Martingale- Greyhound Collar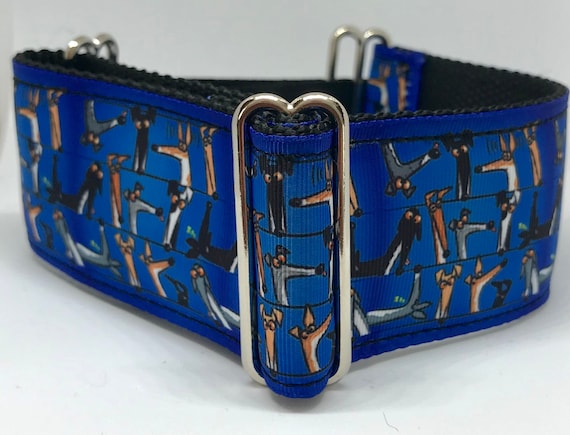 This last one is designed specifically for Greyhounds, but it would also work well for other sighthounds with long narrow necks (like Podencos, Pharaoh Hounds, and Salukis). If you don't love the pattern, LazyHounds makes velvety collars in solid colors, too. They come in four sizes, all with a 2″ width.
I hope you found the perfect collar for your pup! If you don't love these, there are thousands (maybe even hundreds of thousands) of other highly-rated sellers to choose from.
Remember, when you buy dog collars on Etsy, you're not just getting something unique for your pup; you're also supporting a small business. That's a win-win all around!