From adorable homemade cakes and "Barkcuterie" boards to toys that sing and boxes loaded with fun goodies, these are by far the cutest and best dog birthday gift ideas around. Check them out!
10 Cute Dog Birthday Gift Ideas
I admit it, my Pharaoh Hound is spoiled. Probably the most spoiled of all the dogs we've ever had, and that's saying a lot. I buy her stuff all year long (she actually has a snuffle mat and some new treats coming in the mail today as a "just because" gift), so her birthday present has to feel REALLY special.
Take a look and see what I've come up with so far. I'm not sure which one (or two, or heck, maybe even five…told you she's spoiled) I'll get her yet.
FYI, this post uses affiliate links, so if you buy through them, I get a small commission at no extra cost to you.
1. Barkin' Great Happy Birthday Box from PoochPerks
PoochPerks has a bunch of cute dog subscription boxes, but their Birthday box is SOOO perfect for what I need right now. You can personalize it with your dog's name and even include a message. I mean, your dog can't read it or anything, but it's a great little feature for sending a gift to, say, your furry nephew.
It's packed full of at least six "birthday themed premium toys and all natural Made in the USA treats." You can choose a pink or blue theme. The only drawback it's "one size fits all," so you can't customize it for a very large or teeny-tiny pup.  
2. WagWell Box
Another cute subscription box for dogs, I like Wagwell because it only includes ORGANIC treats. That helps justify the higher price tag a bit. You get two bags of treats, two all-natural bully sticks, a cute bandana, and a premium dog toy for about $33 (depending on which subscription you go with).
As with all Cratejoy subscriptions, make sure you check the mint-green box above the "subscribe now" button for discounts. You can almost always find coupon codes there.
3. PetMate Goodie Box
Petmate makes a lot of Freya's favorite toys- including Pet Qwerks Bark Bones and Chuck-It fetch toys (we have to stop up on their Ultra Ball because she loves picking it apart). Did you know that they also have a reasonably priced mystery box, too?
It comes with 10 different items, including leashes, collars, bowls, toys and more (you may not get all of those in your box, though). The only drawback- it's really only made for small dogs. So it's out of the running for Freya (but perfect for my furry nephew!).
4. A Cute Snuffle Mat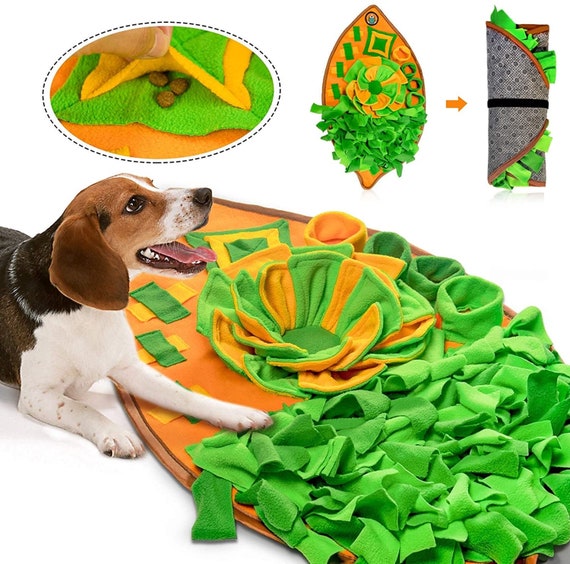 As I mentioned earlier, I just bought Freya one of these. I bought her a different one on Amazon that's a bit smaller and cheaper. If she likes it, I'll get her a bigger one- like this one- in the future.
I actually tried making my own snuffle mat a while back because I thought they were expensive for what they are. Let me tell you, those things are a PAIN to make. Mine has been sitting in my closet 1/3 done for like two years now. I definitely don't complain about the cost anymore!
5. Dog Birthday Cake from Taffys Treats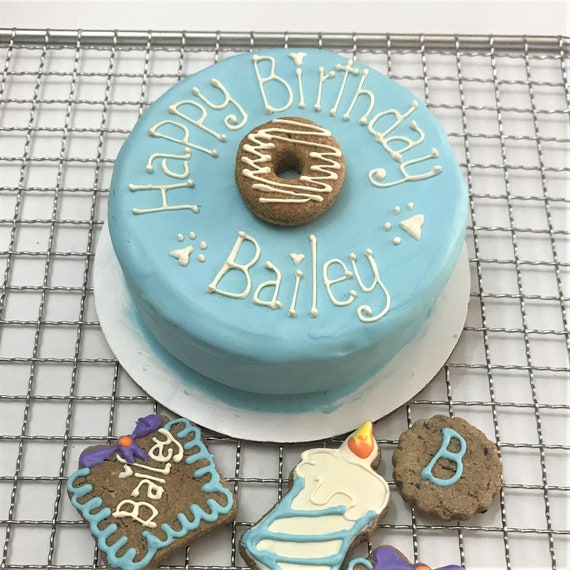 I made Freya's last year and it was pretty sad looking. Thankfully, she doesn't care about my lack of decorating skills, and she loved it anyway. If you want something a little more Instagrammable, though, the Taffy's Treats shop on Etsy makes the most adorable doggy cakes ever.
Choose between five colors and three dog-safe flavors. You'll also get a few extra treats with it, including the donut that you see in the middle.
6. DogCuterie Happy Birthday Board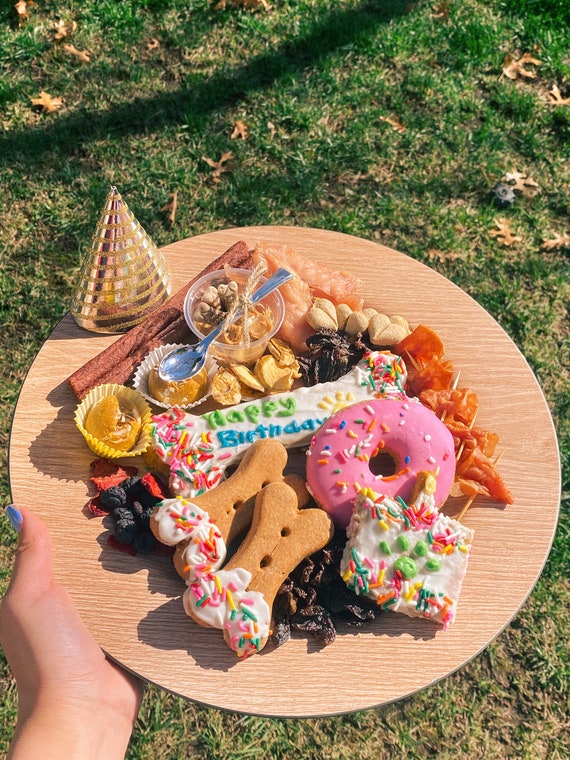 A charcuterie board for dogs? What a stinkin' CUTE idea! This one by DogCuterie comes loaded with homemade treats and dehydrated goodies. It even includes the hat!
Grab it with a square or round board (made from naturally fallen palm leaves) or save $3 and just get the treats without the board. DogCuterie makes a donation to pet shelters for each board sold.
7. CBD Dog Treats (Alaskan Salmon Jerky)
About two years ago, I tried a different brand of CBD dog treats with Freya, and the results were fantastic. We called them her "chill out treats," because they helped mellow her out in the evenings. They also really helped with her stomach issues (which we figured out was caused by sensitivity to dog foods containing beef).
I really like Diamond CBD, though, so I'm thinking of grabbing Freya a canister of their MediPets Salmon CBD treats. They're on the pricey side, but Diamond always has coupon codes. Plus, you could easily break the treats in half if you have a smaller dog. If it's still too expensive for your budget, they have a ton of other pet CBD products on their website that are a bit cheaper.
8. Claudia's Canine Bakery Happy Birthday Peanut Butter Cookie Dog Treats
9. Goody Box from Chewy
Need help getting to that $49 mark for free shipping? Add this cute Goody Box to your cart for your dog's birthday! It costs roughly 30% less than if you were to buy all of the included items separately.
For $24.99, you get "six hand-selected products just for our adoring dog fans, including two Chewy-exclusive treats, a Chewy bandana, a three-pack of Chewy tennis balls, a Chewy delivery man toy and a squeaky Chewy gift box toy."
Freya really likes the Soft Baked treats from American Journey. I used them in her training games a lot.
10. Multipet Birthday Cake (Plays Music)
No dog birthday gift ideas list would be complete without including Multi Pet's birthday cake toy! It actually plays Happy Birthday when you squeeze it!
I've bought Freya a bunch of Multi Pet's singing toys over the last few years. She destroys them within minutes, but has a blast doing it!
Please note, though, that box inside that plays the music is plastic and has a button battery, so you really have to supervise playtime closely. Once Freya manages to permanently silence her toy by chomping down just right on the music box, we perform surgery to carefully remove the box without destroying the rest of the toy.
With so many cute dog birthday gift ideas, the hardest part is choosing just one or two. Hey, Christmas is coming up soon, too, so I can always save the other ideas for that!
Last update on 2023-10-02 / Affiliate links / Images from Amazon Product Advertising API