With August being one of the best months as far as stargazing goes, I thought it would be fun to share some nifty gifts for people who love space. Whether you're looking for unique even space-themed home décor, beautiful personalized jewelry, or even just some inexpensive goodies for kids, I've got you covered below. Check out my favorites!
Gifts for People Who Love Outer Space
I'll skip the usual blah blah and jump right into the list (no one really wants to hear about my current obsession with outer space, right?). One very small note, though: this post does use affiliate links. If you buy through them, I earn a small commission at no extra cost to you. Now, on with the show!
1. The Galaxy Moon Lamp
A few months ago, Levitating Moon reached out to ask me my opinion on a science fair prize they had in mind. I LOVED their stuff so much that I told them if they ever wanted to be included in my gift guide, let me know. Fast-forward to about two weeks ago and this beauty arrived in my mailbox.
I am SOOOOO in love with it. It's a 3-color lamp, but the way it cycles between the primary colors, you really end up with like a dozen beautiful shades. It comes with a remote, and you can either set it to one specific color or have it flash or fade between them.
Check out the video below. Keep in mind that I'm not great at making videos and I did it with my phone. Still, it gives you a general idea of how gorgeous it is!
The Galaxy Lamp retails for $49.99. It comes with a USB charger and the little wooden platform you see it sitting on in my pictures and video. It ships free (since it's over $35). They also have a Levitating Moon Lamp and other planets and interstellar objects in a variety of sizes. The Galaxy is definitely my favorite, though.
2. Folding Astronomy Ring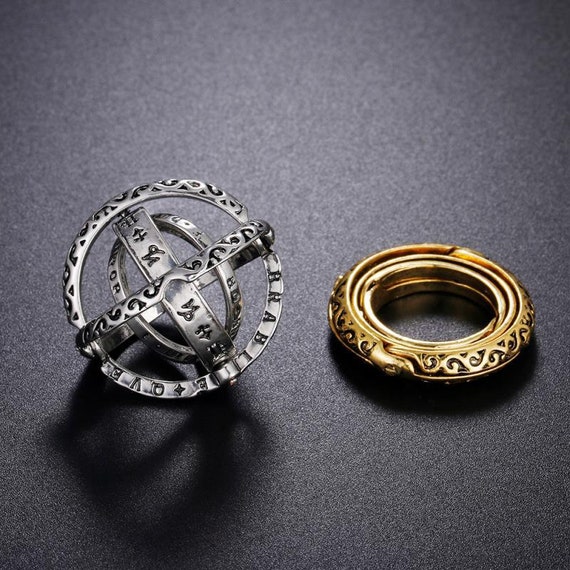 As far as space-themed jewelry goes, you can't get much more unique than this neat folding ring. When open, it looks kind of like an astrolabe (or at least what I think astrolabes are, I could be wrong) and works as a sort of fidget spinner. When closed, it's a gorgeous ring!
It comes in silver or gold and is made to order. However, it only comes in two ring sizes. You can also wear it as a necklace, though (open or closed). I'd wear it open on a chain, since I'm not really a ring person. It's only $24, so it's super affordable.
3. Personalized Solar System Artwork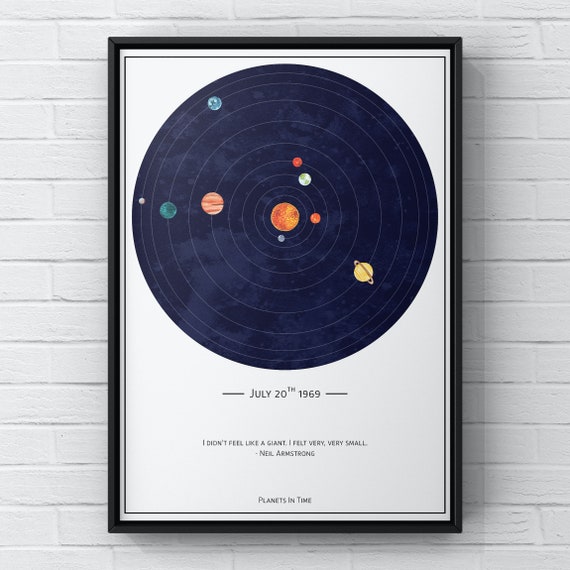 At first glance, $56+ may seem like a lot for what looks like a simple print of the solar system. Stick with me, though, because it's actually something far more unique. The artists create original print versions of their hand-painted solar system showing exactly how the planets were lined up on a specific day (like a birthday or wedding day), using NASA algorithms to get it just right.
It comes in two sizes, and you can choose to have it shipped framed or unframed. Add your own caption and choose whether or not you want to include poor Pluto (who got booted off our planet roster in 2006).
4. Solar System Engraved Crystal Orb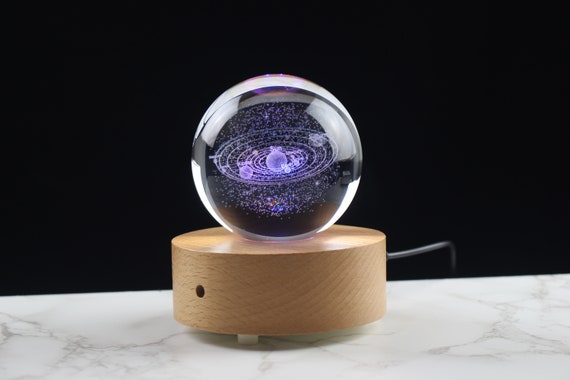 Another stunning Etsy find, this one features our very own solar system engraved into premium crystal through the magic of 3D printing.
It starts at about $25 for just the orb, or you can add on one of 8 different bases (including three with LED lights that are SO pretty) for a bit more. Keep in mind that it ships from Singapore, so it may take a bit longer to arrive.
5. AstroReality: NASA Space Coffee Mug
For space fanatics, this is just about the coolest mug ever. At first glance, it seems kind of boring and basic. Just a white mug with the NASA logo, right? It's so much more, though!
While it functions as a mug (based on reviews, for cool liquids only, though, since it doesn't have a handle) the real magic happens only when it's empty. Load up the app on your phone and point your camera down into the bottom of the mug. You'll see the planet exactly as the astronauts in the International Space Station do!
6. BlissLights Sky Lite
If you can't go outside to see the stars, bring the stars indoors! The BlissLights Sky Lite may not be a unique concept on its own (there are plenty of other star projectors out there) but it does have a unique patented way of projecting those stars.
From the description, "The Sky Lite instantly projects a field of drifting BLUE stars against a transforming BLUE nebula cloud." It's a very immersive experience that makes you feel like you're amid the stars themselves rather than just looking at them on your ceiling.
7. Personalized Galaxy Necklace
Over on Amazon Handmade, you'll find this gem of a gemstone galaxy necklace. It's handcrafted and includes a genuine 6 mm Swarovski birthstone of your choice. For an extra cost, you can also add more birthstones (up to 10) and up to six initial charms. The add-ons are very reasonable, making this an affordable "our family tree" birthstone gift for parents and grandparents.
8. Solar System Stress Balls
If you're just looking for a cute little back-to-school gift for your space-loving child, these stress balls are pretty nifty. They're small enough for kids to pack in their backpacks and use as a "fidget" gadget when they're having a hard time sitting still during a boring class.
I hope you enjoyed these space gifts as much as I enjoyed learning about them. The Galaxy lamp is definitely my top pick, and not just because they sent one to me to check out. It really is beautiful, and so relaxing!
Last update on 2021-09-25 / Affiliate links / Images from Amazon Product Advertising API