Recycling wooden pallets is such an easy way to help the planet and save a little cash. If you have a few on hand but don't really know what to do with them, keep reading! Below are some of awesome ideas, along with the best tutorials & plans I found for each one.
Ideas for Recycling Wooden Pallets
We all know that there is a major environmental crisis on our hands, and that it has caused people to be more conscious about the way they live. One of the best ways we can help this problem is through recycling.
There are many different kinds of items that can be recycled, but one of the easiest and most cost-effective types are wooden pallets. They're super common in warehouses and shipping centers, so it's easier to find them than some other discarded items.
It seems like most stores use those big wooden pallets to store their inventory, but I don't know what they do with them after.
Most stores will let you have their wooden pallets for free; otherwise they usually just get wasted. There are so many useful purposes for pallets, though, so they don't go to waste.
Here are a few of my favorite ideas! As mentioned above, I included my favorite video tutorials and plans. The links to the plans on Etsy are affiliate links, so if you buy through them, I earn a commission. That said, I also tried to find free plans as often as possible, too, so you have options.
1. Patio Furniture
Without even pulling the pallets apart, you can build some impressive patio furniture from recycled wooden pallets.
You can make chairs, loungers, tables, even benches and loveseats from these useful pallets.
Add some upholstered cushions to give your new patio furniture some color and comfort, and you'll have a great spot for spending time outside.
Pallet Patio Furniture Plans & How-To Guides
Best video tutorial: How to Make a Pallet Sofa
I love this tutorial below on creating a DIY pallet sofa. Such a clever idea, and it's easy enough even for those of us who aren't exactly handy.
2. Build a Playhouse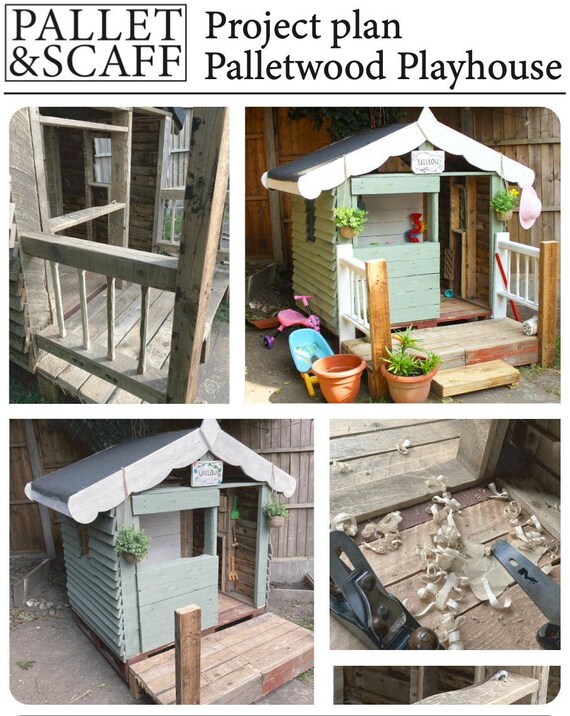 Building a playhouse out of pallets is a great idea! You can make it as simple or complex as you like and add accessories that make it feel more realistic.
Double-check for any exposed hardware, and sand everything down to prevent splinters.
All you need now is to paint it in your favorite color.
Pallet playhouse plans
Best Video Tutorial: DIY Kids Playhouse from Start to Finish
3. Shelving
You can use wood pallets to create DIY shelving at home. This is a crafty way to create floating shelves that will look great in any room, and it won't cost you an arm and a leg.
Just think of all the ways you can use pallets. For example, in a beach-themed bathroom, you might put them on the floor for storage and as shelving for towels.
Plans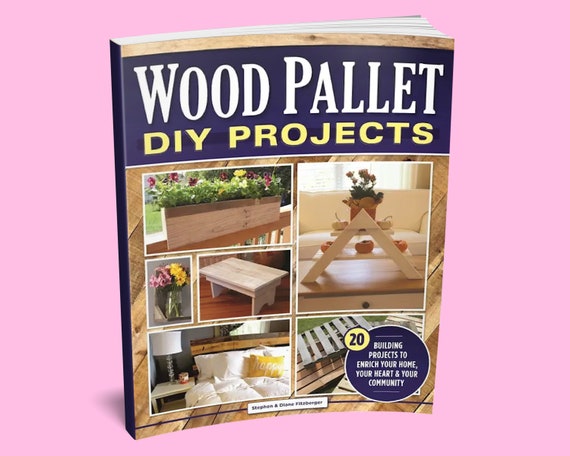 Best video tutorial: Build a DIY Pallet Bookshelf
4. Kitchen Island
To make your kitchen look rustic without spending a lot, use wooden pallets to create a perfect island.
Even better, when you build your own kitchen island, you can customize every nook and cranny to your own specifications so you can get the most use out of it.
Plans
I couldn't find any printable plans for this one, even on Etsy. However, I did find a how-to on DIY Craftsy that could be very helpful.
Best Video Tutorial: Kitchen Island with Pallet Wood
5. Coffee Table
Imagine how great a big, beautiful coffee table would look in your living room or screened-in porch.
Use the pallets and recycled glass to build your perfect coffee table.
Plans
Best video tutorial: DIY Pallet Coffee Table (No Power Tools Needed)
6. Planters
A lot of the slats in wooden pallets can be removed to make them perfect for a do-it-yourself planter. They save you time because there is no need for construction.
Lay them flat or hang them on the wall for unusual planter pots. You could even create a pergola to grow your hanging plants through.
You may also love: 20 DIY Planters & Flower Pot Ideas for Your Garden
Plans
Best Video Tutorial: How To Process Pallet Wood Into Beautiful Flower Pots Easily
7. Shoe Rack
To keep your mudroom less cluttered, place a pallet on its side and use to store all of your loose shoes. It's very easy to clean off and it's light enough so you can easily move it if need be.
Plans
Video Tutorial: DIY Shoe Storage from Pallet Wood and Stones
There are so many ideas for recycling wooden pallets that you could literally build just about anything from them.
The salvaged wood itself makes for great building material, and using anything salvaged is much cheaper and better for the environment than buying new wood.
Better yet, every eco-friendly piece you make is a great showpiece and conversation starter.