Whether you are looking to add some curb appeal to your home or just want to create a welcoming "first impression" for your family and visitors, these inexpensive front porch decor ideas will help! From adding a colorful doormat to using old items for decor, the ideas below will inspire you to create a unique and budget-friendly porch that perfectly captures your personal style and creates a welcoming atmosphere for everyone that pops by to visit!
Inexpensive Front Porch Decor Ideas You Can Do This Weekend
All of these porch decorating ideas are relatively inexpensive and require very little time or energy to pull off! You could most likely do everything on this list in just one weekend if you wanted to! But you don't have to do all 10 ideas. Even just one or two can make an impact. Let's dive in a check them out, shall we?
FYI, this post includes affiliate links where I recommended some great "done for you" (DFY) front porch decor ideas. If you buy anything through these links, I get a small commission at no extra cost to you. Thanks!
1. Hang a DIY macrame wall hanging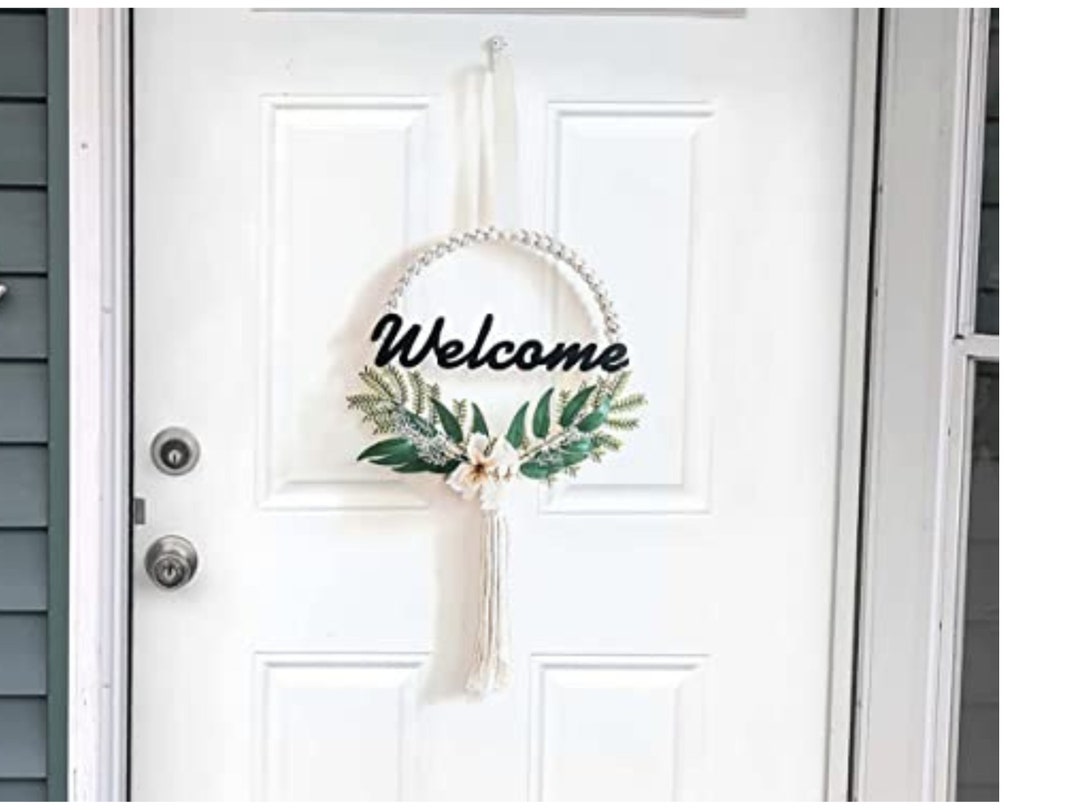 Macrame Door Porch Sign
by Cottonhomedecoration on Etsy
One fun and easy front porch decor project you can tackle this weekend is to hang a DIY macrame wall hanging. All you need is some macrame cord, a dowel or branch, and a little bit of patience. There are plenty of tutorials available online that will walk you through each step, and you can customize your design to fit your personal style.
Not only is this a cheap way to add some visual interest to your front porch, but it also gives you the satisfaction of creating something with your own two hands. So why not give it a try and see how it transforms your porch?
My favorite DFY recommendation: I LOVE the macrame wall hanging from Etsy pictured above.
2. Add potted plants in colorful planters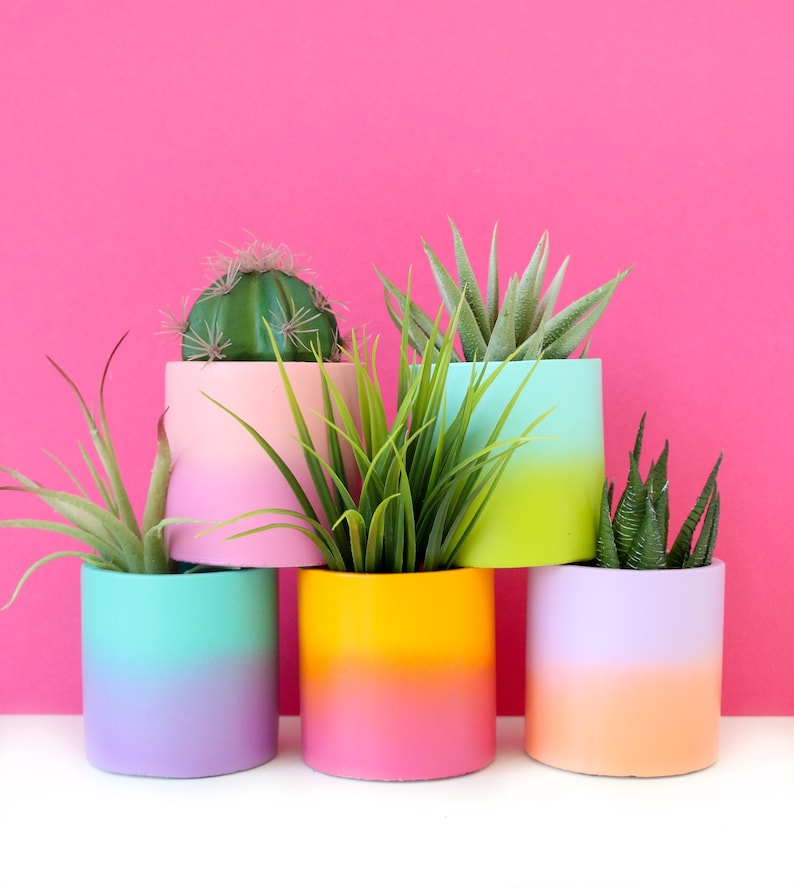 Small Gradient Ombre Planter
by kailochic on Etsy
Bring life and vibrancy to your front porch with colorful planters. Head to your local garden center or thrift store and find affordable containers in different shapes and sizes. Consider painting them in bright, complementary colors to make them really stand out.
Fill the planters with budget-friendly flowers or other pretty plants. If you don't have a green thumb or don't want to have to worry about watering them every day just look for some low-maintenance plants like succulents or snake plants.
If you're more about DFY than DIY, the ombre planters by Kailochic on Etsy (pictured above) are insanely gorgeous!
You may also like: 20 DIY Planters & Flower Pot Ideas for Your Garden (+30 Things You Can Upcycle into a Planter)
3. Paint the front door
Another quick and easy front porch decor idea is to paint your front door. It's amazing how much of a difference a fresh coat of paint can make! Go with a bold and vibrant color to make a real statement or a more neutral shade for a classic and timeless look.
Not only will this spruce up your curb appeal, but it's also an easy DIY project you can do over the weekend. Plus, painting your front door is a great way to add a bit of personality to your home without breaking the bank.
This one pretty much NEEDS to be a DIY, unless you want to buy a whole new front door that's already painted. But that would definitely defeat the whole "front porch decor on a budget" purpose.
4. Create a welcome sign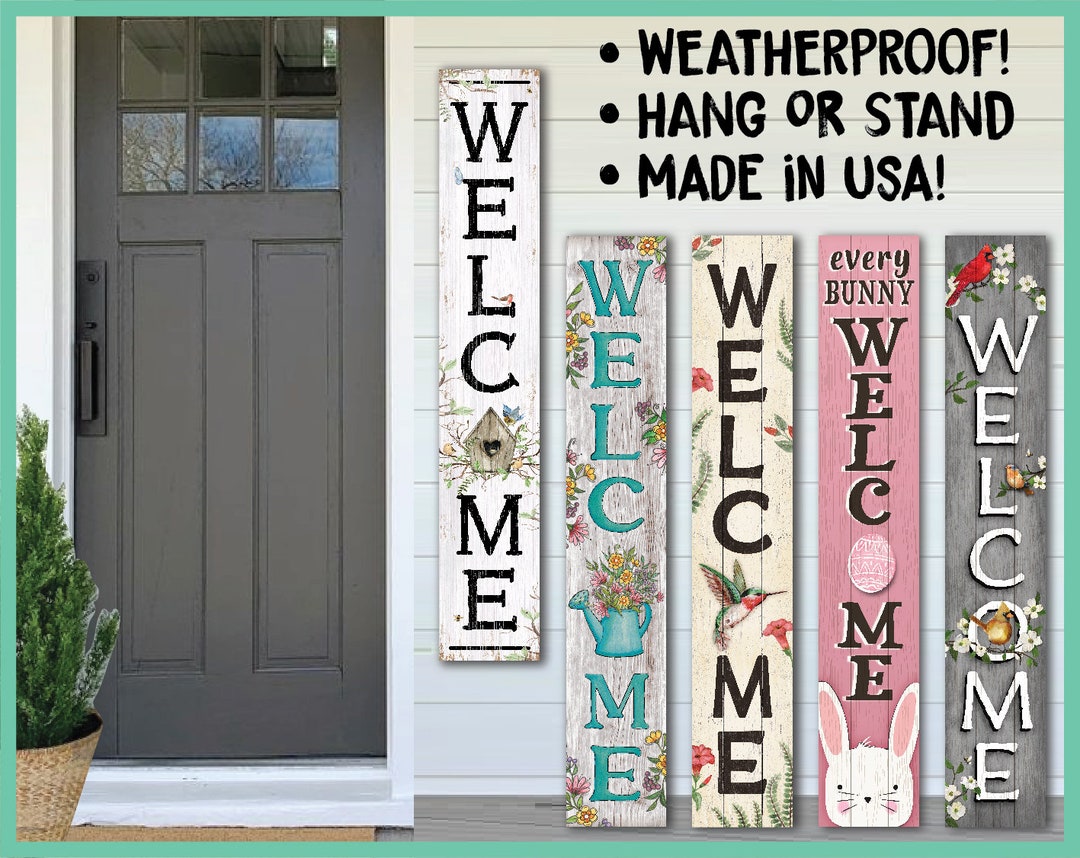 WEATHERPROOF Porch Signs by MulligansWay
A welcome sign instantly adds warmth and personality to your porch and is easy to customize to fit your personal style. You can create a simple wooden sign with stenciled letters using materials you can find at your local craft store.
Don't forget to add decorative elements like flowers or greenery to give your sign a little extra pop. And the best part? You can create your welcome sign in just a few hours this weekend, and enjoy the inviting touch it brings to your front porch all year round.
Check out the video below for an easy $5 front door sign that you can make today, or grab this DFY welcome sign from MulligansWay on Etsy.
5. Line the entryway with lanterns or hang festive string lights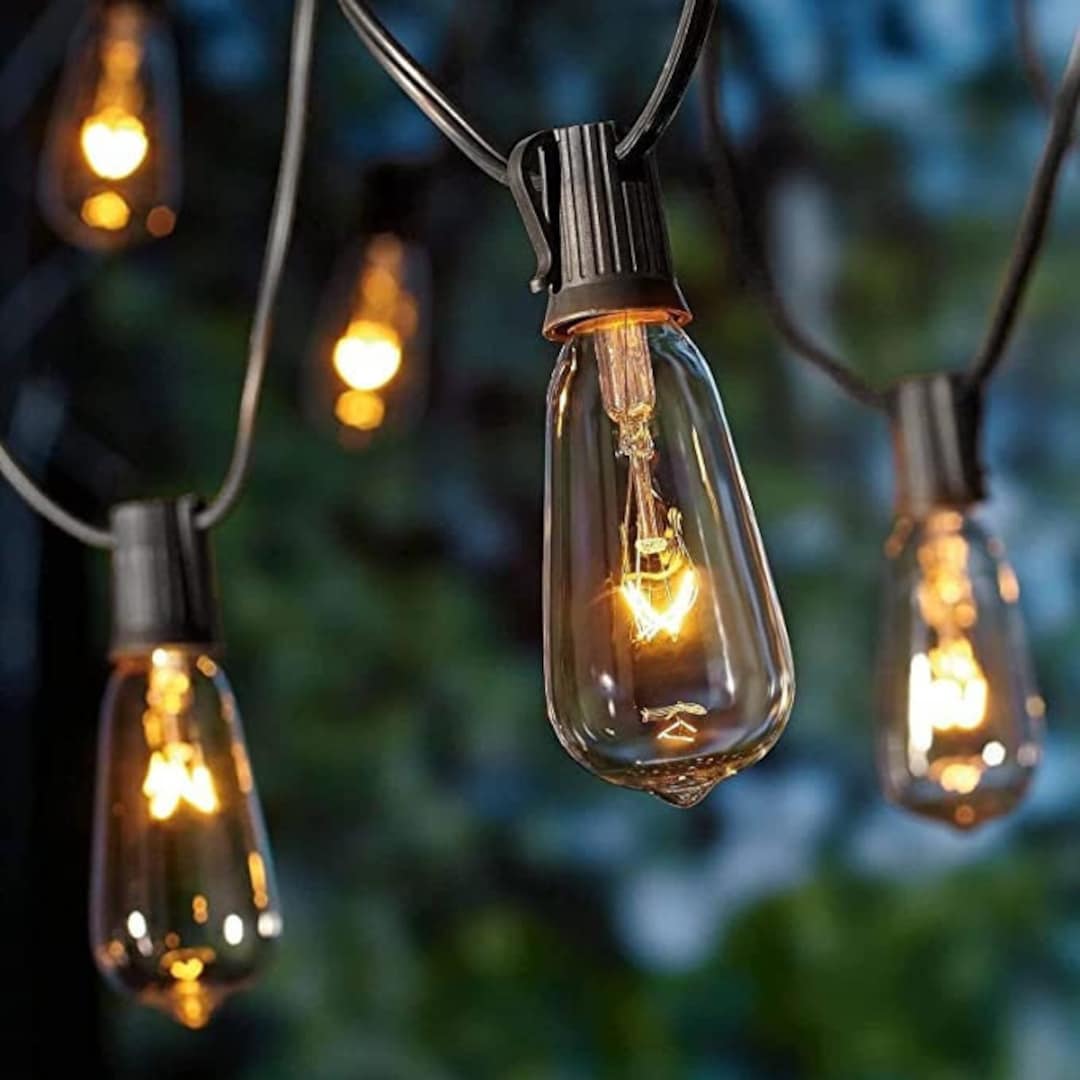 25ft Outdoor String Lights
from Kafino on Etsy
Line the path to your front door with a cluster of lanterns to create a cozy and inviting atmosphere. You can even mix and match different sizes and shapes to add more personality. Lanterns don't just look great, they're also practical. You can use battery-operated lanterns to light up the entryway at night and create a warm and inviting atmosphere for your guests. Plus, they're super inexpensive (especially if you're willing to mix and match a bit) and easy to find at any home decor store or even online.
Outdoor string lighting is another quick and easy way to brighten up your front porch (pun totally intended). String fairy lights along your railing or across the ceiling to instantly transform your porch into an enchanting space. Or, for a more industrial look, you can go with vintage-looking Edison bulbs.
Unless you're an electrician, you pretty much have to go with DFY options here. I really like the Edison-style bulbs from Kafino on Etsy because they're super affordable compared to a lot of others that I've seen.
6. Hang a wreath on the door
Celebrate the changing seasons by hanging different pretty wreaths on your front door. You can make your own using inexpensive materials such as grapevine wreaths, fake flowers, and ribbons. Or, browse Etsy for some incredibly gorgeous pre-made wreaths that fit your style and budget. Changing out your wreath every few months keeps your front porch looking fantastic all year long.
I love this video below because it uses Dollar Tree finds to create gorgeous wreaths:
DFY Ideas: Check out these 20 Beautiful Handmade Summer Wreaths for Your Front Door
7. Add some outdoor rugs
Outdoor rugs are a fantastic way to define your front porch space and create a cozy atmosphere. Look for affordable rugs that are designed for outdoor use and are easy to clean. Go for patterns or colors that coordinate with your existing decor. A rug not only adds visual interest but also provides a comfortable and cozy spot for morning coffee or chats with neighbors on the porch.
8. Arrange some cozy seating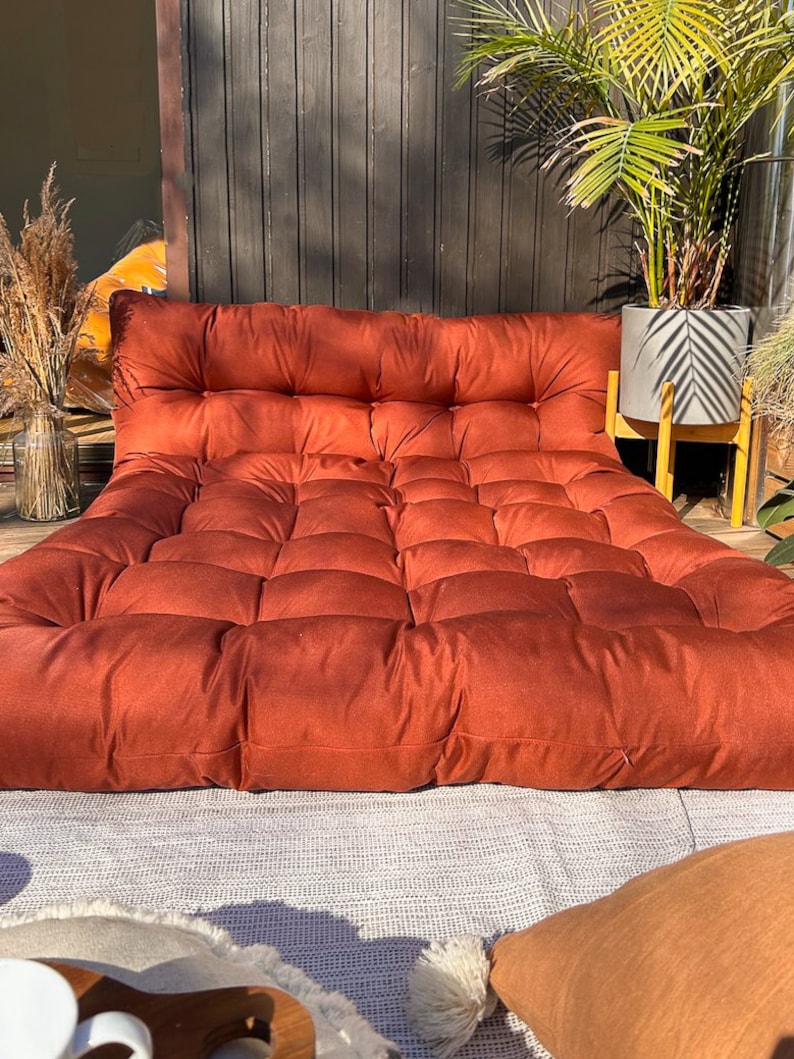 Water-repellent Outdoor Floor Cushion
by PatuuLiving on Etsy
Keep going with the idea above and continue creating an inviting space on your front porch by incorporating cozy seating. Look for budget-friendly options such as second-hand wicker chairs, repurposed wooden crates, or outdoor floor cushions.
Arrange the seating in a cozy conversation area and add throw pillows or blankets for comfort and style. Your front porch will instantly become a cozy retreat for relaxing with a book or enjoying a cup of coffee with your neighbors.
9. Incorporate DIY Art
Let your creative side shine by incorporating DIY art into your front porch decor. Use inexpensive wooden pallets to create a rustic sign with your family's name or a welcoming message. Paint old picture frames with bright colors and hang them on the wall to display seasonal artwork or inspirational quotes. Adding a personal touch with your own DIY creations infuses your porch with character and charm.
Try these cute $1 ideas:
10. Put out a colorful doormat
If you're looking for an easy and inexpensive way to update your porch's look, consider swapping out your boring old doormat for a colorful one. You can buy a plain fiber (technically called "coir") doormat from Amazon or pretty much any local home improvement store (or even Walmart and maybe Dollar General), and then use stencils and paint to make it super cute!
For example, you can stencil a fun greeting or a design that matches your other front porch decor or your family's personality. It might seem like a small detail, but it can make a big impact on your front porch's overall aesthetic. Plus, it's a practical addition that can help keep dirt and mud off your floors.
Check out the video below for an easy idea:
Decorating your front porch and adding curb appeal to your home doesn't have to be expensive or time-consuming. Just try one (or more) of these inexpensive front porch decor ideas to add character and charm to your home without breaking the bank!
Last update on 2023-09-30 / Affiliate links / Images from Amazon Product Advertising API