Let's talk trick or treat bags. Usually, I buy Jacob some sort of super cool plastic bag that ends up ripping halfway through the night. I also bring a backup pillow case, which is what I used as a kid. Jake likes the super cool designs but doesn't exactly like losing any of his loot! So as we madly dash from door to door, he starts dumping his candy into the backup bag, which I then tote around all around the neighborhood. Doesn't really seem fair, since I do the heavy lifting and he gets the best of the loot!
This year, I've decided that those cool plastic bags aren't so cool after all. Not only do they rip, they end up in the trash the next day. Plastic isn't exactly that great for the environment. Since I'm a total Redbubble addict, I found some super awesome, beyond cool Halloween Trick or Treat Tote Bags that I can actually use all season long! Then, on the big night, Jake can use his favorite for gathering his sugar supply for the next three months (until Christmas).
Super Awesome Halloween Trick or Treat Tote Bags
First up are two that I got to check out complimentary of Redbubble. The links are also affiliate links.
Nothing says Halloween better than a spooky graveyard set against a full moon. This Halloween Background tote bag is quintessential trick or treat bag, perfect for all ages from pre-K to pre-med.
The bag comes in 3 sizes. Mine is the small, 13×13. Just the right size for toting my iPad, to-do calendar (yes, I still write things down on a paper calendar) and a book, with room to spare for other odds and ends.
Apparently, it's also just the right size for a 5-month-old kitten. Leave a bag on the table for more than 30 seconds in this house and you'll find a Zoe testing the whole "if I fits, I sits" theory. See that face? That's her "you're not really here, you can't steal my bag" face. The cat is a total bag freak.
I think the Cute Halloween Treats bag totally lives up to its name, don't you? It's designed by Gretchen Braun, and if you look at her other work, it's an interesting contrast. She has a few other Halloween designs that are super clever, but this one is just perfect for the younger crowd.
Both of these bags are incredibly well-made. I have other bags from Redbubble that have held up super well. Jacob and I aren't exactly gentle on bags. He loaded my Owl drawstring from our Back to School post up with a ton of stuff for sleepovers, and my super cute coffee bag from our Valentine's Day post has survived multiple trips to the grocery store and two hot weeks locked in my trunk at the mechanic. Redbubble stuff is made to last, which is why you'll be using these bags all season long before taking them trick or treating!
Let's check out a few more of my favorite Halloween tote bags, shall we?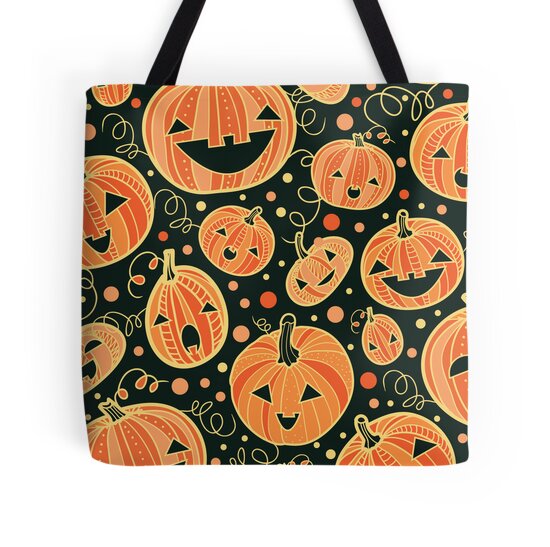 Fun Halloween pumpkins pattern by oksancia


Pumpkin 2 by freeminds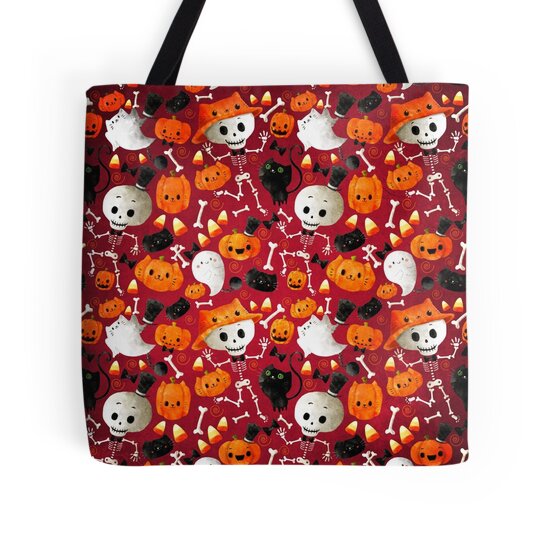 Halloween – Skeletons, cats and pumpkins by colonelle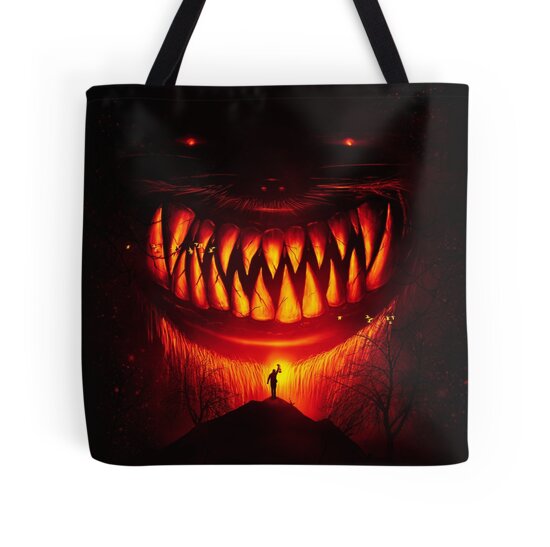 There's No Way Out by nicebleed

The Halloween Tree by AmyBrownArt
Find all these great Halloween bags and so much more at Redbubble!
Which is your favorite Halloween tote? Tell me in the comments!