Continuing with the Halloween extravaganza, today I'm sharing some of my absolute favorite scary Halloween pictures from Redbubble. As I've told you many times before, Redbubble is THE place to get the most original artwork from indie artists. With products ranging from mugs to duvet covers, it's also the perfect place to find fun ways to incorporate more art into your life.
Take Halloween, for example. You could just decorate with dollar-store gauze, a few flashing lights and one of those things that you stuff leaves into, then call it a day. OR, you could get really cool scary pictures on actual useful products and continue the Halloween fun well past October 31st. That's what we're doing here today.
Scary Halloween Pictures for Your Decor Needs & Beyond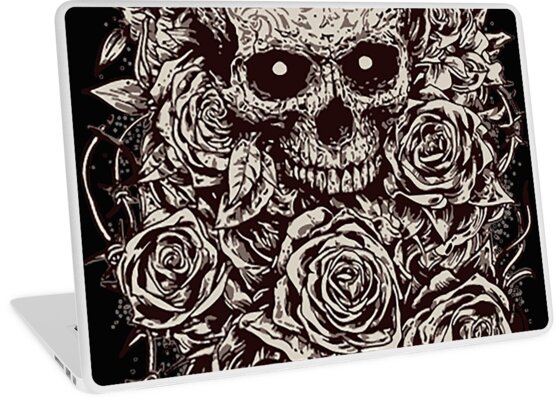 Skull & Roses iPhone Cases & Skins: Start your Halloween season off right by decorating your laptop! Nothing says Halloween better than skulls! Created by viSion Design, this detailed portrait of death is available on a myriad of products. 25 in all, actually, from scarves to mugs! I have the travel mug:
It translates very well to the mug, with the design wrapping all the way around. I apologize for the less than stellar pictures. It hasn't stopped raining in ages and I have such bad lighting in my house right now because we have these weird energy savers and they never get bright enough.

TZAAAR! by Lukas Brezak: Lukas is an artist from the Czech Republic with dozens of strange and twisty pictures that make me feel like I've landed on Pink Floyd's Dark Side of the Moon. His art ranges from sci-fi creepy to downright disturbing, but in a brilliant way. The man can even make a lightbulb feel threatening! Don't believe me? Check out his profile! You'll see what I mean! TZAAAR! is available on eight different products, including throw pillows, bags and multiple types of wall art.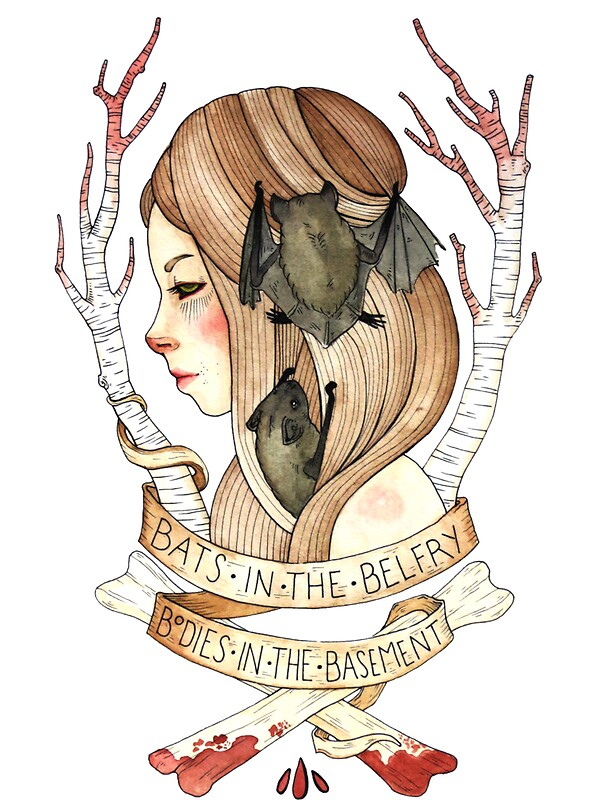 Bats and Bodies by Heather Hartz: This is one of my favorite scary Halloween pictures because it's just so darn beautiful, even if it is dripping blood. Where Lukas can make ordinary objects creepy, Heather can take something twisted and make it lovely. Bats and Bodies appears on 14 different products, from t-shirts to stationary.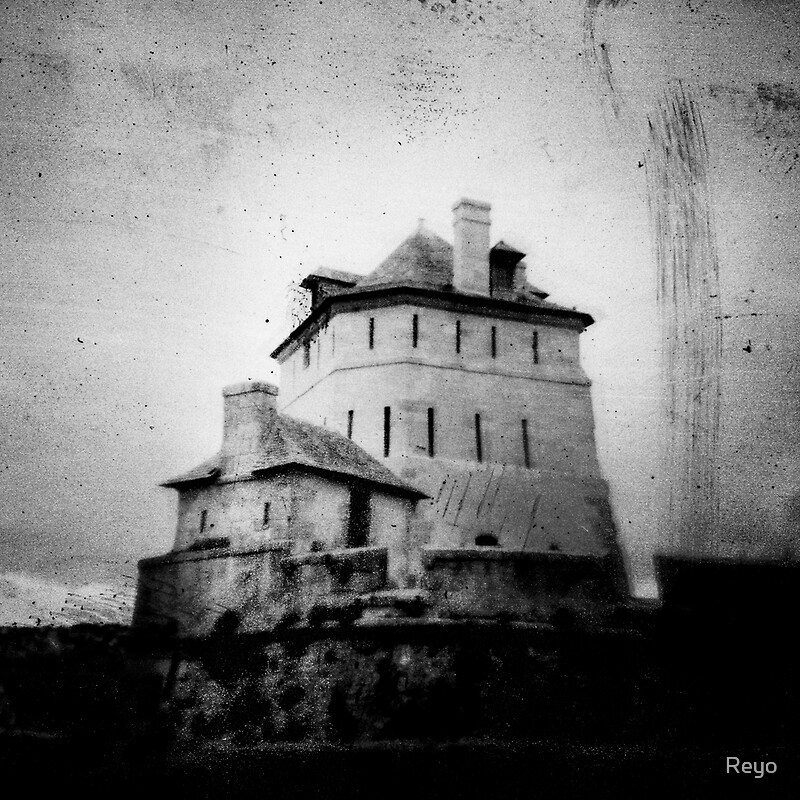 Freaky House by Reyo
French artist Revo has a talent for bringing out the spectral side of everyday scenes. The black and white image of the titular "Freaky House" makes the perfect accompaniment to your haunted house theme.  I actually received this one as a photographic print, but my camera didn't do it justice. It's hard to take pictures of a picture, I think. This one is available in 4 different wall art formats, including metal prints.

The Octopus Man Rises by Lloyd Harvey
Another one that's perfect for sci-fi fans, this one reminds me of really old horror movies. You know, the kind that the characters of MST3K would watch. Artist Lloyd Harvey has a super impressive portfolio filled with an interesting combination of scary pictures and oddly beautiful scenes. This one comes on 10 different types of products, including a pencil skirt!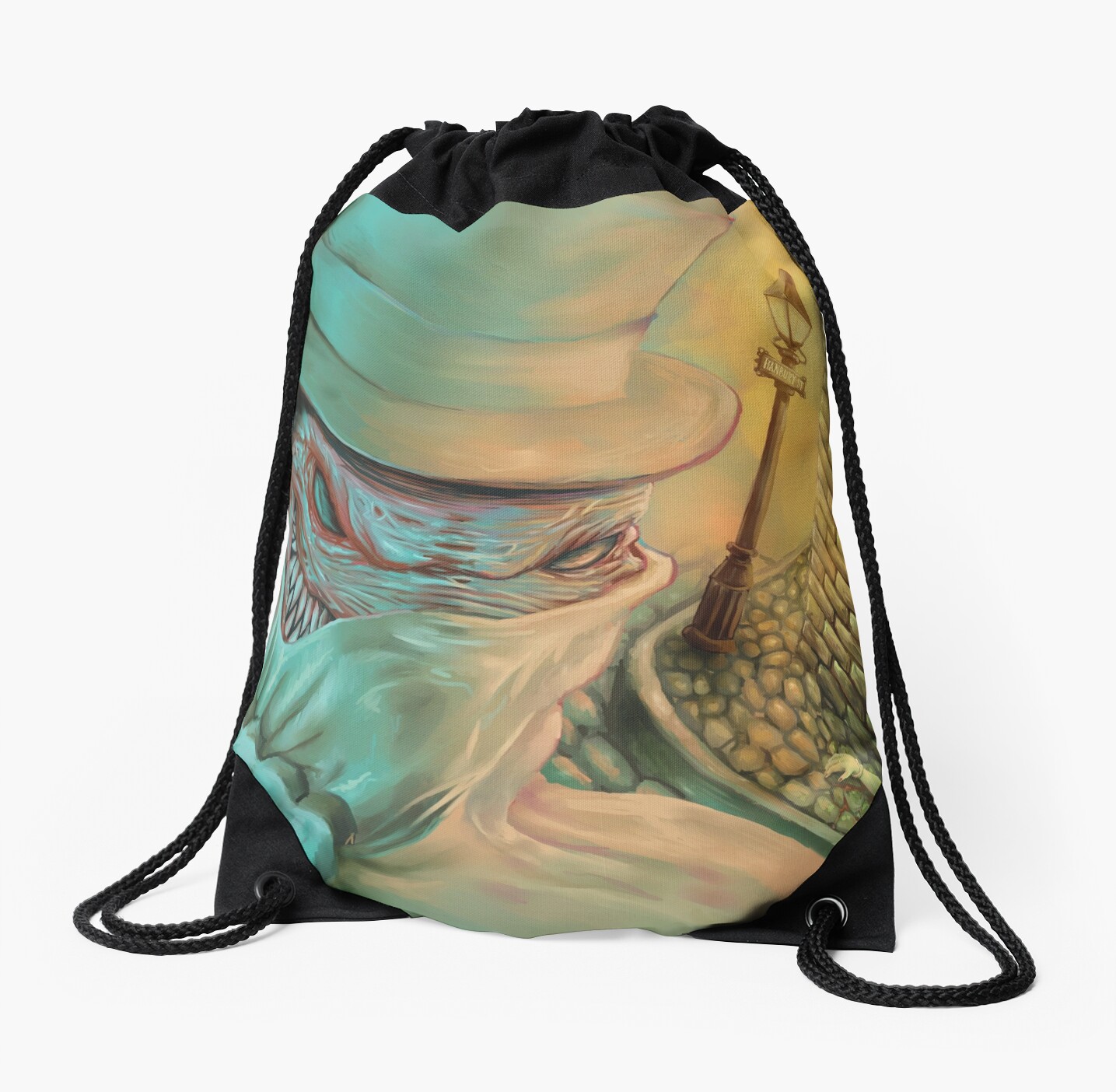 The Gentleman by Kristofer Floyd: This picture is hanging on Sal's wall right now, from a post I did last year on Spooky Halloween Decor at Redbubble. I love it because it makes me think of Jack the Ripper, the Invisible Man and spooky nights in turn of the century London. Get it on 11 products, including skirts, bags, stationary and prints.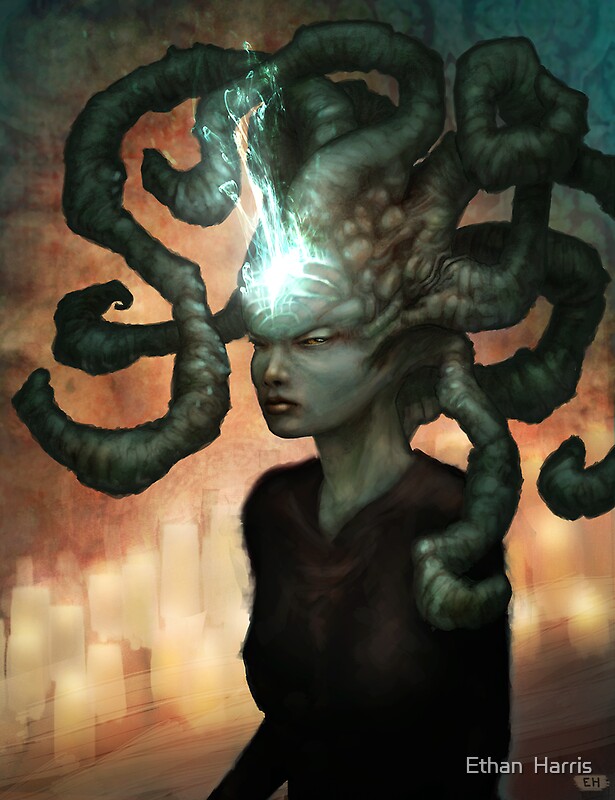 The Chrysalis by Ethan Harris: I love the Medusa meets alien look of Ethan Harris' artwork. All of his work features strange and fantastical worlds that just beg you to let your imagination loose. The Chrysalis comes on 10 products, including throw pillows.
Again, apologies for the picture quality. I do love my Redbubble pillows, the quality is outstanding!  This one is going to Sal because he absolutely loved it. He needs more throw pillows in his place anyway.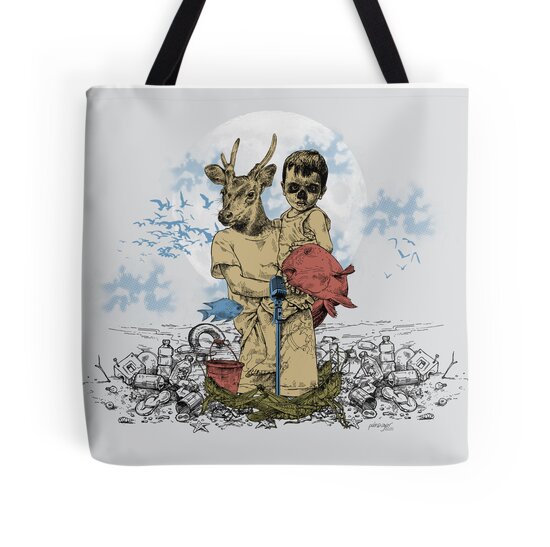 Hymne of 1000 oceans by painsugar: Last but not least in our scary Halloween pictures, this disturbing little number from painsugar, an artist out of Indonesia. It's just such an odd picture with so much to look at. It makes me think of ecological disasters and the heartbreak of the aftermath of the tsunami that hit the region years ago. The image comes on 9 products, including multiple types of wall art, a tote bag and more.
These are just a few of the thousands of scary Halloween pictures you'll find at Redbubble. If you're a fan of horror and sci-fi, once the holiday is over you still have great art or useful stuff to show off your individuality!