Send your kids back to school in style without wreaking havoc on the planet (or your budget!) thanks to these fantastic eco-friendly school supplies! 
Did you know that the average school uses around 250,000 pieces of paper in a year? More, actually, since that number comes from studies on how much paper teachers use on handouts and what not. It doesn't take into account all of the notebooks, folders and books that our kids use on their own. Crazy, right?
After spending two years in REACH cyber school for middle school, my son decided he wants to go to a "regular" high school (he's going into 9th grade in the fall). While I respect and support his decision, I have to say that it was kind of nice not to have to buy pens, pencils, notebooks, backpacks and so on during those two years! Plus, since everything was done online, his schooling had a very tiny carbon footprint.
Now that I have to do back to school shopping again, I'm spending a lot of time researching and finding items that don't kill my budget or the planet! Check out some of my favorites so far!
Eco-Friendly (and Budget-Friendly) Back to School Supplies
From stylish backpacks made out of recycled plastic to lunch containers that won't leach harmful chemicals into my son's food, from pens & pencils to paper and folders that won't make the trees cry, I've tried to cover every single essential school supply below. Let me know if I miss anything!
Just a head's up, I did receive the backpacks mentioned below in exchange for an honest review. This post also contains affiliate links. If you make a purchase through them, I earn a small commission at no extra charge to you. Thanks!
1. Ecogear Backpacks
Let's start with the biggest back to school purchase, shall we? Ecogear sent me a couple of their earth-friendly backpacks to try out and they're just perfect. For Jake, we got the Flash & the Bighorn. I also got the Brite Buddies Panda Bear for my friend's daughter. She turns 4 this week and goes to preschool so it's perfect for her.
Jake decided on the Bighorn to start the school year, and the Flash as a backup. Both come with a padded backpack sleeve and plenty of pockets to hold everything he could possibly need in high school. The Bighorn was named after the formerly endangered species which, thanks to conservation efforts, has been taken off the Red List.
Ecogear is totally committed to making bags that have a low impact on the environment, so they're all made from recycled plastic bottles. You wouldn't know it to look at them, though! They're very stylish (or whatever the hip word is for "they look great!"). Right now, all of their bags are up to 75% off (that lasts through the end of the month), making them incredibly budget-friendly!  Plus, all of their bags come with a lifetime warranty and free shipping! Check them out at Ecogear-Products.com or on Amazon.
Get them here
2. Decomposition Notebooks
Why get plain old composition notebooks when you get decomposition notebooks instead! All of the notebooks are made from chlorine-free 100% recycled paper and printed using soy ink (so you can recycle it all over again when you're done with it). Check out the entire line here (super cute designs plus a few basic traditional composition book styles).
Shop here
3. Dingbats Dotted Journal/Notebooks
Aside from being super cute and useful, Dingbats notebooks are also FSC (
Forest Stewardship Council)
certified and the only vegan-certified notebooks (according to them, anyway). They're made from degradable and recycled materials and come in a ton of darling designs. If you're not into the whole
dot journaling
movement, you can grab a plain lined notebook in most designs as well.
4. Sprout Mindful Thoughts Edition Eco-Friendly Pencils
Sprout's Mindful Thoughts Edition pencils combine my love of quotes with my passion for buying school supplies that won't kill the planet. Each pencil has a motivational quote to help inspire your kids throughout the day. When the school year is over (or the pencil is down to a nub), turn it upside down and plant it in the ground!
Shop here
5. Onyx & Green Recycled Erasers
Since the Sprout pencils don't have their own erasers, you'll need to grab "external erasers" to keep on hand. Onyx & Green makes a whole line of eco-friendly products, including recycled rubber erasers. Sure, they're not as stylish and fun as some other erasers, but they're just fine for older kids.
Shop here
6. Pilot Bottle to Pen Pens
You don't have to give up your favorite brands to be more eco-conscious. Pilot, one of the best pen brands (in my opinion) has a line of B2P gel ink pens that are made from 89% recycled plastic bottles. A 2-pack is a smidge pricey but the 12-pack is reasonable.
Get them here 
7. Crayola Crayons
Good news, eco-conscious Crayola fans, you don't have to give up the world's best crayon to avoid slaughtering the planet. 😀 I looked for decent green crayons (as in eco-green, not green green) and came up with a whole bunch of results that averaged less than 3 stars on Amazon. So I looked into good old Crayola and found that they are actually very environmentally conscious.
They rely heavily on solar energy to produce many of their products (you can find out which ones by the specially marked label) and recycle all broken crayons by putting them back into the production line. All of their colored pencils are made with sustainable wood that never comes from the Rainforest.
Shop here
8. GreenLunch Bento Containers
While Jake rarely packs a lunch, I still like to keep containers on hand for things like field trips or days when he's just not into the school lunch options at all. The GreenLunch Bento containers are made with 100% stainless steel, so they'll last pretty much forever (or at least until he graduates in 4 years). This particular set holds 6 cups of food throughout the three nesting pieces.
Shop the whole line here
9.Beeswax Food Wraps
While bento boxes are the way to go overall, sometimes you need to wrap up a sandwich, fruit or other lunch item to keep it from mingling with other foods (especially if your kids are like me and Jake with "food can't touch other food" issues). That's where beeswax food wraps come in handy.
I have a wrap from Honeybee Wrap that is surprisingly versatile and easy to use. All their wraps are made from, you guessed it, beeswax, so they're 100% non-toxic and totally sustainable. Plus, they're pretty darn cute! Of course, if your high school kid isn't into the cutesy stuff, you can also find beeswax wraps in plain colors.
Shop all styles here
10. Eco-friendly straws
While we're on the topic of lunch gear, ditch the plastic straws and go for something a little more planet-friendly. While metal straws may have their place at home, you're better off with biodegradable paper straws for school lunches. First, you don't have to worry about your kid accidentally chucking it in the garbage. Second, metal straws have far more injury-causing potential than paper. I like the True Straw set above because it comes with 200 straws for a fairly reasonable price.
Get them here
11.Eco-Conscious Planner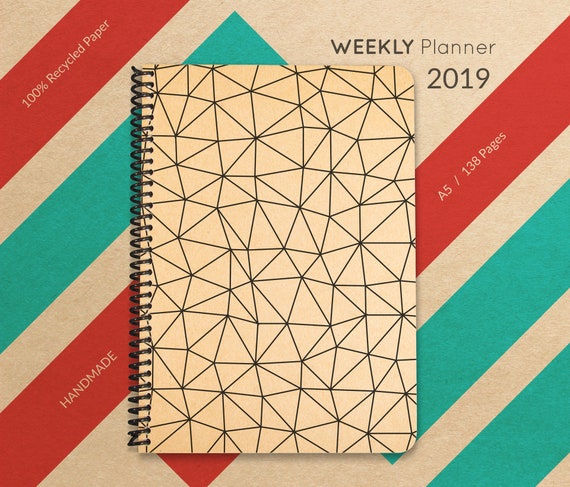 Planners are possibly one of the most wasteful office and school supplies because once the year ends, they're worthless. Seriously, even with notebooks, you can spend years filling them up if necessary. Still, as a society, we're pretty addicted to pretty planners, so I don't see them going anywhere anytime soon. (In fact, I'm thinking of getting into the planner making business myself, since it's supposedly fairly lucrative and not-too-time-consuming).
If you can't give up the paper planner, at least choose something eco-friendly, like the Minimal Planner from PatternBooksStudios on Etsy. The minimal design is made with recycled paper, and since its overall simplicity means less ink is used in its production.
Shop here
12. Pela Case Biodegradable Phone Case
While phone cases aren't the first thing that comes to mind when we think of school supplies, it's definitely on my shopping list for Jake. Since his current case is cracked (pardon the alliteration), he needs a new one, preferably one that will survive floating around inside his backpack. While ultimately he'll decide which he likes best, I personally would love him to pick the Pela.
It's made with plant-based materials and when you're done with it (which, the way kids change trends, will be sooner than necessary) you can toss it into your compost pile. Plus it's at least as durable as plastic cases and comes with a satisfaction guarantee.
Buy them here
13. Bamboo Charging Station
Between phones, tablets and so on, you'll do an awful lot of charging come the first day of school. Might as well keep everything neatly corralled in an eco-friendly bamboo charging station! This one has four slots plus a removable Apple Watch charging station. Stick your phones and tablets in the slots or let the cable dangle out to connect notebooks and ChromeBooks.
Shop here
Last update on 2023-11-28 / Affiliate links / Images from Amazon Product Advertising API