I know it's only August, but Halloween will be here before you know it! Every year, I have grand decorating plans. Then, every year on October 30th, I think "well, too late now. Maybe next year!" Time just gets away from me. So, I'm planning way ahead this year! Since I'm not at all crafty, I buy rather than DIY most of my decor. Here are some ideas that I just adore!
Super Cute Halloween Porch Decor Ideas
Okay, so honestly, some of these idea are a bit pricey, either because they'll last for years or they're more like art than plain decor (or both). I included others that aren't quite so expensive, though. For Etsy decorations, I went with US-based sellers because they really need the money right now. For Amazon ideas, I tried to stick to Handmade, although one or two last-minute swaps (some things went out of stock as I was writing this) may be from regular Amazon and outside the US.
By the way, this post uses affiliate links. If you buy through them, I earn a small commission at no extra charge to you. Thanks a bunch!
1.These cute painted wooden pumpkins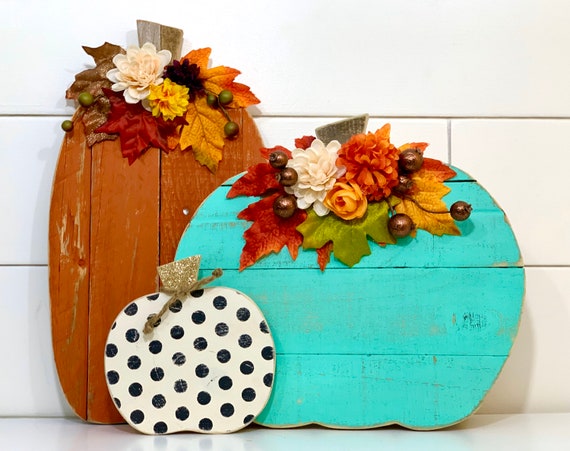 Fall Decor Pumpkin Set for Halloween from: Etsy
Okay, admittedly, they're kind of pricey, but they'll last a lifetime! I love the teal one, but only put that out if you plan to offer allergy-friendly candy alternatives, since that's what the color signifies on Trick or Treat night. Of course, you can always leave it out for the rest of the season, then bring just that pumpkin in on Halloween night if you're not doing Teal Pumpkin.
2. It's October, Witches Porch Sign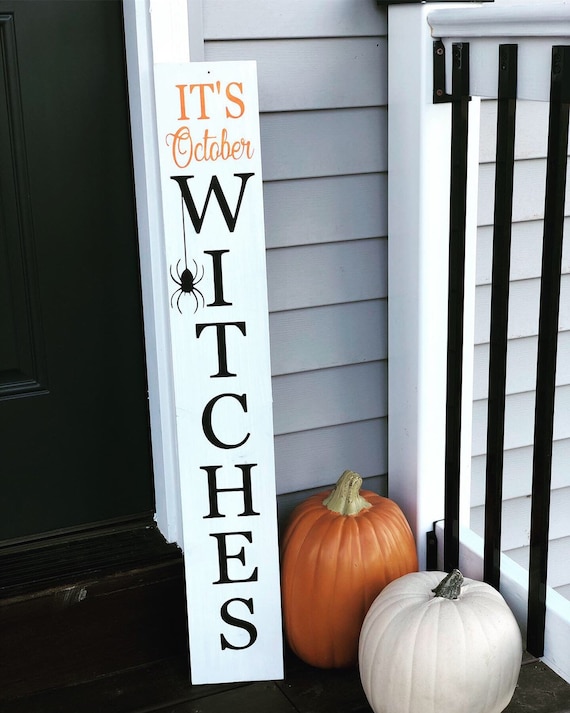 Halloween Porch Sign from: Etsy
This one comes in two colors (black with white text or white with black text) and two sizes, and the price is super fair for a real-wood handmade sign.
3. Rustic Wood Lanterns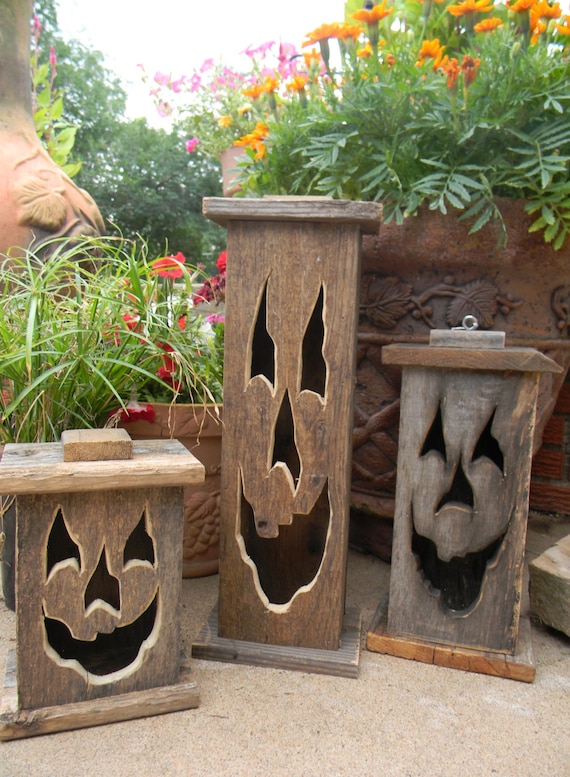 Wood lantern made with rustic worn wood Jack-O-Lantern  from Etsy
How cute are these rustic lanterns? They're made with reclaimed barn wood and come in three sizes (each sold individually, so you'd have to buy all three to get the same look as the photo above).
4. Boo Sign
Boo Sign from Amazon
If you prefer something a little more colorful, this 30″ sign is adorable. Plus, it ships free (for all customers, not just Prime members).
5.
Glitter Halloween Ornament Wreath
Glitter Halloween Wreath from Amazon
I love making Halloween wreaths, but they never come out the way I envision them. My brain is just a lot more artistic than my hands, unfortunately. So, I love affordable and fun ones like this cutie!
6. Not All Witches Live in Salem Metal Sign
Not All Witches...from Amazon
Some of them live in the Poconos! 😀 The sign is made with aluminum and printed with epoxy ink, so it'll hold up outdoors as well as inside.
7.Halloween Ghost Wreath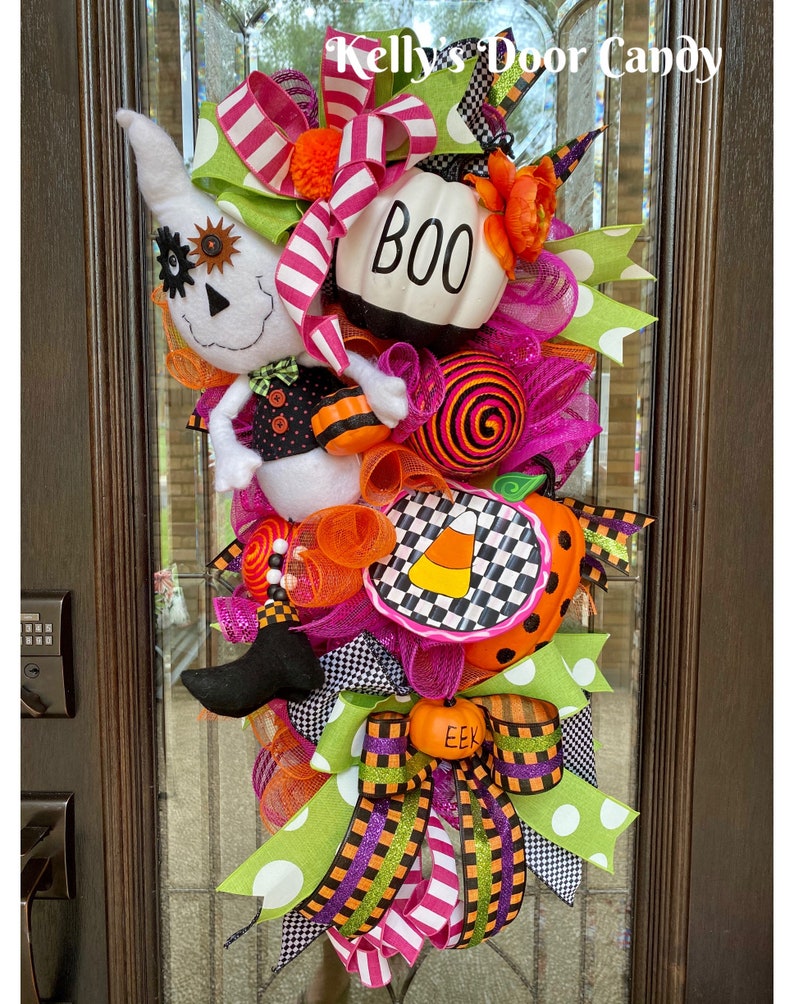 Halloween Ghost Wreath from: Etsy
Kelly's Door Candy Wreaths are so full of detail and fun, it's hard to pick a favorite, but I love the riot of colors in this one. FYI, if it's sold out, check out her other offerings here. She has a lot of amazing Halloween wreaths.
8. Halloween Directional Sign to Creepy Streets from Scary Movies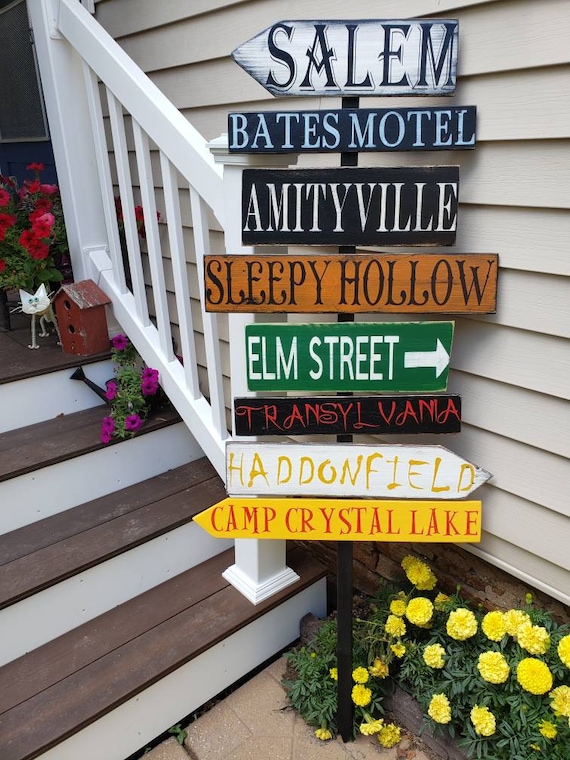 Halloween Directional Sign Porch Sign Distressed Pallet Wood from: Etsy
If you're a fan of horror movies (especially the old-school 80s ones), you'll love this fun sign! It comes in three sizes, and you can request other scary places (like Overlook Hotel, Castle Rock, and Hawkins).
9. 
3D Effect Pumpkin Banner
3D Pumpkin Banner from Amazon
I wasn't going to include this one at first because it seems kind of pricey for a door banner. I usually get mine from the dollar store! Then, I read the description. They're made from billboard-like material designed for outdoor use, and they'll last years. Combined with the 3D effect, that makes the price a bit easier to digest.
10. Hocus Pocus 3D Circle Wood Sign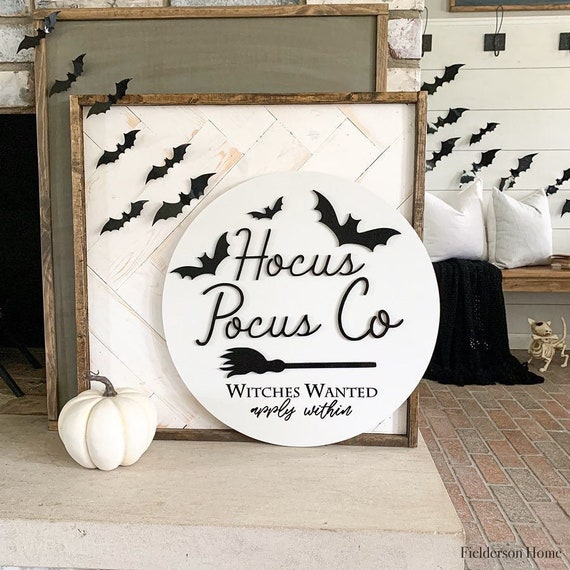 Hocus Pocus 3D Circle Wood Sign from: Etsy
Not a fan of so much color? This one is simple and elegant, yet still loads of fun. It comes in 5 different sizes, too. The only downside, it takes 3-4 weeks to ship, so make sure you order well ahead of the holiday.
11.Spooky Trees Made from Real Dead Trees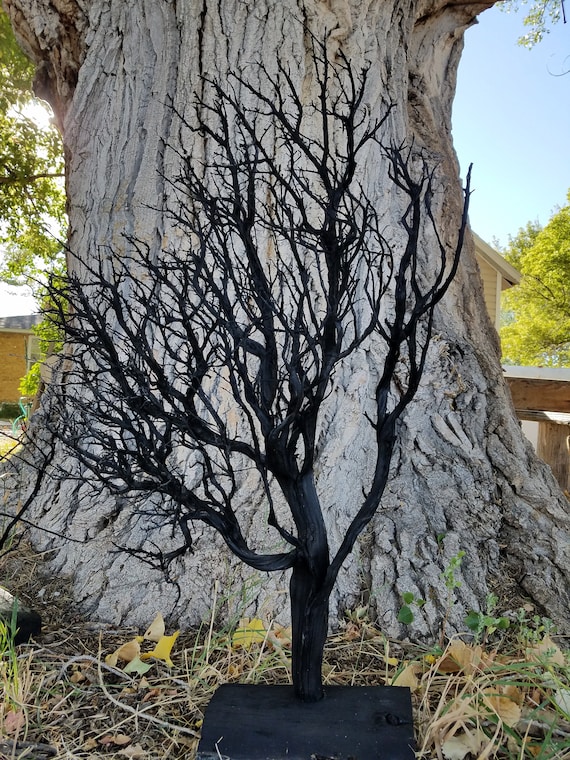 Spooky trees  from: Etsy
These are actually made from dead standing Juniper and Sage bushes! So neat! Plus, when you take that into consideration, they're super affordable.
12.Crazy Cute Front Door Art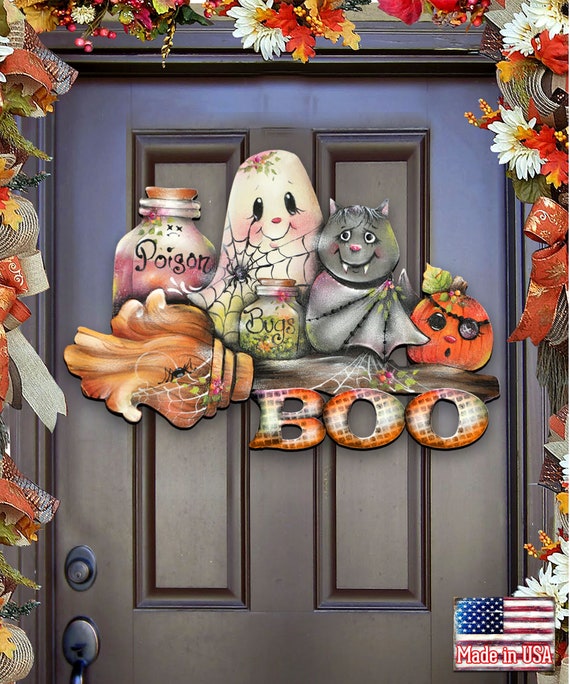 READY TO SHIP Halloween Wreath Fall Wreath Fall Door Decor from: Etsy
How cute is this? The seller makes a ton of other amazing door decor, so if this one is gone, check out their other items.
13. Insane Asylum Entrance
Insane Asylum Entrance Sign from Amazon
These days, what home isn't an insane asylum, right?
14. Personalized Spider Web Sign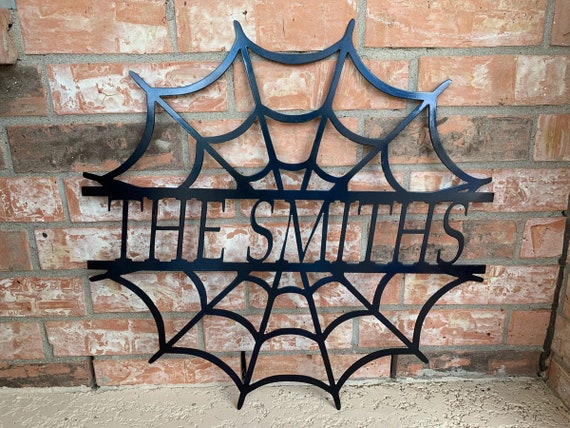 Halloween Spiderweb from: Etsy
Simple but fun, this affordable personalized spider web sign adds just a touch of Halloween to your front porch. Comes in 12 different options- including various sizes and finishes.
15. Personalized Garden Flag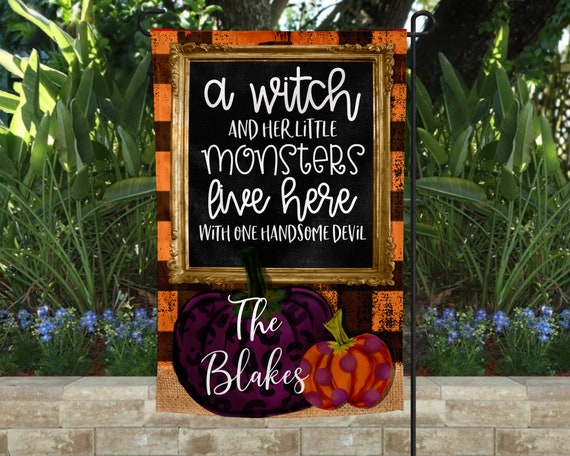 Halloween Garden Flag Welcome Flag Autumn Garden Flag from: Etsy
If you're on a super tight budget but still want something fun, this personalized garden flag is a great way to go. Choose from single or double sided, and add any text you want to the pumpkin (as long as it fits, of course).
I hope you found something perfect for your own spooky Halloween porch!
Last update on 2023-12-10 / Affiliate links / Images from Amazon Product Advertising API