When you shop from these amazing small and women-owned businesses, you're not only giving your own family a gift they'll love; you're also helping other families put food on their table (and presents under the tree). Check them out!
While my traditional holiday gift guide highlights companies both big and small, this year I really want to do more to help small businesses-especially those owned by women. I know the pandemic wreaked havoc on everyone's finances this year, but women in particular took the biggest hit overall.
As a single mom who has always struggled to make ends meet, this year has been particularly brutal.  I feel like it's important for me to use what little influence I have (I'm not a superstar blogger by a long shot, but I do have an audience) to help out other family-owned businesses.
Holiday Gifts from Small & Women-Owned Businesses
We'll start with some amazing small businesses (many of which are women-owned) that I've had the pleasure of working with over the last year or so (those are the first 10). Then, we'll look at some other picks from Amazon's small business section.
FYI, this post contains affiliate links for the Amazon and Crate Joy links. If you make a purchase through them, I earn a small commission at no extra charge to you. Thank you for your support (I'm a one-person woman-owned business myself!).
1. Village Rock Shop
Village Rock Shop makes these gorgeous bundles filled with crystals, gemstone jewelry, and amazing candles! Xenia sent me an amazing gift set (pictured above), and I'm just in love with every piece of it. All of her sets are INCREDIBLY affordable, starting at just around $20.  Check out her guest piece on the meanings behind each stone here!
2. Gemstone Well Water Bottles
Gemstone Well, the brand behind these neat water bottles, started with a husband and wife team. Today, they have a couple more employees, including an Energy Medicine Practitioner, but they remain a small business with the type of commitment to customers that you really only find in a family-owned brand.
Their crystal-infused water bottles are just so neat! The gems in the base vibrationally charge your water without ever actually touching it. You can easily swap out the crystals, thanks to the patented design. It's a gift that's both practical and inspiring!
3. Deadbolt Mystery Society Subscription
Did you know that most subscription box services – especially those sold on CrateJoy– are small businesses? True story! My favorite one this year is definitely the Deadbolt Mystery Society box. It's a monthly subscription box filled with puzzles, evidence, and everything else you need to solve the mystery. Each box is a standalone mystery, so you can get just one or a whole year's worth! Check out their website, or order through Cratejoy. They have sales going on throughout the season on both options, so make sure you keep an eye out for them!
4. Usborne Books (through Independent Consultants)
So, technically Usborne Books is neither small nor women-owned (as far as I know). However, many moms use it to supplement their income, including my dear friend Adelina. Usborne has some amazing gifts for all ages, too! So, if "something to read" is part of your holiday gifting tradition, I'd love it if you could check out her Usborne site. If you need some ideas, check out some of my favorite Usborne books for teens and tweens!
5. Girlfriend Box Jewelry Gift Box
Girlfriend Box is a really neat woman-owned subscription service created by Arianny Celeste. Each box includes a gorgeous selection of designer style jewelry.  Choose the occasion and answer a few questions about your recipient, and they'll take care of the rest!  Order by 12/11 to guarantee Christmas delivery. They are currently are offering one box free for the 5 special occasions pack (no code required).
6. Lamonique Cosmetics
Another amazing woman-owned business (and Black-owned business), Lamonique Cosmetics specializes in super-affordable cruelty-free mineral makeup made without any nasty chemicals. She also uses her platform to "inform young girls and women about the harmful chemicals in cosmetics and personal care products."
Her products have been featured in BET Weekend Fashion Show, the 2020 Oscar's Gifting Suite, and more! She also has these fantastic hypoallergenic makeup brushes made from synthetic fibers (so they're cruelty-free as well).
7. Bazodee
If you're looking for a great gift for your favorite cook, you'll definitely want to check out Bazodee. It's a woman-owned business that specializes in Caribbean-inspired sauces. All of their products are gluten-free and preservative-free. They're also all-natural and vegan!
I love the story behind the name! It's a Trinidadian word that means "head over heels in love" with someone or something. You'll definitely go Bazodee over these tasty sauces. I'm actually using their Trini Curry on some leftover turkey tonight. (They have an quick curry recipe using chicken, but it should work with turkey too, right? We'll find out!)
8. Krazy Essentials
Krazy Essentials is a wonderful small Black-owned company that makes amazingly affordable skin care and home aromatherapy products. Each and every product is handcrafted with "intention, love and positive energy." And, of course, rigorous safety standards! I love their mission statement: " Our highest goal is to use our passion in service to enhance what's already beautiful about you and your home."
Their line includes everything from gentle facial cleansers for all skin types to a moisturizing hair elixir for "kinky/curly" hair to vegan handpoured candles for your home. Every single product is truly affordable (and I have pretty strict rules about  what I consider "affordable). They make fantastic stocking stuffers, or buy a few different ones and create your own gift basket!
9. Japan Crate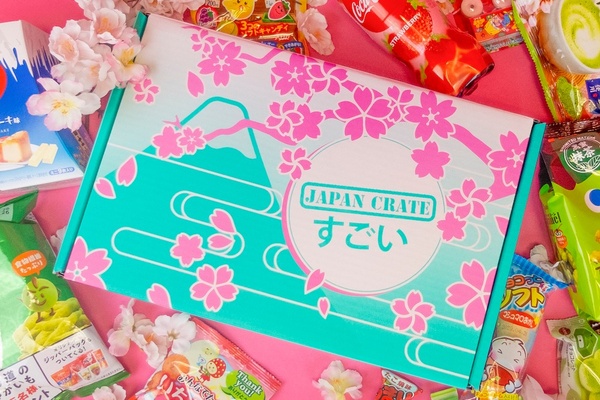 Need a perfect gift idea for your anime-loving teen? One of my all-time favorite subscription boxes, Japan Crate, is also run by a small business (with a 14-person team). They offer several different options for boxes, starting at $22.50. Each one comes with a selection of tasty treats straight from the Land of the Rising Sun.
Everything in my box tasted exactly like I remember from my years living in Japan. If you've only tried Pocky and other Japanese snacks from grocery store aisles (or worse, places like Spencers), you're in for a real treat! The "straight from Japan" stuff tastes SO much better than that "frozen, thawed, sat in a shipping container for a month" grocery-store junk, I promise.
10. Ballsy Gift Sets for Men
With names like Jolly Jewels Ballwash, Nut Rub, and The Sack Pack, Ballsy's lineup sound like gag gifts, but they're actually pretty awesome men's care products! I worked with them for last year's holiday gift guide specifically because they make products that are gentle enough for sensitive skin (because they're made for the most sensitive parts!).
The "Made in the USA" brand is free of parabens, sulfates and synthetic dyes. If you're looking for a fun gift for a teen boy with a sense of humor, I highly recommend grabbing this year's gift set! They also sell individual products on Amazon that make perfect stocking stuffers.
Best Small Business Finds on Amazon
As mentioned earlier, this next section is full of amazing small business finds on Amazon. I've included a little something for everyone here!
11.Moosh Walks Socks
Moosh Walks- a small woman-owned brand- makes the cutest socks with funny faces and ears! They're perfect stocking stuffers for all ages. They have a bunch of different styles, including mismatched sets.
Sale
Moosh Walks Silly Bunny Socks (Age 9 to Adults) Crazy Cotton Gifts Girls Women Roller Derby 3d stockings | LILY
CUTE ANIMAL SOCKS: Lily Bunny + Cat Mix. High quality comfortable knee high socks with soft 3D elements will brighten up anyone's wardrobe. You will be the only person in the room with the coolest socks. Ears and Wings stay on strong and machine washable.
SIZES: Fits 9 year old through adults |Socks for women, teens and young girls | Stripped designs
HOW TO WEAR: Socks for boots | flats | pilates | exercise | Running | relaxing
QUALITY & VALUE: 80% Cotton | Do not slide down | No-slip soles | 3D socks | Machine Washable | Slit on the inside of the ear is mandatory for washing
THE BEST GIFT OF 2018: Adopt them all or get them as a perfect unique gift | Each character comes with a birth certificate |
23. BLK & Bold Coffee
When I make my own holiday wish list every year, I always add a new coffee to try. This year, I'm asking for BLK & Bold. Not only is it from a small Black-owned business that gives back 5% of their profits to help at-risk youth, but all of their coffees are made with fair trade certified beans. So, your purchase is also socially and ecologically responsible.
BLK & Bold | Rise & GRND Coffee Blend | Fair Trade Certified | Medium Roast | Ground Coffee | 2 pack of 12 oz. bags
"Rise & GRND" is a medium roast made with fair trade certified ground coffee beans
Ground coffee, 2 pack of 12oz. bags (1.5 lb) - packaging includes a one-way gas valve for freshness
This medium roast pairs a tart citric acidity with smooth, creamy toffee notes to tie this light bodied blend together
Perfectly crafted to enjoy fresh from your favorite coffee maker
BLK & Bold is proud to contribute 5% of our profits to support at-risk youth both locally and nationally. Certified B Corporation
13.The Chameleon Family Board Game
With all of us staying in more often these days, you can never have too many board games! The Chameleon is an award-winning family board game from a small brand called Big Potato Games. As long as you have at least 3 players and 2 minutes to learn how to play, you'll have a great game for family night!
14. Hearth & Harrow Organic Towels
Hearth and Harrow is a small artisan brand that makes the cutest organic towels and napkins, like the adorable sloth pictured above! Every item is hand-printed using eco-friendly methods. Check out their entire storefront here for more cute ideas.
15. The Little Flower Soap Co. Handmade Soap
Years ago, my mom had her own soapmaking business, so I never had to buy store-bought stuff. After we moved into a smaller rented home, she stopped making it. We just don't have the kitchen space anymore. (She was a real soapmaker, everything was from scratch versus a "melt and pour" base).
Today, I still prefer to buy handmade soap from artisans versus store-bought stuff with questionable ingredients. The Little Flower Soap Co. is a family-owned brand that makes some of the cutest gift sets, including the one pictured here.
16. Kindhumans Gifts
If you want to give a gift that's good for the planet and everyone on it, you'll find amazing ideas from Kindhumans. Their shop features outstanding ideas for literally every last member of your family, furry kids included! The BIPOC, women owned, and eco-friendly family business was started by two parents who wanted to raise kind kids and give back to the community. They donate 3% of each purchase to amazing causes that help other people as well as the earth. All of the gifts they choose for their shop meet strict ethical and eco standards.
By the way, I'll add on to this throughout the season (and beyond, as all of these gifts are great for ANY holiday, not just those in winter)- as I find more great gift ideas from small and women-owned businesses. If you have a product you'd like featured, check out my guidelines for inclusion here.
Last update on 2023-09-25 / Affiliate links / Images from Amazon Product Advertising API