I'm kind of obsessed with international candy and snack subscription boxes lately. Ever since a friend sent me ah-freaking-mazing candy from Switzerland years ago, I've been convinced that the rest of the world has far better junk food than we do!
Back then, though, we didn't have all of the nifty subscription boxes that we have today, so I never really had a chance to test that theory. It's definitely on my to-do list this year, and I know just which boxes I'll start with. Check them out below! I even included unboxing or review videos when I could find them.
FYI, I did use affiliate links in this post, so if you decide to buy something through them I'll get a small commission at no extra cost to you. Prices reflect the lowest cost (which is usually based on a 12-month subscription), are accurate as of today (1/10/22) and subject to change. Thanks!
You May Also Like: 10 Subscription Boxes That Let You Travel the World from Home
Japan Crate (Japanese Candy & Snacks)
I know, I mention this one A LOT, but it's probably my all-time favorite international candy box ever. I lived in Japan for two years back in 1999-2001 and I still miss all the yummy snacks and candy. The stuff we have in stores here just isn't the same because of how its imported (exposed to extreme temps, frozen, thawed, sits for ages, etc).
Japan Crate actually ships directly to you from Japan, so you're not getting stuff that's been sitting around in some warehouse for months on end. Everything tastes exactly how I remember it!
I found this great unboxing review of the January 2022 box on YouTube, check it out:
What you get in each box: Depends on the box size. The Original box comes with 10 items, including at least one DIY kit.
Frequency: Monthly
Cost: $33.45+
Options (Sizes): Original (10 items) & Premium (full-size candy plus other fun Japanese items). They also have a few other boxes, including one with noodles, one with Japanese stationary, and one with  gachapon capsule toys.
2. MexiCrate
MexiCrate is one of the most popular Mexican candy/snack boxes on CrateJoy. In fact, it's so popular that it usually has a "low stock" warning. So if you're thinking about trying it, I'd grab it asap. Given the sheer number of positive reviews (4.5 stars total with 340+ ratings), I think it's a pretty sure bet that you'll love it.
It comes in three sizes, but the Mediana is the most popular. At just around $18 for a jam-packed box (figuratively, not literal jam), it's surprisingly affordable, too! Check out the video below from the brand itself for more info:
What you get in each box: 15-25 Mexican candies and snacks.
Frequency: Monthly
Cost: $17.99+ for Mediana (average) box, but they have a smaller option for $7.99+ and a larger one for $26.39+
Options (Sizes): 
3. Bokksu Box (Japanese Snacks)
I know I already recommended a Japanese candy box, but I feel like this list wouldn't be complete without Bokksu. It's high on my wish list, especially after hearing friends rave about it.
Like Japan Crate, it features unique snacks and treats from the Land of the Rising Sun, many of which come from small businesses that have been around for centuries. It costs a bit more than Japan Crate but it also comes with more stuff in each box.
Your first box celebrates the Seasons of Japan and you can actually see pretty much everything that's in it on Amazon. After that, you'll get the same box as other members centered around a specific theme.
I really like this review from YouTube, it gives you a good overview of the first box:
What you get in each box: 20-25 "premium Japanese snacks."
Frequency: Monthly
Cost: $49.99
Options (Sizes): Only one.
Bokksu - Authentic Japanese Snack Box Subscription - Japanese Candy Mystery Box, Monthly Candy Box Containing Various Japanese Snacks: Classic Box
DISCOVER JAPANESE CULTURE: Every month, receive a curated box of authentic Japanese snacks, hand-selected by Japanese food experts. Each box contains unique themes of Japanese culture, festivals, flavors, and cities to help members discover Japanese food
WHAT'S INCLUDED? Every box includes 20-25 premium Japanese snacks, including snacks like Japanese candy, senbei rice crackers, mochi, tea and other snacks all made in Japan! This snack box is perfect for anyone with a taste for Japanese snacks
PARTNERING DIRECTLY WITH JAPANESE MAKERS: Every box sold helps the family-run Japanese snack makers we work with thrive! When you purchase this snack box, you can immerse yourself in Japanese culture while also helping the Japanese manufacturers
IN-BOX GUIDE: A Japanese Culture Guide is included in every snack box, detailing each product's origin story, flavor profile, common allergens, and if it's vegetarian-friendly. The Japanese culture guide is the perfect reading material to discover Japan
4. The Premium Pack by Treats (General International Candy)
If you'd rather try a variety of different international candies throughout the year rather than just from one country every month, The Premium Pack is a good way to go. Each month focuses on a different country and includes at least 10 snacks from that destination. It's basically like a passport for an "Around the World in 12 months" snacking adventure.
What you get in each box: 10+ snacks and candies from the featured country, plus postcards and other small items.
Frequency: Monthly
Cost: $25.95+
Options (Sizes): Just one
5. KiwiGrub (New Zealand Snack Subscription Box)
KiwiGrub calls itself "New Zealand's first international snack box subscription shipping worldwide." Inside, you'll find a carefully curated selection of sweet and savory treats directly from NZ. Past boxes included things like Snacka Changi Chips, Whittaker's Toffee Milk, Spaceman Candy, and more.
What you get in each box: The most popular option- the Classic box- includes between 8-10 different treats.
Frequency: Monthly
Cost:
Options (Sizes): Classic (8-10 snacks) or Premium (15-17)
6. Seoulbox Signature (Korean Snacks)
SeoulBox isn't just a Korean snack subscription, but tasty treats do make up the majority of the box (which is positively overflowing!). Along with snacks, you'll also get K-beauty, K-pop merch, and lifestyle items, plus a Seoulzine.
They ship through DHL and your box arrives surprisingly fast (typically in under a week). Check out the unboxing video below for a closer look:
What you get in each box: 18+ items. Roughly 12-13 are snacks and candy.
Frequency: Monthly
Cost: $35.50+
Options (Sizes): Just the one
7. IndiFix – A Monthly Box of Indian Snacks & Treats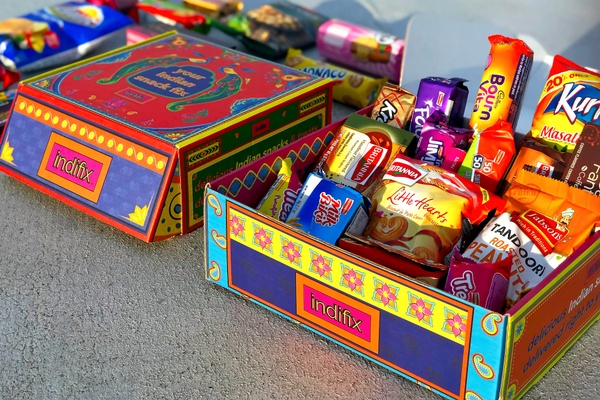 IndiFix claims that they're the only Indian snack subscription, and from what I could find they're right. Each box features an outstanding selection of everything from candy to cookies and even soda, all straight from India.
Everything in the box is 100% vegetarian, too! Even better, your purchase give back. For every box sold, they donate at least one meal to an Indian child in need. Check out the unboxing vid below for a closer look.
What you get in each box: 12+ full size premium treats in the Original Box, 20+ in the Super Fix
Frequency:
Cost: $32+ for the Original Fix, $46+ for the Super Fix
Options (Sizes): Two sizes
8. Canadian Snacks Subscription
I was on the fence about including Canada because they're not really what I think of when someone says "international." Then again, I live in PA, so I could actually drive to Canada faster than I could to, say, North Carolina. But since I included Mexico, and since some of you live MUCH farther from the border,
If you've never tried Canadian candy, you definitely want to check this one out. I have friends who've sent me quite a few goodies over the years. My favorites are Smarties! They're nothing like our version. These are more like M&Ms, but tastier (and that's saying something because I do love M&Ms).
What you get in each box: 10+ items, including candy, chips, and other yummy Canadian treats.
Frequency: Monthly
Cost: $29+
Options (Sizes): Just one
9. Turkish Munchies Maxi International Snack Box (Turkish Treats)
This one is actually just a one-time box versus a monthly subscription, but it still deserves a mention here. I have some gift card money left from Christmas, so I'm thinking about grabbing a box. It has pretty good reviews!
Each box comes with 21 different full-sized premium candies and snacks from Turkey, all of which meet strict European standards for food. I like that you can actually see what you get in the box, but that could be a drawback if you prefer surprises.
What you get in each box: 21+ full-sized items
Frequency: One time
Cost: $28.95
Options (Sizes): Just the one on this listing, but they have a ton of others in their Amazon store.
Maxi International Snack Box | Premium and Exotic Foreign Snacks | Unique Food Gifts Included | Try Extraordinary Turkish Gourmet | Dark Space Themed | Candies from Around the World | 21 Full-Size Snacks
❗WARNING ABOUT EXPIRATION DATES: Turkey uses DAY-MONTH-YEAR expiration date format. So, MONTH and DAY digits are replaced compared to the US. To avoid misunderstandings, we apply additional US-format expiration date label over snacks (MONTH-YEAR format). If you see an original Turkish expiration label of 01.07.2022, it means 1 July 2022 and not 7 January 2022.
🍪7-DAY MONEY BACK GUARANTEE: We not only guarantee your satisfaction but also guarantee that you will receive a full refund within 7 days of purchase if you do not like our snacks. No questions asked. Just drop a message via Amazon messaging and your refund will be initiated (The policy applies for the first order and first box only).
🍪ONLY PREMIUM FRESH GOURMET TREATS. Our international snacks variety pack includes assortment of high quality Turkish treats on the market. All products go through quality tests as per European Regulations. Cherry picked for your taste buds. Nothing mediocre can get into our international snacks box! The product is not a manufacturer-created variety pack and will not be sent in the original manufacturer's packaging.
🍪ALWAYS FRESH. It is known that many international foods end up before the end consumer just before their shelf life expires. This is not the case for us! Our snack variety boxes always come fresh from monthly replenished Amazon stocks. We strive to keep our stocks as fresh as possible by frequent imports.
🍪GOOD CHOICE FOR FOREIGN / INTERNATIONAL SNACKS. Turkish treats are very famous in Europe and you will have the opportunity to taste them here in US at your dorm room, office, school or college. You will never be served one-bite small treats in this box! Great choice that works for all!
🍪MAKES A GREAT GIFT. Looking for a unique gift option for your beloved ones? Look no more! We have curated this international snack box full of surprises for a great gifting experience. The best fit for birthdays, easter, mothers' day, fathers' day and other special days!
10. Bulgarian Treats Subscription Box
I was on the fence about including this one, too, because it doesn't have any reviews yet. However, it's affordable enough that I think it's worth taking a chance on. Everyone needs to start somewhere, right? Plus, it's pretty unique!
Each box comes with 10-12 different snacks, sweets, candies, cookies, biscuits, and such from Bulgaria (but it ships from the UK). If you subscribe for 6 months, they also throw in a mystery bonus. That said, given their "newness" and lack of reviews so far, I'd recommend just trying out one month first to make sure you like it.
What you get in each box: 10-12 Bulgarian treats
Frequency: Monthly
Cost: $25+
Options (Sizes): 2, but one is a beauty box, so really only one.
As you can see, I stuck to subscriptions that are mostly filled with candy and snacks. If you want to expand into entire meals, there are a TON of different boxes you can try for that, too. CrateJoy has a whole category for international flavors.
Oh, and don't forget to look for coupon codes above the "subscribe now" buttons on each listing. You can usually find some good deals to get your first box at a deeply discounted rate.
Last update on 2023-09-29 / Affiliate links / Images from Amazon Product Advertising API