There's never a wrong time to give your mental well-being a little extra love and care! However, since May is Mental Health Awareness month, I thought now would be a great time to share some of my favorite self-care subscription boxes. Check them out!
Self-Care Subscription Boxes That Help You Prioritize Your Mental Health
From options that help you overcome anxiety to those that just give you a reason to pamper yourself, these self-care subscription boxes found on Cratejoy will help you put your own emotional well-being front-and-center.
As usual, I just have a couple of quick notes. First, I am a Cratejoy affiliate, so if you buy anything through the links below I'll earn a small commission at no extra cost to you. Second, all prices are accurate as of today.
Got it? Good. Let's dive in!
You may also love: 10 Weird Subscription Boxes for Wonderfully Quirky People
1. TheraBox Self Care Subscription Box
TheraBox is one of the most popular self-care boxes ever, and for a good reason. It's positively packed with goodies that will help you make yourself a priority. What sets it apart from similar boxes, though, is the fact that it's curated by actual therapists.
Along with a special therapist-crafted "happiness activity," it's also loaded with aromatherapy, natural skincare products, and other items to help you live a more positive lifestyle.
What you get in each box: One "research inspired therapeutic activity to wire your brain for more joy" and 7 full size items.
Frequency: Monthly
Cost: $35+
2. Anxiety Self-Care Box by The Mental Wealth Box
As the name implies, this one is designed specifically for those of us with anxiety, but it's also useful for anyone who wants to focus on mental health and self-care.
Along with natural health & beauty products, each box includes educational materials such as books and activities centered around that month's mental health topic. For example, one monthly theme was all about letting go of "productivity guilt," while another was about learning to love yourself.
Check out the video below for a closer look at what you can expect each month:
What you get in each box: 4-6 curated products focused on promoting a better understanding of anxiety and depression.
Frequency: Monthly
Cost: $44.95 per month, regardless of which plan you choose (monthly, 3 months, or 6 months)
3. Grief Support Monthly by Upsprout
Grief support monthly is a self-care box designed to "encourage rest, self-care, growth and healing after a loss." Upsprout calls it a personal mission, as they are grievers themselves. Boxes include a variety of items ranging from holistic "remedies to soothe the body" to candles that create a soothing environment and more.
What you get in each box: 5-7 full-sized, high quality items, mostly from small businesses
Frequency: Monthly
Cost: $63.75+
4. Hopebox™ (Care for Your Body, Heart, & Soul)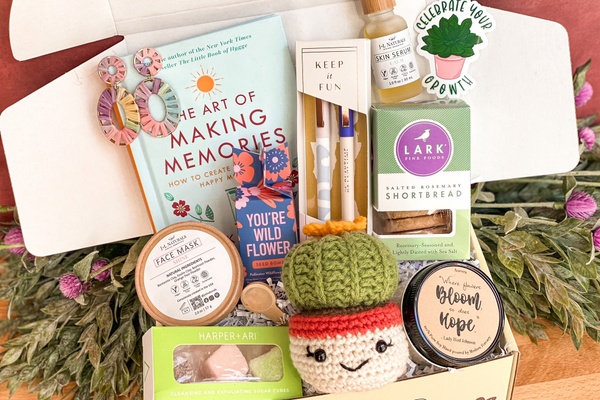 Hopebox curates "seasonal encouragement" in the form of "high-quality treasures," including books, candles, accessories, bath & skincare products, and so much more. All of the items are designed by artisans who each "have their own inspiring stories of hope and renewal. So it's kind of like receiving little bits of hope from someone who has found it themselves.
Check out the video for a closer look inside:
What you get in each box: 10+ "quality treasures"
Frequency: Seasonally (5 times a year)
Cost: $52.99+
5. inLIGHT inME Kit for Kids
This one is a little different for two reasons. First, as the name says, it's made for kids. Adults aren't the only ones who need a bit more self-care. Kids are dealing with anxiety at unprecedented rates these days, and this box seeks to help change that. Everything included is designed to help kids learn confidence-building techniques to reduce their anxiety and regulate their emotions.
The second major difference is that it's a one-time kit, at least for now. Still, since it's sold on Cratejoy, that could change in the future.
What you get in each box: DIY Zen Garden + affirmation stone, a Zen game for the whole family, conversation starters, deep breathing exercises and an extra little gift.
Frequency: Once
Cost: $63
6. FEELING FAB Wellness and Self-Care Box
Feeling Fab is designed to spread "wellness and self-love through clean, balancing self-care products and spiritual tools." Don't worry, they mean "spiritual," in the literal "good for your spirit" sense of the word and not in the religious sense.
Unlike the other boxes on this list, Feeling Fab offers three different boxes. So, it's easier to find one that fits your budget. Depending on the option you choose, you'll get 4-10 beauty, skincare, lifestyle, and wellness goodies to help you feel great both inside and out.
What you get in each box: 6-7 self-care products in the Premium box (which is basically the standard one), 7-10 items in the Premium Plus, or 4-5 in the Mini.
Frequency: Monthly
Cost: $27.89+for the standard box
7. "Monthly Delight" Box (CBD Oil Subscription Box)

If you're interested in trying CBD oil but don't really know where to start, the Monthly Delight box is a great place to start. Each month, you'll receive a selection of CBD products in different forms, ranging from gummies and snacks to creams and skincare products.
While they don't say exactly how many items you get in each box, looking at past months I'd say between 5-8, all based on a specific theme. Check out the video below for a closer look.
What you get in each box: A seasonal collection of high-quality and third-party tested CBD products
Frequency: Monthly
Cost: $35.10+
8. She Matters Self-Care Subscription Box
She Matters is a subscription designed for women filled with goodies that remind us to make ourselves more of a priority. Along with health, wellness and beauty items, it also comes with worksheets and activities that help incorporate self-care into our daily lives.
What you get in each box: 5 full-sized products + self-care activities and worksheets
Frequency: Monthly
Cost: $35+
9. Emotional Well-Being Box
The neat thing about the Emotional Wellness Box is that it's actually a 12-month wellness program rather than just a monthly box of random stuff loosely centered around a theme. Regardless of when you subscribe, you'll always start with the "Intentional Wisdom" box.
What you get in each box: It's unclear how many items you get, but they promise that all boxes "include something for each of your senses."
Frequency: Monthly
Cost: $35+
10. Teacher Self Care Box

With another stressful school year coming to a close in just a few weeks, I thought I'd include a little something special for all of the teachers out there. If anyone needs self-care and time to make themselves a priority, it's educators!
Along with the actual lifestyle products that you'll receive in each box, you'll also get access to "therapeutic resources and reflective activities" designed to help prevent burnout. Buy one for yourself or for your favorite teacher as an end-of-the-year gift.
What you get in each box: 5-7 high quality lifestyle products
Frequency: Monthly
Cost: $31.99+
While these are some of my favorites designed specifically for self-care, literally any subscription box that you buy for yourself can be a "self-care" box if it brings you joy. The point is to just do something nice for yourself and prioritize your well-being. You spend so much time taking care of others. It's okay to take care of yourself, too!