Want to give your child's teachers something unique and handmade, but have about as much crafting talent as a puppy? I know the feeling! Thanks to talented crafters on Etsy, though, you can still give your child's teacher something useful and meaningful without actually making it yourself. Check out these fabulous handmade teacher gift ideas that I love!
Handmade Teacher Gift Ideas that You Can Buy on Etsy
1. Cute Pencil Holder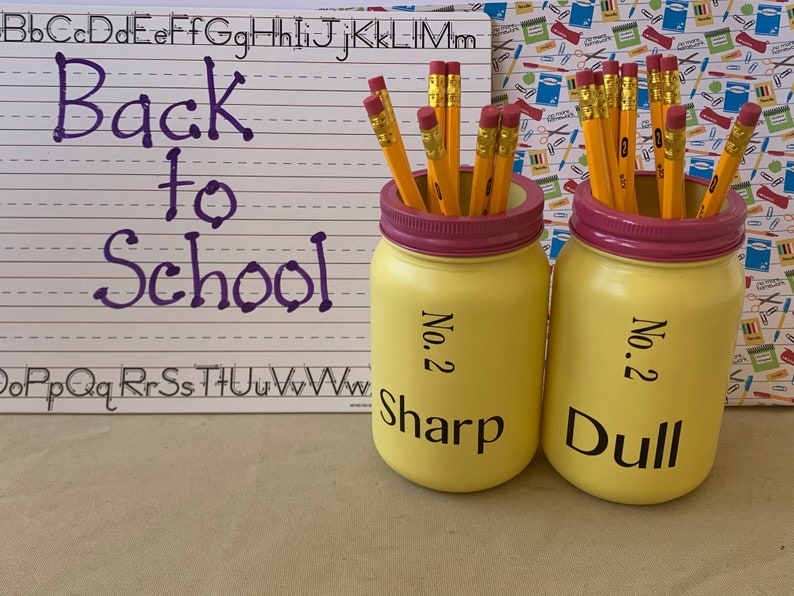 How insanely cute are these "Sharp" and "Dull" pencil jars? For an extra $2 you can even get them personalized.
2. "Teachers Change the World" Wooden Box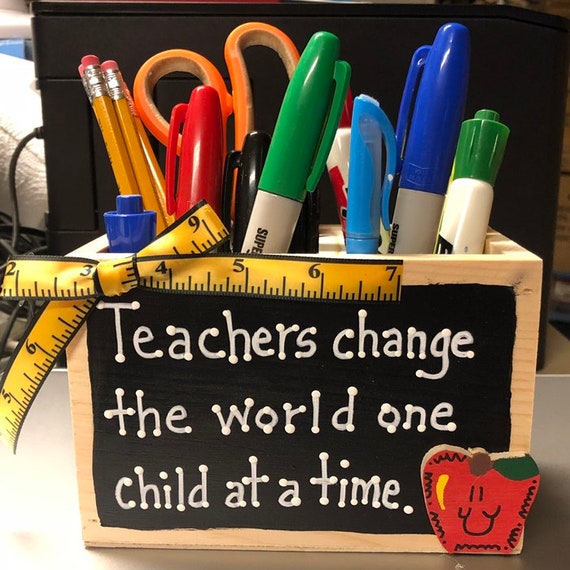 I love this Inspirational Wooden Supply Box because it lets teachers know that we realize their impact on our children's future. It doesn't come with supplies, so you may want to grab a few before sending it in to really go the extra mile.
You may also like: 5 Back to School Lunch Wrap Ideas Kids Will Actually Love
3. Stainless Steel Water Bottle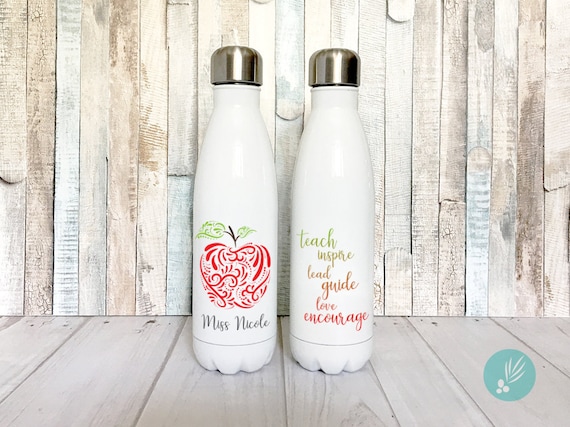 While there is a such thing as too many mugs, I really don't think teachers can ever have too many high quality Stainless Steel Water Bottles! I know that I can always use more, and I spend most of my day at home. I love the exclusive scroll apple design on this one.
4. Class Birthdays Organizer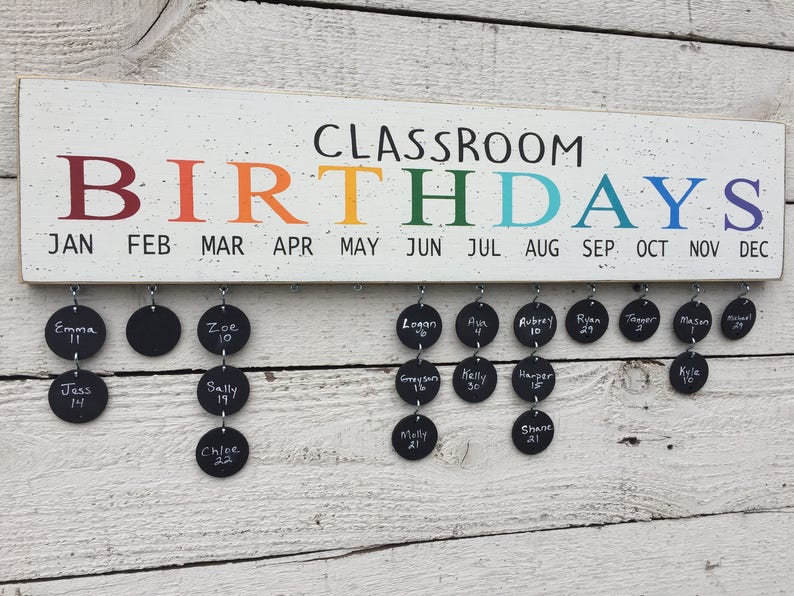 Help teachers keep track of all those birthdays in style with this Class Birthdays Organizer! It includes 30 chalkboard circles that can be used year after year. Considering the over-crowding in most schools these days, you may want to check with your child's teacher to make sure that 30 circles is enough.
5. Teacher Tote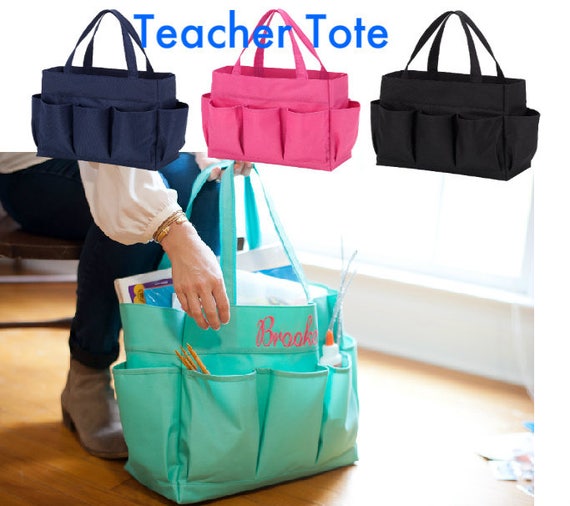 I came across a few Teacher Tote Bags on Etsy, but this one is my favorite. It has plenty of pockets for all those school supplies, yet it's classy enough to use during the summer as a beach tote!
6. First Aid Kit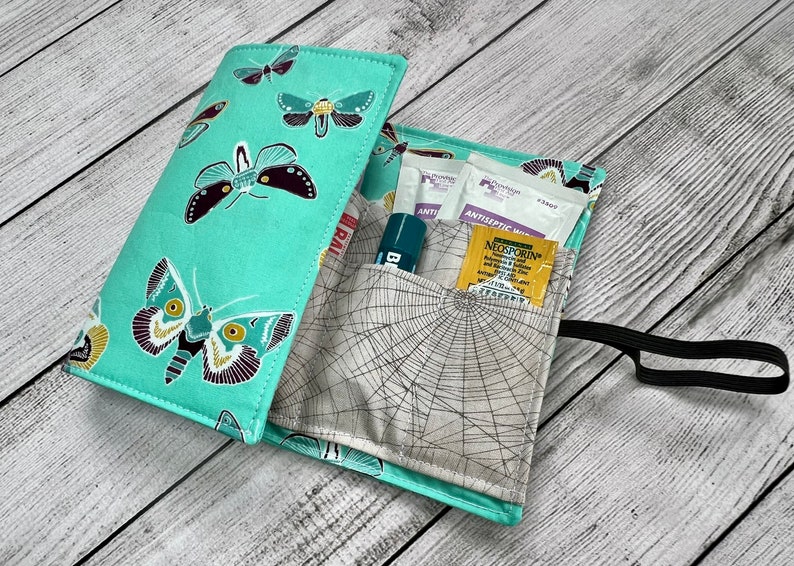 Every teacher needs one of these Handmade First Aid Kits to tackle those scrapes and bruises! Make sure you fill it up before giving it to your favorite teacher, as it doesn't come with the items pictured. I'd include things like band-aids, antiseptic wipes, and antibiotic cream.
7. Personalized Beaded Lanyard for ID Badge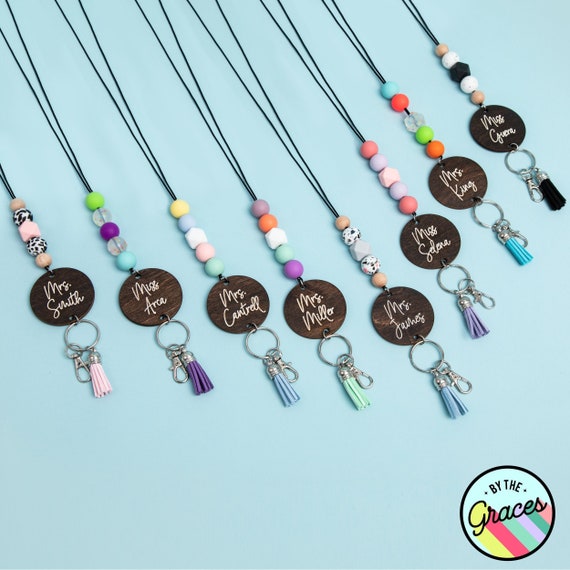 Most schools have rules requiring students and staff to keep their ID badges visible at all times. These adorable lanyards help teachers follow the rules in style! Choose from 25 tassel colors and 9 different bead options. You can also request custom colors if you want to go with your school's colors.
8. Keyboard wrist rest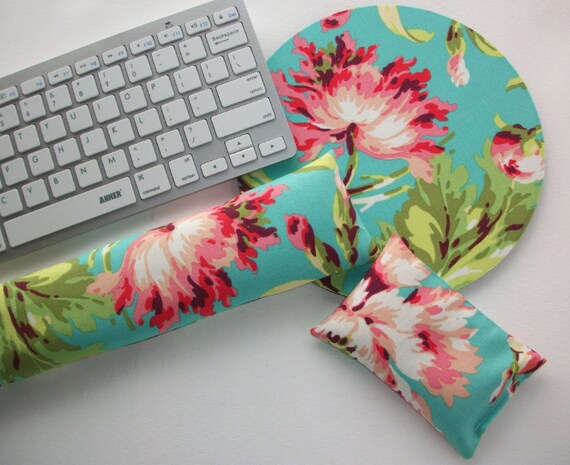 I could use one of these cute Keyboard Rests for myself! They're filled with flax seed to help cradle your favorite teacher's wrist as she grades online papers. This is the perfect gift for a cyber school teacher, don't you think?
9. This belongs to… labels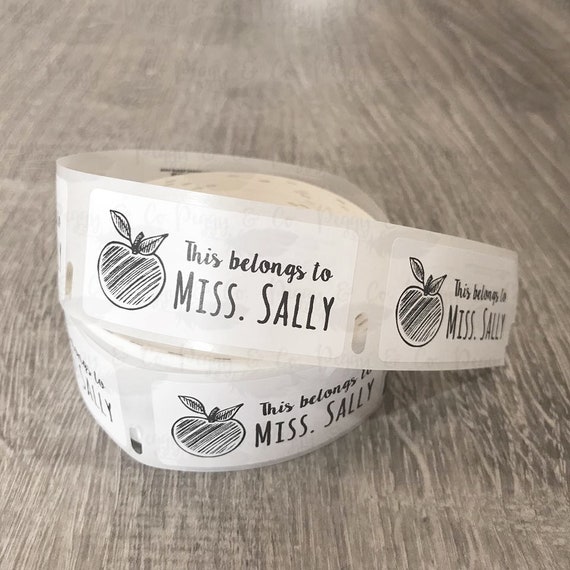 A simple yet incredibly useful and cute gift for those on a budget, these This Belongs To…Labels will help teachers keep track of all their books and other stuff that they lend out to students.
10. Teacher Planner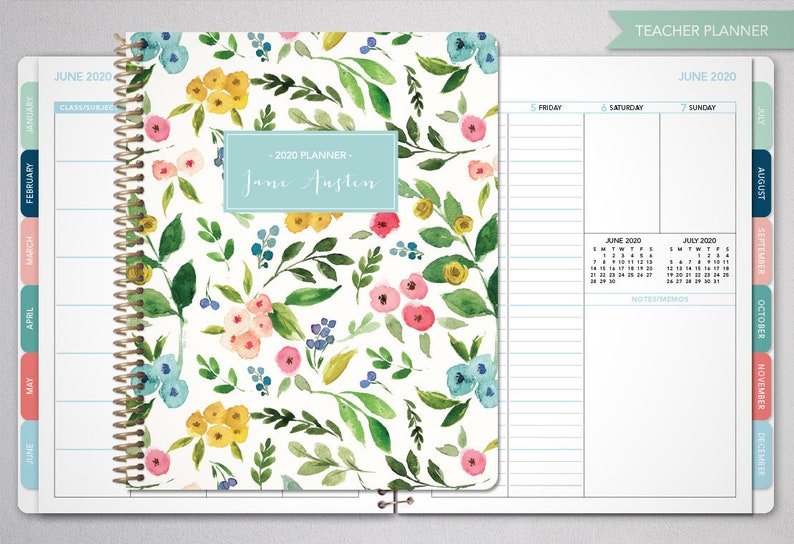 I've seen a lot of planners, too, but I love this 2022-2023 Teacher Planner from Etsy. Unlike most planners on Etsy, you don't have to print this one out yourself. Don't get me wrong, I love printables, but for big stuff like this I feel like you spend more on ink than you would if you just bought a physical product.
11. Chapstick Holder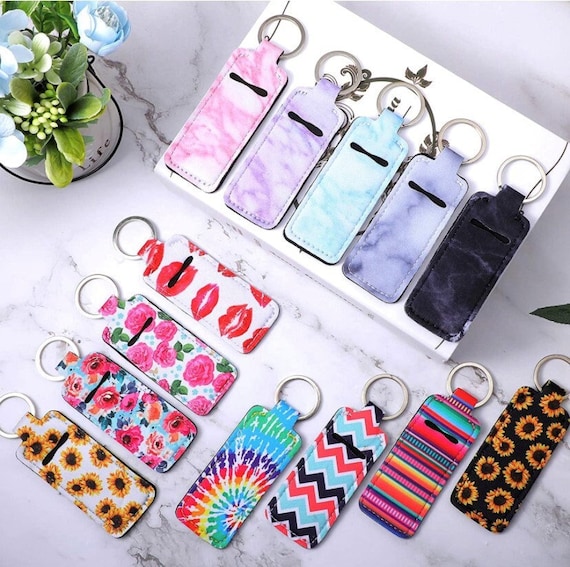 Another great gift for those on a budget, this Chapstick Holder can attach to a keychain or a lanyard. School air is SO drying and I know my son's teachers would have loved this. Include a really great lip balm to go along with it.
12. Classroom Rules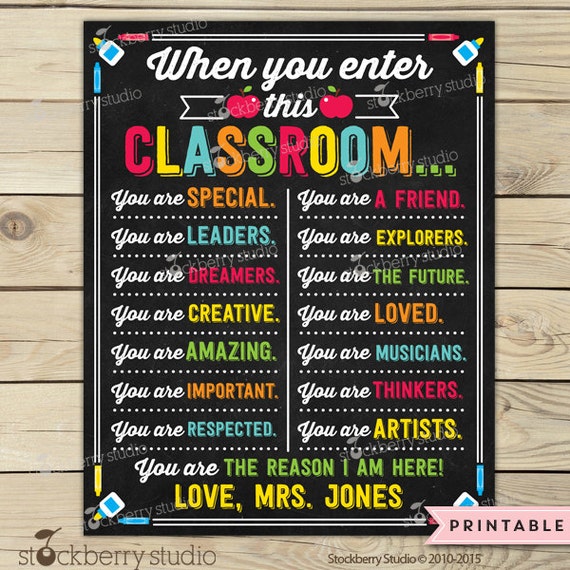 I love this inspirational When You Enter This Classroom Sign . This is another one that you'll need to print before gifting. The bright colors and positive messages are a welcome addition to any classroom!
13. Teacher's Apron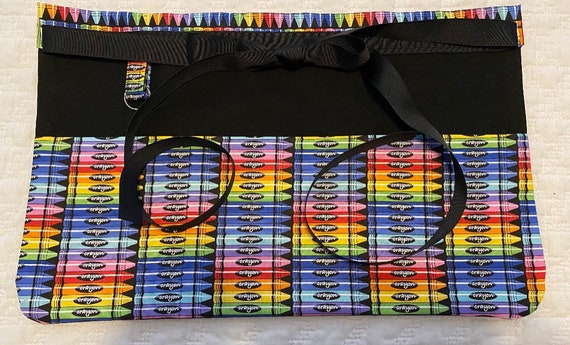 If you're looking for a great gift idea for kindergarten teachers, check out this Crayons Teacher Apron. It's bright and fun, and features three pockets against durable blue fabric.
14. Hall Passes

These Personalized Hall Passes are fantastic for elementary school teachers. Comes with 8 pieces, and you can personalize them with your child's teacher's name. They even come with the clip so they're ready to use.
15. Classroom Doormat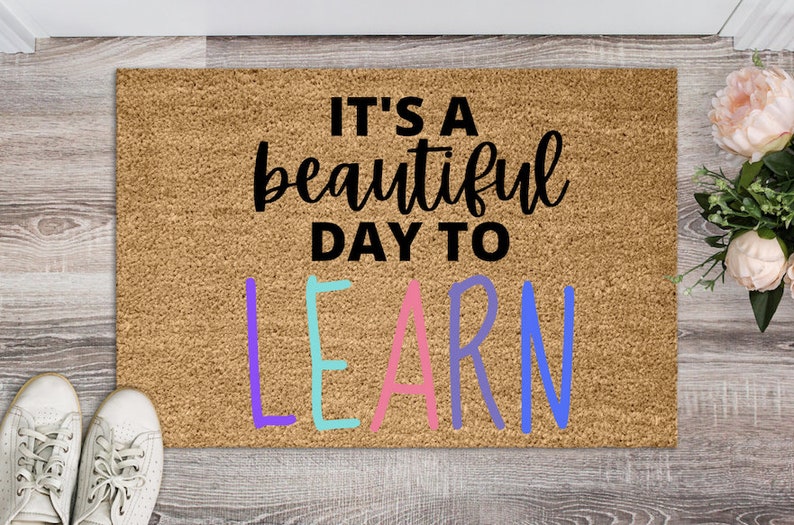 Give your favorite teacher a way to keep their floor clean (well, cleanish) AND encourage kids to get excited about learning with this cute classroom doormat. I love the colors and the font, don't you?
I really love all of these teacher appreciation gift ideas. It's hard to pick just one! While my son is in cyber school now, when he was in public school I did like to send in a gift at the beginning of the year, versus the end. I'm also really big on useful gifts. While mugs are a cute idea, honestly, how many mugs can a teacher possibly use in one year without suffering from a caffeine overdose.
If you DO have crafting talent, check out these back to school teacher gift ideas that you can make yourself.
Do you have any favorite homemade teacher gift ideas that you love to give? Tell me all about them!