Treat Fido to something special while supporting small businesses with these fabulous homemade dog beds, toys, treat and more from Etsy! They're perfect for celebrating "gotcha day," welcoming home a new pup, or just because!
My dogs, especially my Pharaoh Hound, are pretty much the center of attention in our house. I say "especially my Pharaoh Hound" because, quite honestly, she demands the most attention. Mocha is pretty chill, but Freya is non-stop "look at me!" She's a perpetual toddler!
I do love buying her new things because she smiles when she gets a package in the mail. There is nothing quite like a Pharaoh Hound smile! Check out a few things that I'm loving right now from Etsy!
You might also like: 25 Cute & Creative Handmade Cat Houses, Trees, Toys & Treats 
Handmade Dog Gear: Beds, Toys, Treats & More
Handmade Dog Beds
Choosing the best handmade dog beds was a challenge, because there are so many fun designs. I went with the most unique beds that I could find, things that didn't look like something you could buy in a pet store. I also tried to choose a good mix of sizes. It's hard for us "big dog" people to find cute stuff sometimes.
1. Custom Personalized Dog Bed with handmade pillows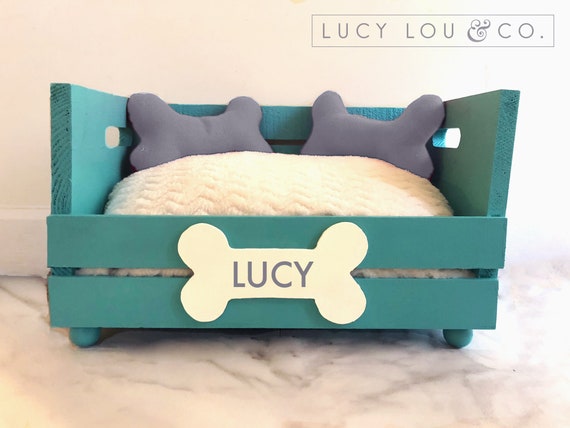 How gorgeous is this Custom Personalized Dog Bed? I love the teal, creamy white, and gray colors! The pillows are all handmade, too. It's designed for small dogs up to 15 pounds, and all of the bedding is washable (although they recommend hand-washing, you can also put it on the gentle cycle).
If you don't love the color as much as I do, you can request a different one. The seller, LucyLouAndCompany, has some other crazy cute small dog beds, so check out the rest of their shop!
2. Weenie Pocket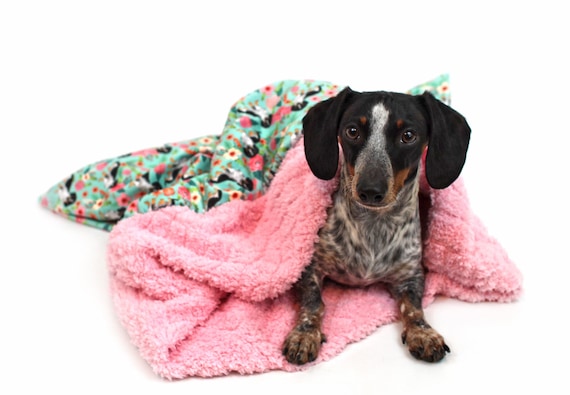 I so need to get this weenie pocket for my furry niece, Bella! While it's designed for Dachshunds, you could use it for just about any small dog. It comes in a ton of different patterns and interior colors! This would also make a great gift idea for dog lovers!
3. Original Digs Dog Bed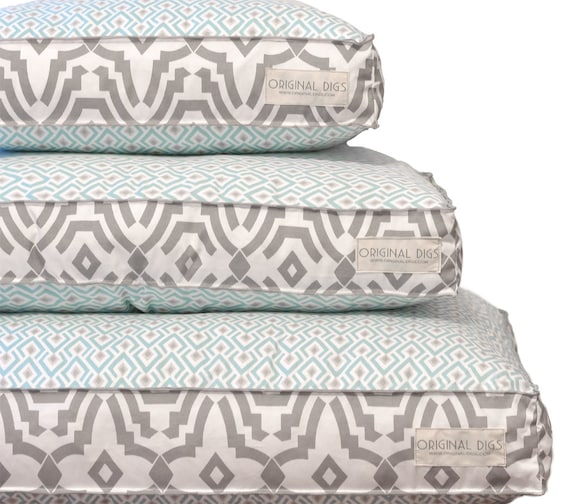 If you're looking for a more traditional- yet still stylish- dog bed, this Original Digs dog bed comes in three different sizes to fit just about every breed. The link takes you to the large size, but you can see others along the sidebar. They also have different fabric choices, ranging from neutral blues to retro prints.
4. The Giro by SashandMe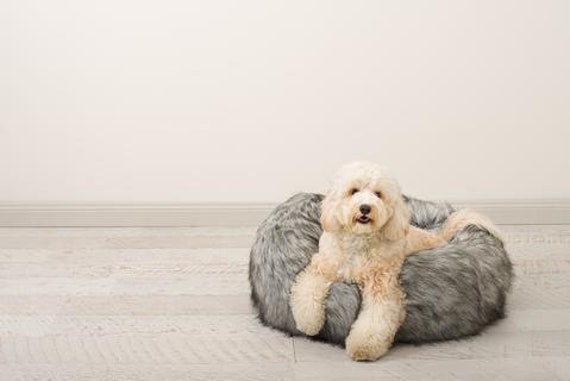 This ultra-luxurious organic dog bed is made with durable P.E.T. faux fur fibers for ultimate warmth and comfort. It's machine-washable and available in 3 sizes! Doesn't it look so cozy? I think my son would probably steal it to use as a lounging chair!
5. Chewproof Dog Bed Basket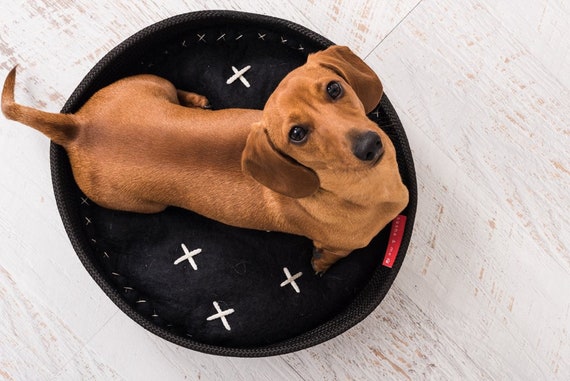 The Corda rope chewproof basket for dogs is handmade by artisans in Northern Thailand and built to last with 100% Olefin braids. It stays warm in the winter yet cool in the summer and resists both scratches and chewing. Comes in three different sizes!
Handmade Toys for Dogs
In case you're wondering, my criteria for choosing these best handmade dog toys is simple: I wanted something sturdy that wouldn't be destroyed in a matter of moments, and something that you can't easily make yourself. I see a lot of braided fleece toys going for upwards of $20+. You need zero crafting talent to make these, my friends. Trust me, I've made dozens of them and I couldn't craft my way out of a paper bag.
Just buy a cheap $2 blanket from the big blanket bin at WalMart or Big Lots, cut it into strips, and get braiding! It takes all of 2 minutes, and you can experiment with the braid to create stronger tug toys. That $2 blanket should make you about 2-3 toys, depending on how you braid them.
I don't mean to offend those who make and sell these, I just want to make sure that those on a tight budget aren't spending money on things they can easily make themselves. 🙂
6. UNPOPPABLE Ball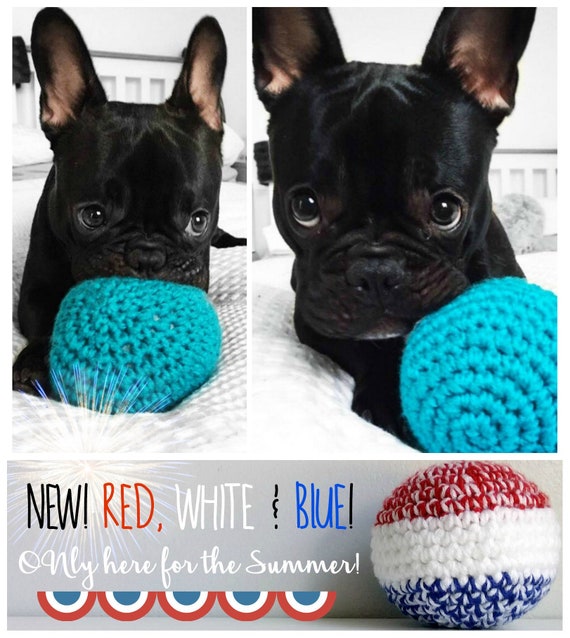 My Mocha loves to play with balls (I hate that no matter how I try to word that, it sounds dirty, lol). The problem? She ends up popping most of them within a few days because she likes to step on them to make them roll! I need to get her one of these unpoppable balls! While they aren't really for heavy chewers, if you have a dog who tends to pop plastic balls, these are a great alternative.
7. Tator Tots Designs Heavy Duty Dog Toy
Tater Tots Designs makes a bunch of these Heavy Duty Dog Toys, but the raccoon is my favorite! Like all of the Tater Tots toys, he's made of upholstery fabric and double-stitched to make him super strong. He's not indestructible, but honestly, there is no such thing as a totally indestructible dog toy. At least, not as far as my two are concerned! The belly holds a squeaker wrapped in cotton, so it doesn't slide around.
8. Fire Hose Tug Toy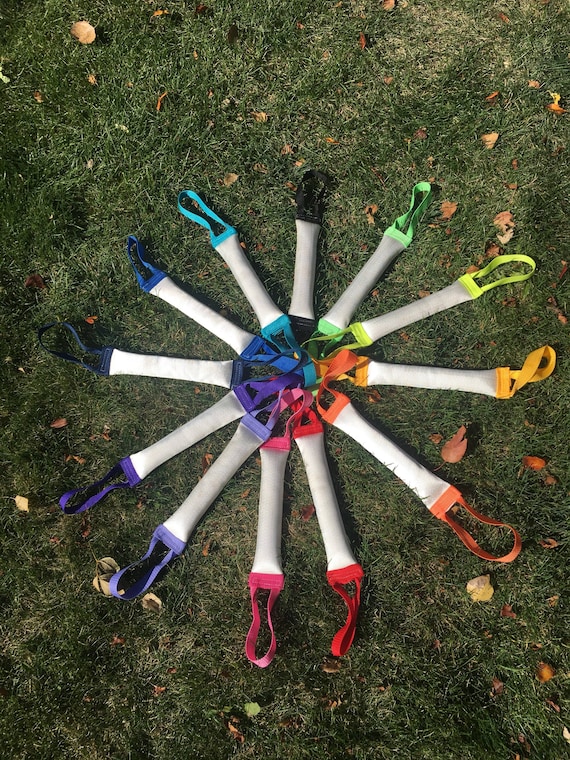 While I make most of my dog's tug toys myself, I would absolutely buy them this Fire Hose Tug Dog Toy! As the name implies, it's made out of super strong recycled fire hoses. It even floats, so you can play with it in the water with your dog.
9. Durable teething toy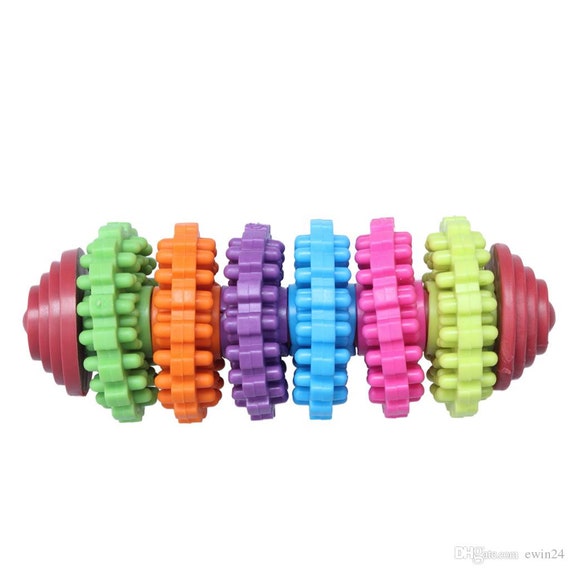 This colorful durable teething toy is perfect for puppies who are just growing their big dog teeth! The gears are made of durable yet soft rubber, so they won't hurt your pup's gums. They're also great for helping to keep your older dog's teeth clean!
10. Snuffle Mat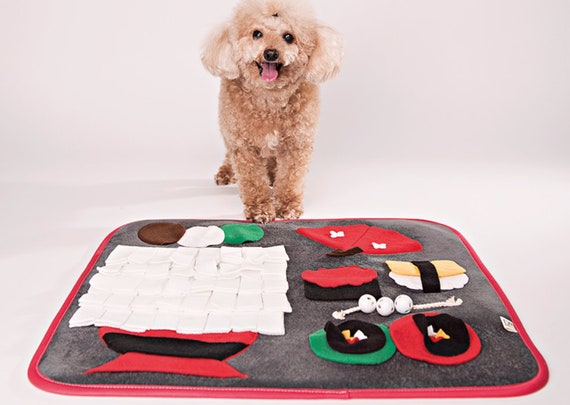 I've seen a lot of snuffle mats, but most of them look like something I could put together myself (and I plan to as soon as I get to the store to buy supplies!). This one, though, is a bit more detailed and fun. The mat itself has a rubber backing so it won't slide around. The "snuffle" part includes different interactive sections to encourage your dog to explore and use all of his senses.
Homemade Dog Treats
Like the toys, when it comes to choosing the best homemade dog treats, I wanted to find things that you couldn't make in five minutes by yourself. While you could make all of these at home (I mean, someone already did, so it's definitely feasible), the big question is: do you really have time to do that?
If your answer is "yes," then I suggest checking out all the homemade dog treats over on DogVills! If your answer, like mine, is "not really," then these treats are for you! Well, for your dog, but you get the point!
11. Cherry & Flaxseed Gourmet Treats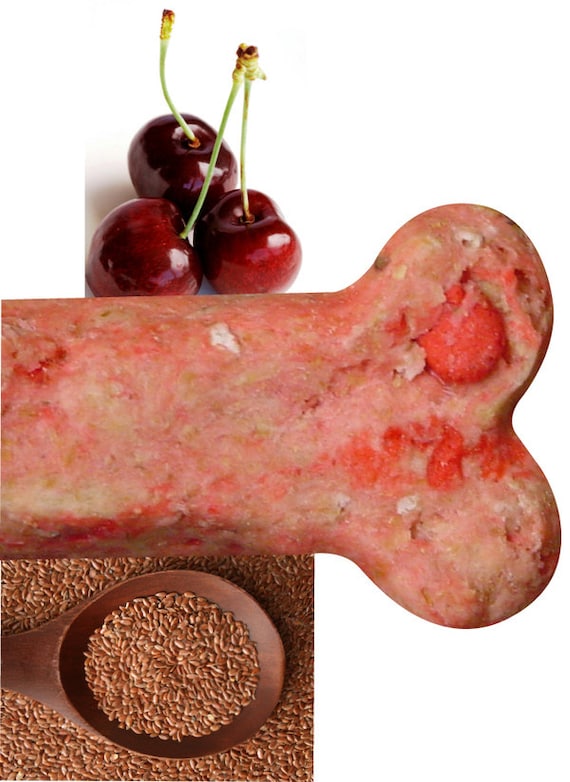 If you're looking for a unique homemade dog biscuit that's pretty reasonably priced, try these Cherry & Flaxseed Gourmet Dog Treats! At just $7 for one pound (and only $10 for 2 pounds!), they won't break your budget. If your dogs aren't a fan of cherries, the seller makes a ton of other varieties. All treats are made with 100% restaurant grade ingredients from the US only.
12. Breakfast Buffet Trio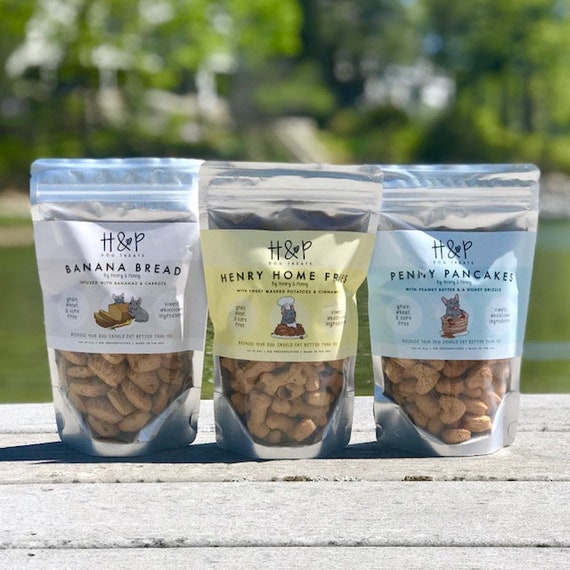 The Breakfast Buffet Trio is one of the highest-rated dog treats on Etsy, with over 2,200 reviews and a 5-star rating. You get all three Henry & Penny Breakfast Treats, and the $20 price tag includes free shipping. The treats are made without wheat, grain, soy or fillers. They're baked in small batches using quality US ingredients only.
13. Custom Birthday Cake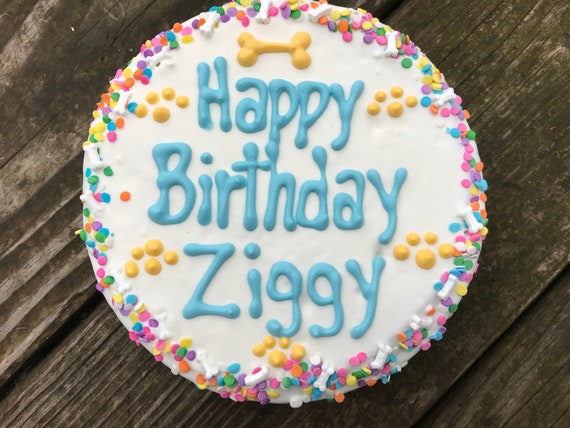 Celebrate your pup's birthday with a Customized Birthday Cake for Dogs from NuttyMuttBakery! Isn't it insanely cute? While the cakes do cost a bit more to ship than the other treats on this list due to the amount of packaging required to ensure it arrives safely, it's definitely worth it for a special occasion!
14. Pup Tarts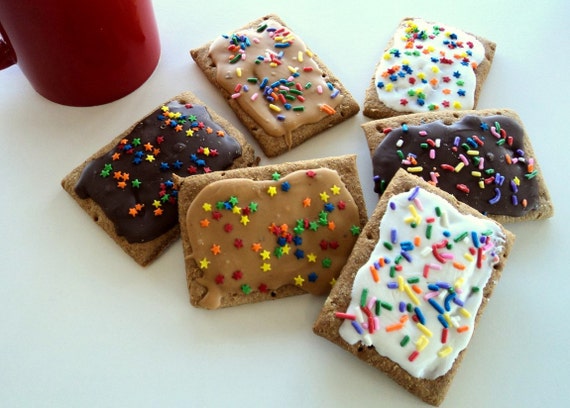 I am so in love with these Pup Tarts, and I know my dogs would be, too! They're a fun pet-friendly spin on everyone's favorite toaster pastry. Just don't put them in the toaster (or try to eat them yourself). The "chocolate" icing is made from carob and contains no added sugar.
15. Jerky Bites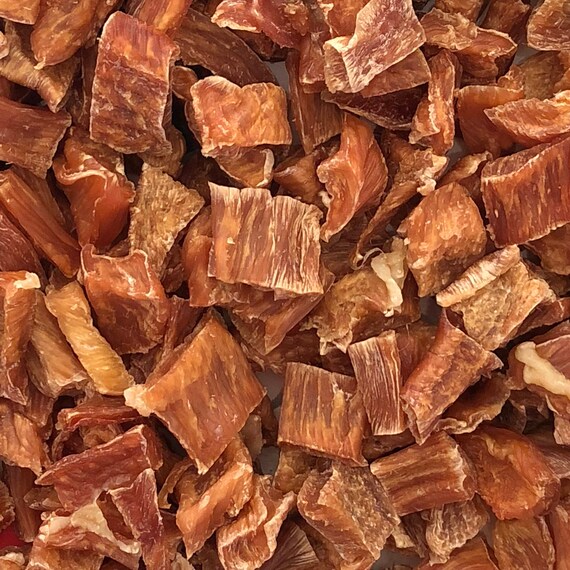 Jerky Bites are one of those things that I always say I'm going to make myself, but then realize that there is a lot of work involved in making them! While they're the most expensive treat on this list, anyone who has ever bought jerky knows that it doesn't come cheap! These are made with chicken, and the seller states that it's bought from Costco, so it's the same exact chicken that you would feed the humans in your family.
Handmade Leashes & Collars
16. Martingale Collar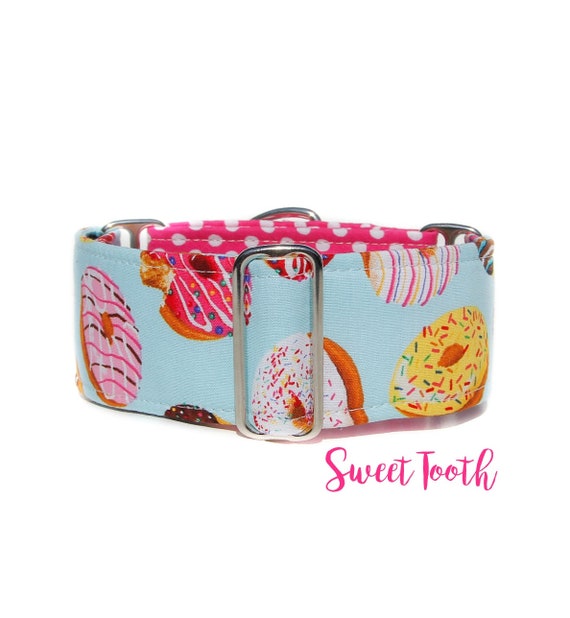 I actually bought Freya a Martingale Collar from Collar Town because the woman who makes them is in one of the same Sighthound Facebook groups as I am. It's absolutely awesome and looks so pretty on Freya. There are a bunch of different designs, and they sell out fast. If the one above is gone, just check out the rest of her shop for something else that you love! Here's Freya in her collar, from a few months ago:
17. Personalized Dog Collar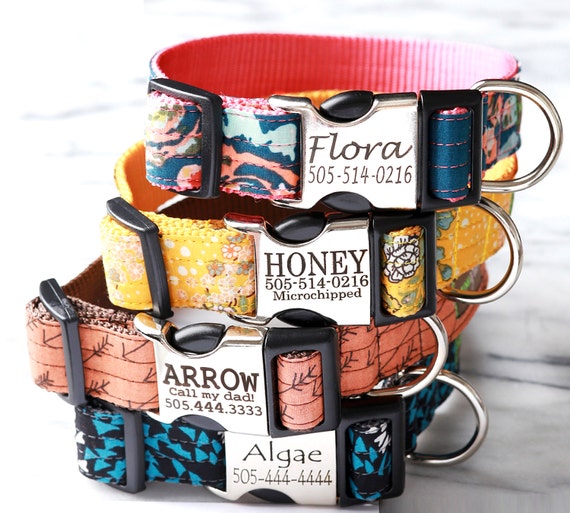 I really like these Personalized Laser Engraved Dog Collars because they allow you to put a bit more info on the personalized part than just a name and number. You get up to 3 lines on the metal buckle, so you can add important info on that 3rd line, like "microchipped," or "scared of men" or anything else someone would really need to know about your dog. The collar comes in 9 designs and 9 different sizes to fit every dog.
18. Desert Cactus Leash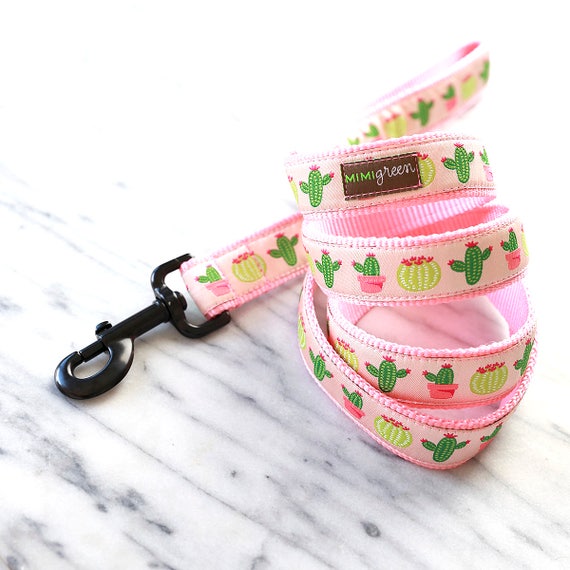 Want a leash that's durable AND stylish? The Desert Cactus Dog Leash is super cute, and it's made from heavy duty nylon webbing for durability. It comes in three different sizes, too.
19. Rope Leash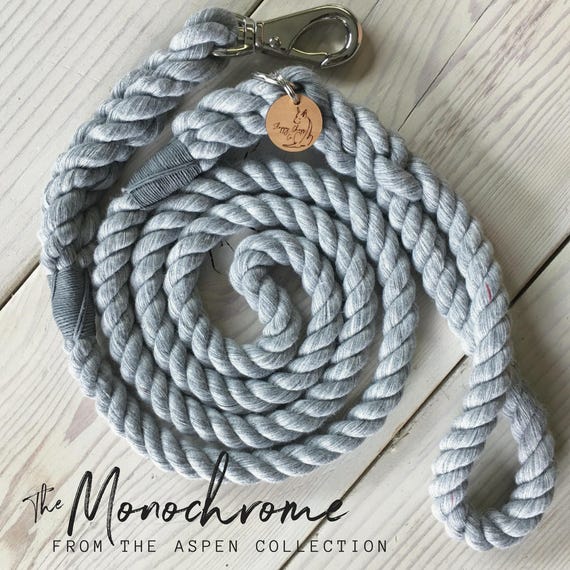 THE MONOCHROME Rope Dog Leash is a simple yet classy design for those who don't want something splashy when they walk their dogs. The listing in the link lets you customize the leash to fit your needs, from choosing the perfect hardware and length to the style and color of the leash. There are 32 colors to choose from!
20.Hand Stamped Pet ID Tag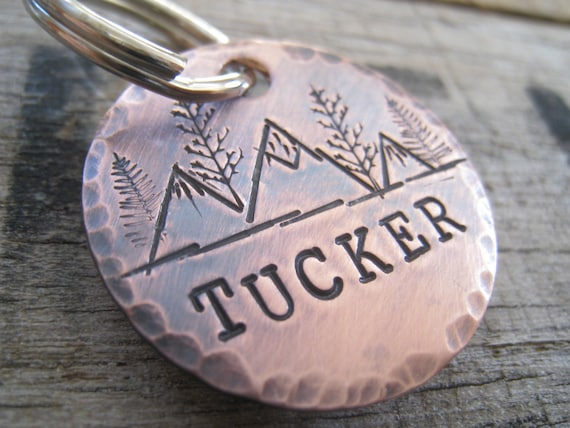 While this Hand Stamped Pet ID Tag is neither a leash nor a collar, it's the perfect addition to both. The tree and mountain landscape is my favorite, but the seller has a bunch of other cute designs if you don't love it. The tag is made with thick metal and comes in a bag that makes it perfect for gifting! I love this tag versus a plain old pet id because when the sad day comes that your dog has to move on, you can wear it as a necklace. I wish I had something like this for Tasha, Maia, and Cooper!
Adorable Handmade Clothes for Large Dogs
While the other items on this list cover dogs of all sizes, for the clothing section I wanted to stick to just large dogs. It seems like most people and companies make more clothing for purse dogs than for our big pups! My Freya has very short hair and needs to wear a coat or sweater when it's cold out, yet finding clothing for her is a pain in the butt! So while the sellers may also made small clothes, these dog clothes are designed for big dogs!
21. Dog Onesie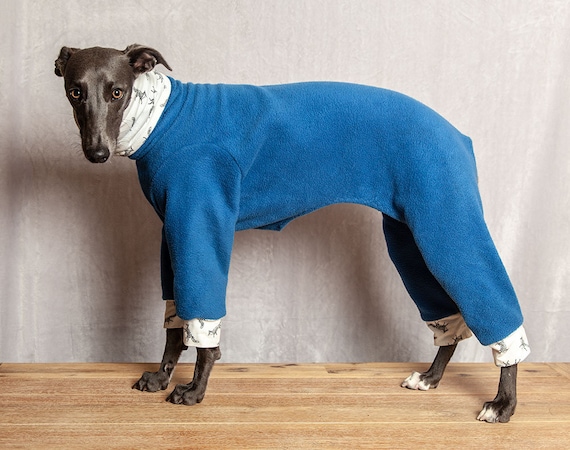 I've been looking for a dog onesie ever since I saw them on the sighthound group that I belong to. They're freaking adorable, aren't they? They're also perfect for keeping your short-haired dog warm on chilly nights! These aren't cheap, but then no large dog clothes ever really are! They are made to order, so you just need to give the seller the requested info and you'll receive a perfect-fitting pair of fleece jammies for your dog!
22. Black Jack Sweater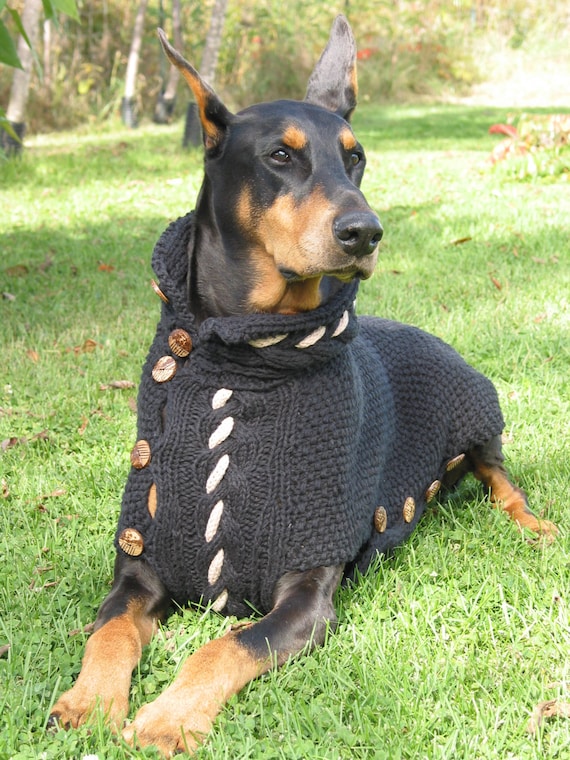 I love this Dog Sweater because it's designed for dogs with very pronounced body shapes. Freya has a different build than a lot of other dog breeds her size. I also love that it's made for older dogs who may not be so flexible (hence all the buttons). It comes in 4 sizes, but if those sizes don't work for your dog, she'll make it according to your measurements at no extra charge. That alone gives her major points in my book, because while I adore Etsy, sellers often  "for an extra fee" you to death.
23. Donut Dog Pajamas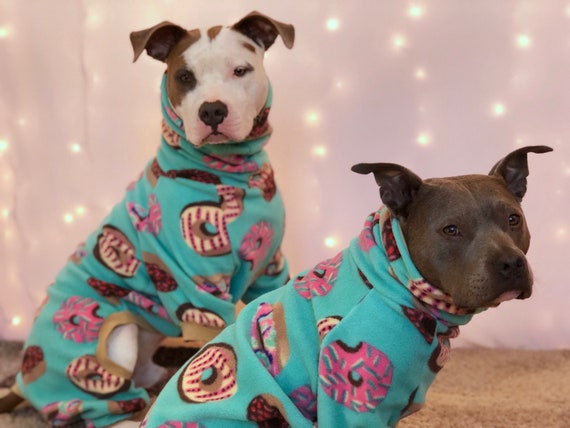 I spent like 20 minutes checking out the DonoSews shop even after I found these Donut Dog Pajamas, just because the dogs are so darn cute! I'm also super impressed by how nicely they sit for their pictures! The link is for premade, ready to ship jammies. If you need a different size than those offered, check out this listing for a custom order.
24. Crocheted Sweater for Large Dogs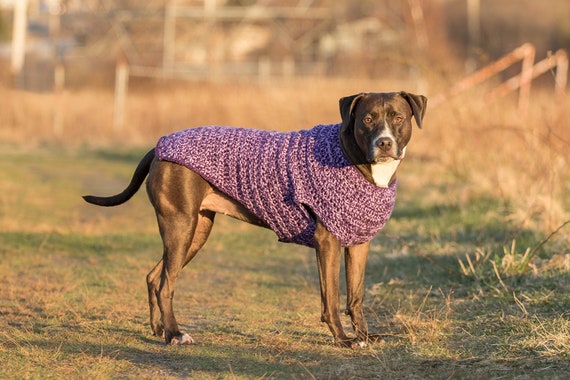 This Purple Crochet Dog Sweater is absolutely gorgeous, don't you think? It comes in 4 sizes that START at Large, so even giant breeds can be stylish and warm. It's made with 100% acrylic yarn and machine washable.
25. Goat Snood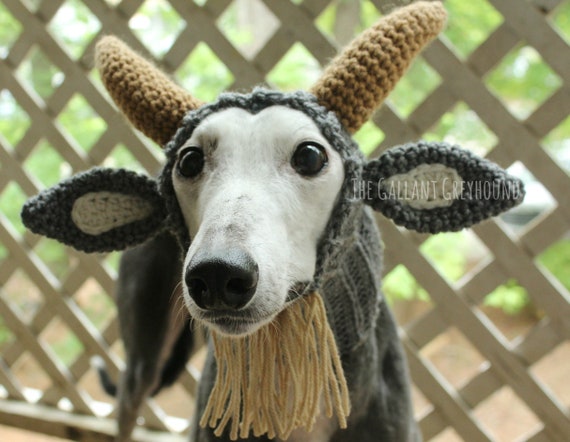 Snoods are another popular item for sighthounds, and I couldn't resist this Goat Snood! It's even funnier because we joke that Pharaoh Hounds must have goat DNA in them. If the goat doesn't do it for you, there are a bunch of other funny designs!
BONUS 5 Crazy Cool Dog Handmade Houses
In the handmade dog gear above, I was going for practical and affordable. These dog houses aren't what I would call budget-friendly, and considering that you probably have to pick most of them up, they're not exactly practical either. Still, they're very cool to look at, and if you do have the budget, they're a fun splurge for your dog!
1. Dog house made out of reclaimed wood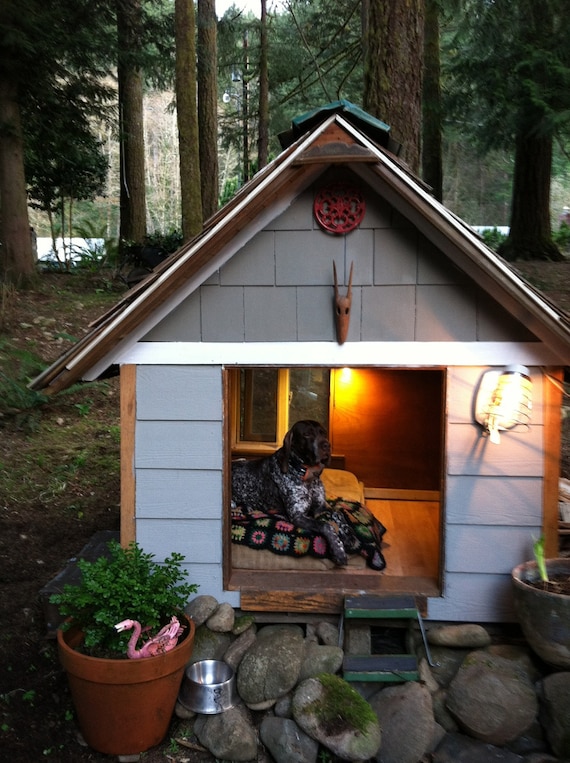 This Extra Large Dog House made with 100% reclaimed materials is like a love shack for Fido! Every last part of it is made from recycled or reclaimed materials, making it an eco-friendly pad for your dog. Houses are built to order and you can discuss the plans with the seller first to come up with a style that you love. The price may be different depending on the design.
2. Beach Cottage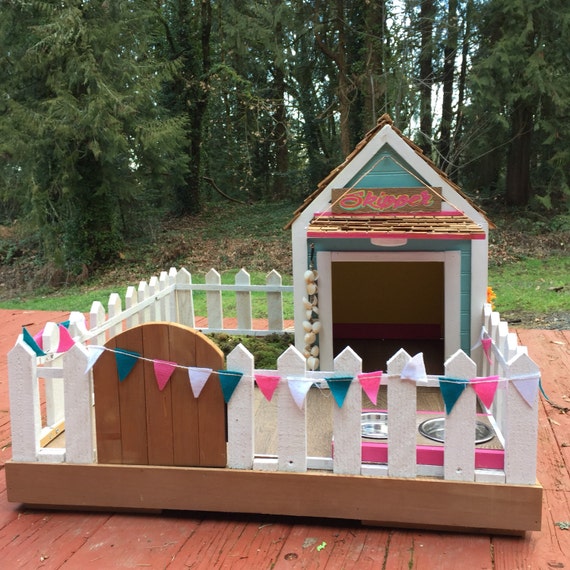 This Small Beach Cottage is probably the cutest dog house I've ever seen. It's designed for smaller dogs, like Maltese-sized, so it wouldn't work for my pups. I love all the attention to detail, including the flamingo wallpaper!
3. Storybook Cottage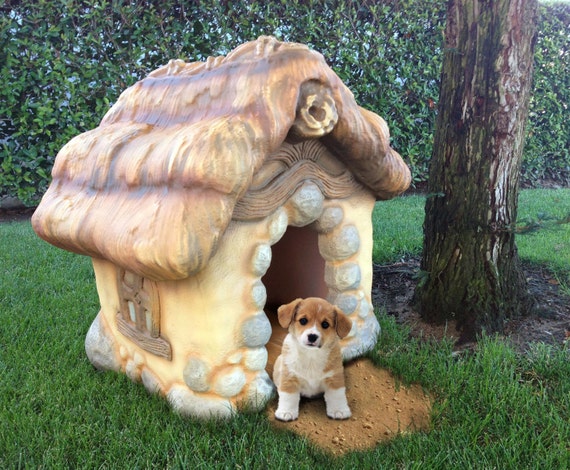 Okay, I was wrong: THIS is the cutest dog house ever! The Storybook Style Carved Dog House is also designed for smaller dogs. While the house is made of foam, it can still be used both indoors and outside. It's some sort of magical high-density foam that's coated with weather-resistant pet-safe spray. Monster City Studios also makes a playhouse for kids that is just insanely cool! Expensive, but cool!
4. "Winnebarko" Camper Dog House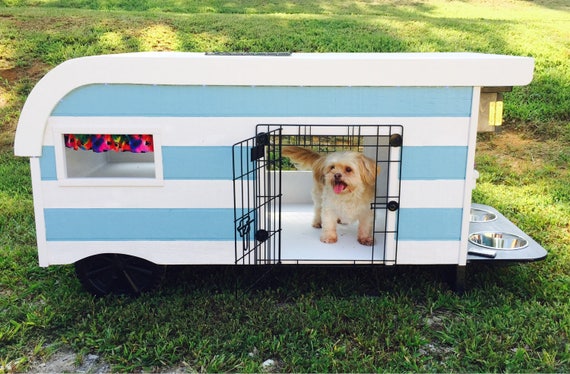 Another contender for the cutest dog house ever, this "Winnebarko" Canine Camper is ideal for medium-sized dogs, but they also make smaller and larger models.
5. Charming dog house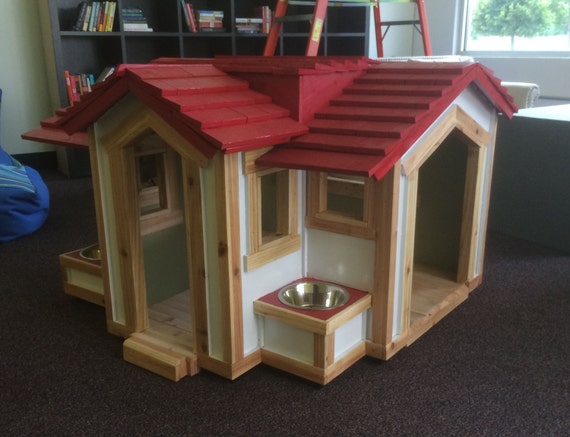 How much do you love this charming dog house? While it's meant to be used indoors, it can stand up to some outdoor elements. I wouldn't leave it outside in the winter, but the roof is sealed and the paint is exterior-grade. I love the hardwood floors!
Do you have any favorite handmade dog gear sellers on Etsy?